NRHEG coach announces difficult decision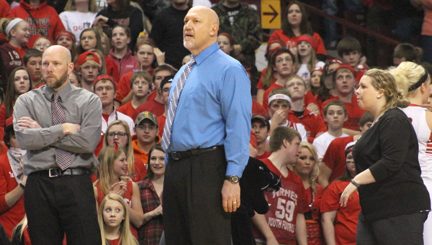 RETIRED AGAIN — NRHEG girls' basketball coach John Schultz, middle, announced his desision to resign his coaching post last week. At left and right are assistant coaches Grant Berg and Onika Peterson. (Star Eagle photo by Jim Lutgens)
By JIM LUTGENS
Editor/Publisher
Confirming rumors that have swirled since before this year's state tournament, John Schultz made it official last week.
He's resigning as New Richland-Hartland-Ellendale-Geneva head girls' basketball coach.
It was a difficult decision for Schultz, who guided the Panthers to three straight state tournament appearances and a second consecutive state championship in March, but, after much consultation with family members, he felt it was the right thing to do.
"It's a family decision," he said. "It certainly has nothing to do with talent. People may think that with the senior class graduating, I'm bailing."
But that's not the case.
Schultz feels good about the talent returning and upcoming prospects for the Panthers, but he and his wife Wendy have three children of their own — Jade, Jack and Sydney — whose athletic endeavors warrant parental attention.
And besides, it was only a temporary job, one Schultz said nobody wanted after Mindy Sparby moved to Belle Plaine after the 2009-10 season. It was the second time as NRHEG's varsity girls' basketball coach for Schultz, who "retired" from the position for the first time in 2000. He didn't have a bad run that time, leading NRHEG to two Gopher Conference titles and a section championship game.
This time, he said, he does not want to become known as the Brett Favre of NRHEG.
"I didn't think I'd ever coach varsity basketball again after 2000," said Schultz. "I didn't have much time to think about it. I thought, 'what the heck, I'll give it a shot.'"
What started as a job nobody wanted turned into a once-in-a-lifetime, four-year joyride for Schultz. During that span the Panthers won 118 games and lost six. They were 59-1 in the Gopher Conference. Their record the past three seasons was 95-2, and they'll start next season with a 61-game winning streak. Schultz coached a once-in-a-lifetime player, Carlie Wagner. His daughter, Jade, earned Preferred Walk-On status at the University of Minnesota alongside Wagner. And he was named Minnesota Class AA Girls' Basketball Coach of the Year.
"It's well beyond anything I ever dreamed of," said Schultz. "The most exciting part of it was qualifying for state three years ago, beating St. Peter in the section finals and just making it to state."
The second time was a learning experience.
"To go to state a second time, to win it, to see the difference between first and third, with the press and all the attention, was really something," said Schultz.
This past season?
"That put our program in cement," said Schultz. "It gives legitimacy to our program and our players."
Schultz said legitimacy by the players was earned through countless hours on the court and in the weight room, led by this year's seniors — Hannah Lundberg, Paige Overgaard, Jade Schultz and Wagner.
"Those senior girls are the staple of what we've done the last four years," said Schultz. "They've worked harder in the summer than most players do during the season. I've coached those girls in AAU ball since fifth grade. There aren't too many teams that could match up with them."
As for NRHEG fans — aka Panther Nation — Schultz said no one can match.
"I can't say enough about our fans," he said. "All the support and encouragement they provided our girls was something special. We flat out had the best fans at the state tournament three years in a row. I want to express my appreciation to everyone in the communities. I'm extremely thankful. I honestly don't think there could be a better place to coach basketball than right here."
Schultz declined to speculate on his successor, but feels whoever does take over will find plenty of talent on the roster.
And, though confident in his decision to retire as head coach, he can't help but get excited when talking about the future of NRHEG girls' basketball and maybe even wonder a bit about the path not chosen.
"The challenge (next season), it would have been just awesome," said Schultz. "With the players coming back, and a junior varsity that's been so successful, there's a lot of talent there. I think we've got some kids on our team that people just can't prepare for."
What happened the past three seasons, that's something no one could have prepared for — especially opposing teams.