NRHEG senior to play football at SMSU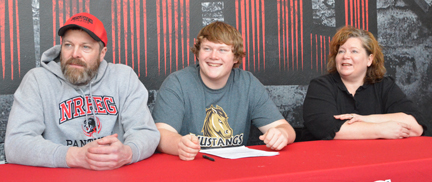 ON THE DOTTED LINE – A happy NRHEG High School senior Nick Goette, surrounded by his parents, Rod and Deb, signs a National Letter of Intent to play football on partial scholarship at Southwest Minnesota State University in Marshall. (Star Eagle photo by Chris Schlaak)
By JIM LUTGENS
Editor/Publisher
Participating in a sport at the intercollegiate level is an opportunity afforded to a very small percentage of high school athletes. Receiving money to do so is even more rare.
Nick Goette knows how it feels.
The NRHEG High School senior signed a National Letter of Intent last Wednesday to play football on a partial scholarship at Southwest Minnesota State University in Marshall.
"It's awesome," said Goette, son of Rod and Deb Goette of rural Ellendale. "As all this was coming together, I was like, I can't believe this is happening, I'm getting money for college."
The Mustangs will be getting a 6-foot-3, 285-pound lineman who spent three years on the NRHEG varsity, earning all-conference honors as a senior. He played offensive and defensive tackle for the Panthers, and will probably play on the offensive line for SMSU.
"We are very proud of Nick," said NRHEG Athletic Director and Football Coach Dan Stork. "He is a great kid that has worked extremely hard and is very deserving of the opportunity that Southwest State is giving him. I think Nick will do very well with the Mustangs, and I am looking forward to watching him play at the next level."
Goette said he never really thought about college football until his senior season ended, at which point he realized, "I really want this to continue."
Goette wished to thank the coaches for helping him become the player he is, his parents for their encouragement, and his teammates for a great time this past season. He also thanked Bo Budach and Sophie Stork, "For being such great sideline support."
Goette received a partial scholarship as a Preferred Walk-On and a guaranteed roster spot. He'll have an opportunity to increase his scholarship amount for the coming years. He'll move to Marshall in early August to start practice, with the first game on Sept. 6. SMSU plays at Mankato and Winona this year.