Folks again flock from all over for Wild Game Feed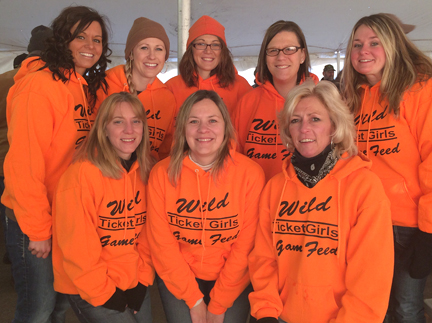 WILD GIRLS — The ticket girls who help with the gun raffle at Geneva's Wild Game Feed are, front from left: Leann Figueroa, Brenda Misgen and Lori Klemmensen. Back: Nicole Beede, Jessica Tuttle, Tracy Callahan, Jamie Theuer and Becca Harrigan. There was a great turnout for the 29th annual event despite extremely cold temperatures. (Star Eagle photo by Kathy Paulsen)
By KATHY PAULSEN
Staff Writer
The 29th Annual Wild Game Feed was held under the big top on the parking lot at Geneva Bar & Grill Saturday, December 7.
Another big crowd turned out and, of course, no one left hungry.
A whole group of enthusiastic cooks use their culinary talents to help prepare all the great wild game that has been donated for the event.
The first wild game feed was held in 1984 and it has continued to grow in size, favor and flavor into an event that has the whole community and others talking about and anticipating. Folks come from far and wide every year. A record book is placed at the beginning of the service line where many people sign their names and where they are from. Reviewing 13 pages of names, it was interesting to learn where people came from this year.
Those who signed came from 74 cities. People came all the way from Baldwin, Virginia and Mesquite, Nevada. They also came from LaCrosse, Madison and Galesville, Wisconsin, as well as from St. Ansgar, Bristow, Mitchell, Lake Mills, Osage and Northwood, Iowa. And of course there was a great group from Minnesota, some from as far away as Duluth and Brainerd, and as close as Geneva along with Ellendale, Hartland, Bath, New Richland, Dodge Center, Wells, Andover, Albert Lea, Rochester, Waseca, Morristown, Owatonna, LeRoy, Mankato, Alden, Freeborn, Glenville, Medford, Blooming Prairie, Faribault, Rapidan, Mapleton, Good Thunder, Janesville, Byron, Hollandale, Austin, Lake Crystal, Webster, Minnesota Lake, Hayfield, Prior Lake, Clarks Grove, Alden, New Prague, Stewartville, Mantorville, Elko, Manchester, Waldorf, Claremont, Wells, Henderson, Pemberton, Wykoff, Preston, Madison Lake, Morristown, Lyle, Hayward, Winona, Eagan, Elysian, Plymouth, St. Paul, Eyota, Manchester, Amboy and Wyoming.
Needless to say, there were cars parked all over Geneva.
Even though the temperature was very cold, it was nice and warm under the big top tent, which measured 40 by 160 feet. People lined up early. It was interesting to note that close to 1,000 large Styrofoam dinner plates were used this year. That is a lot of people and a lot of food. One would be surprised at how many out-of-towners call to be sure the event is again being held, and then come!
Last year featured a few new delicacies such as llama, dove and prairie chickens, and this year they were able to serve several new items too, including sand hill crane, deep fried turkey gizzards, and bacon wrapped goose breast.
There were also old favorites venison, moose, elk, marsh bunnies (muskrat), wild boar, raccoon, beaver, rabbit, turkey, goose, duck, pheasant, quail, guinea hens, bob whites, coot (or mud) hens, alligator, and fish including lake trout.
Wild boar is particularly delicious and even better barbequed. It's not the most beautiful on the hoof, but most people will tell you it is better than any domestic pork they have ever eaten. Venison raised in our corner of the state is a supreme meat as it is grass fed. The wild game is used for specialty dishes such as casseroles and soups or used to make tacos, meatballs, enchiladas, brats, wraps, chili, as well as grilled.
The preparation and cooking each year requires a great deal of knowledge and hard work and the old pros look forward to it. George Dettman and Ray Farr started as the lead cooks for this event but, as the feast has grown, so has the cooking staff. Ray passed away, but before he did he passed on his expertise to his son, Rodney. George and Rodney continue to help with food preparation and offer great guidance each year.
Wayne Hoyne, Jim "Scrappy" Shaefer and Bruce Buboltz stepped in a number of years ago to help and have gained a great deal of experience. It is a lot of work, but they enjoy it and keep coming back every year. About 30 others from the area also help prepare the food. The crew started cooking on Monday and cooked all week.
The Southern Minnesota Electric building across from the bar and grill continues to be a prime spot for much of the preparation and many grills are brought in. Last year, "Scrappy" also provided some carpenter skills to this fundraising project and built shelves for the trailer used to hold all the roasters, chafing dishes and such that are needed each year.
Inside the tent the banquet crew has developed a good setup after many years of experience and are able to accommodate the large number of people, and do so quickly. People form two lines and easily make their way around the tables filling their plates.
There is a suggested donation for the price of this great food but it is really a free will donation and cheap at any price.
Once people have filled their plates, many to overflowing, they are able to sit at one of the 50 rented picnic tables under the heated big top. People not only enjoy a great meal, but conversation with their friends and neighbors.
Haley VanEngelenhoven and Julie Oquist again served as greeters and directed people to the serving lines.
Many local people and businesses continue to donate to the event and they include: Geneva Bar & Grill, Geneva Meats, Commerce Bank of Geneva, Sorenson's Appliance and TV, Central Co-op, Ellendale, Al Jacobs, Hope Creamery, Oswald Fisheries, Dale Miller, Gary Anderson, Star Eagle, Mark Lee Trucking, Thompson Sanitation, Pete Vanerkel Farms, Mega Force, Dahlman Game Farm, The Bow People, Hafstad Elk Farms, Ahlman's, Mrs. Gerry's, Hy-Vee of Owatonna, Krieger Beverage, Sanctified Design Systems, Ventura Foods, Ad Art, Smokin' Bros., Locher Brothers, Jones Manufacturing, State Farm Insurance Randy Cirksena, EZ Rental, G & K Rental, and Kevin Davis, who donates in memory of Rose LeCore.
Along with the Wild Game Feed there was again a large gun raffle, organized by Taff Worrell, David Thompson, Brian Muri, Toby Oquist and Jeremy Meyers. Wild Game Feed announcer Jason Tiekotter and his crew were kept busy all day until the last gun was raffled. Jason's sidekick, Laura Worrell, again called out the winning numbers for each of the 75 shot guns or riffles. And if that wasn't enough, a Matthews bow, a 20 gauge youth gun and a granite table were also raffled off. 
The "Wild Ticket Girls" — Brenda Misgen, Lori Klemmensen, Jessica Tuttle, Tracy Callahan, and Jamie Theuer — were back this year and joined by new recruits Leann Figueroa, Nicole Beede, and Becca Harrigan. The ticket girls wore bright hunter's orange sweatshirts so they could be easily picked out of the crowd.
Whitey and LaJune Hagen and Keith Hagen were also on hand on Saturday selling 2014 Geneva Cancer Auction sweatshirts and long and short sleeve T-shirts, which this year are light blue in color. There were also Geneva Cancer Auction Cookbooks and 2014 "Hot Looks For A Cure" calendars for sale. The calendar this year includes 16 of the area's greatest looking men.
They also had raffle tickets for two Geneva Cancer Auction drawings. One raffle this year includes a 1942 "M" Farmall Tractor that has been donated by the Harold J. Bagley and Steve Quam families. Sponsors for the donation include Arnold's of Alden and Munson's Auto Body Shop of Clarks Grove.
The second raffle includes a 51" Plasma HDTV with a BluRay Player as well as several cash prizes.
Tickets for the drawings can be purchased at Geneva Bar & Grill until the time of the drawings in January.
A wildlife quilt has also been donated by Nic Goodnature, in memory of Mary Beth Goodnature, and will be auctioned. The quilt is on display at Geneva Bar & Grill. Please stop and take a look at it.
The 2014 Geneva Cancer Auction, which this year marks 30 years, will be held the weekends of January 11-12 and January 17-18 at Geneva Bar & Grill. The auction starts at 7 on Friday nights and resumes at 2 Saturdays. Whitey Hagen would once again like to remind our readers that in order for the Geneva Cancer Auction to continue to succeed, donations will again be needed. Donations can be dropped off at Geneva Bar & Grill. If you have questions regarding the auction, contact Whitey or LaJune Hagen at 507-373-1337.