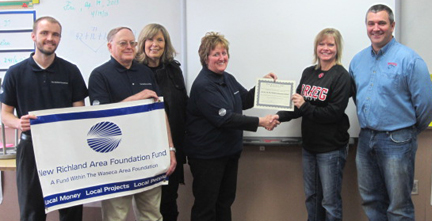 TECHNOLOGY GRANT — The New Richland Area Foundation Fund presented a grant for $7,196 to NRHEG Schools April 19. From left: Matt Harrington, Kermit Schoenrock, Karen Buum, Gail Schmidt, Angie Aaseth and Rick Schultz. (Submitted photo)
By JIM LUTGENS
Editor/Publisher
The first round of 2013 grant presentations is in the books for the New Richland Area Foundation Fund.
On a snowy morning Friday, April 19, members of the NRAFF Grants Committee traveled to NRHEG Elementary School in Ellendale to present a check for $7,196 to NRHEG Schools for the purchase of four SMART Boards to be used in first-grade classrooms.
There for the ceremony were NRAFF Grants Committee members Kermit Schoenrock, Matt Harrington and Gail Schmidt, Executive Director of the Waseca Area Foundation Karen Buum, NRHEG School Board Chairman Rick Schultz, NRHEG Technology Coordinator Angie Aaseth, first-grade teachers Erin Holland, Jill Boran, Deb Gaines and Megan Steuck, and first-graders Tayler Schmidt, George Roesler, Brenna Sommer and Hope Nielsen.
The NRAFF's grant will bring the number of SMART Boards in NRHEG first-grade classrooms to 25, allowing SMART Board use to 100 percent of students at NRHEG Elementary.
"Our grants committee is very excited to be able to give this amount for the purchase of the remaining four SMART Boards," said Schmidt.
According to the grant application, "These boards will go in the first grade rooms. The first grade teachers have been patient in waiting for their SMART Boards. They are especially anxious now, next year they will be using a new Reading curriculum and definitely see having a SMART Board as a huge benefit in their teaching and learning. The boards for these grade levels allow up to four students at a time working on the SMART Board. The collaboration, engagement, and learning that will take place is exciting for the teachers and students. The teachers are excited to use this technology not only in Reading, but also in other subject areas and for basic skills that the students will be able to enhance through the engagement of the interactive whiteboard. The SMART Board will enhance the functional independence of the students, while providing them with a fun and exciting way to learn."
Aaseth, who gave a presentation on how the SMART Boards work, said in the grant application that NRHEG has made significant strides in the use of technology and the NRAFF's donation will most definitely be a plus. The teachers and students will be able to use the interactive whiteboard throughout the day, in a variety of different curricular areas and build on skills they are developing.
"This teaching and learning tool will open up a whole new realm of possibilities for our teachers and students," said Aaseth.
The goal is to increase academic knowledge, engage all learners, promote independence, and work collaboratively within a group while leading students toward becoming responsible, productive members of our community.
"This is a technology driven world," said Aaseth. "We believe we will see heightened interest and success in their engagement in learning."
Schmidt said the NRAFF is happy to help.
"Not only is it an honor to be able to present them with this grant, but also to see how excited and appreciative these teachers and administration are," she said. "It's so rewarding to see how much pride they have in providing the highest level of education to all of their students."