Win at Waseca caps another successful year under Siewert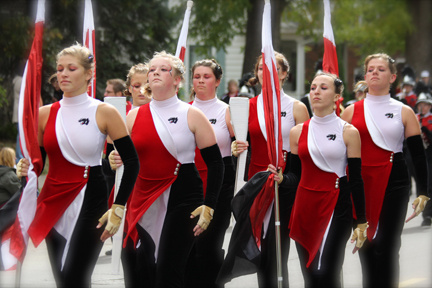 MARCHING ON — Above, members of the NRHEG Marching Band Color Guard lead the band during the 2012 Waseca Marching Classic. From left: Hailie Mahlman, Abby Crabtree, Maddie Reed, Elizabeth Eder, Emmy Hobbs, Jessica Phillips and Crystal Olson. Below, director Tim Siewert cheers the band during the Waseca Marching Classic. (Star Eagle photos by Nikki Erickson)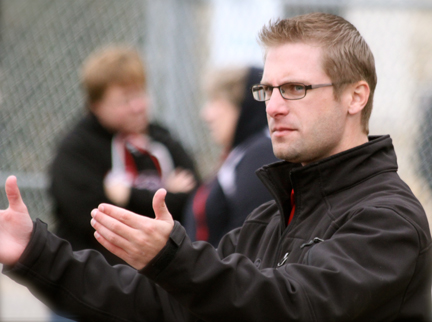 By JESSICA LUTGENS
Editorial Assistant
The NRHEG High School Band has been very successful in recent years, shown not only by their excellent performances, but also by awards they've received. The band has won the Waseca Marching Classic the last three years in a row, and six out of the last seven years. 
Two years ago, they didn't win first place, but they did win the People's Choice award, which some could argue is even better.
"This summer was very successful for our marching band," said Tim Siewert, band director. "We had a whole new look with great uniforms and drums we were able to purchase, but our reputation stayed at the high level it's always been at."
Parades the band attended this  past summer include: Fairmont, Lake Crystal, where they took second place, Owatonna, second place, Rochester, second place, Albert Lea, St. Peter, New Richland, Ellendale, Minnesota State Fair, fourth place, and Waseca, first place. New uniforms were purchased this summer for the first time in 18 years, as well as drums. The music this year was "New World Symphony," a classical piece written by Czech composer Antonin Dvorak. 
"I couldn't be more proud of the students," said Siewert. "They worked hard all summer long, and it's always great to finish the season with a first-place trophy. The level of commitment and dedication that the students have for the band is outstanding."
If you would like to see the band's talent firsthand, you can catch them at halftime of the homecoming football game October 5. The band will be performing a field show, which will include another performance of "New World Symphony" as well as some other surprises.
The band is also preparing for the annual Indoor Marching Band Concert, which will be held two nights this year instead of the usual one. This is because of the popularity of the indoor concerts in the past. This year's theme will include music from "The Phantom of the Opera." The performances will be held on Monday, November 19, and Tuesday, November 20. Admission is $5 for adults and $3 for students for anyone interested in attending.
Congratulations are extended to the members of the band as well as Siewert for leading such a talented group of young people, and good luck to them in their upcoming performances.