Details

Hits: 2579
Panthers fall at Waterville, 13-7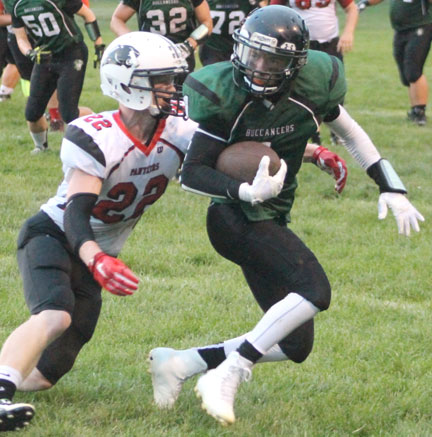 Perry Peterson of the NRHEG High School football team (22) tackles Tyler Tegmeier during Friday night's game at arch-rival Waterville-Elysian-Morristown. The Panthers gave it a good effort against the No. 5 rated Buccaneers but came up just short, 13-7. The Panthers host winless Gibbon-Fairfax-Winthrop Friday, Sept. 11 at 7 p.m. (Star Eagle photo by Jim Lutgens)
Details

Hits: 4729
Doc Flor's legacy spans generations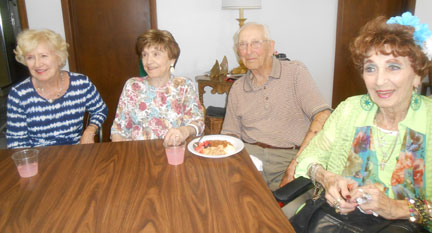 REMINISCING — Albert Flor and his three sisters enjoy dinner together at Albert's cabin on St. Olaf Lake. From left: Phyllis Cooper, Ordelle Schmid, Albert Flor, Arlene F. Ros-Crum. (Star Eagle photo by Kathy Paulsen)
By KATHY PAULSEN
Staff Writer
For many folks, one of the happiest days of their life was the day they started going to Dr. Albert Flor's dental office. One of the saddest days was when he retired and they had to find someone new.
For more than 50 years, "Doc" has been an interesting character in New Richland. At 95 years of age he still keeps busy, not doing dentistry work, though he jokingly said he still carries his trusty pliers in his pocket, which he proudly displayed.
Since his retirement in 1991, Flor has been using his garage to build utility trailers and picnic tables. He is not the type of person to just sit. He has to be up doing something and his garage has become like a second home. He said he has already made 15 utility trailers and 13 picnic tables. He has given picnic tables to some of his grandchildren, but he still has a few more to make.
Details

Hits: 3964
Johnson enjoys semester of study in 18th-century estate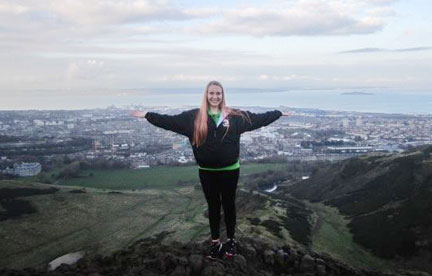 TOP OF THE WORLD — Hailey Johnson stands with arms stretched wide atop Arthur's Seat overlooking Edinburgh during her semester-long stay in Scotland. Johnson lived and studied in an 18th-century castle. (Submittted photo)
By TROY THOMPSON
Contributing Writer
When 2012 NRHEG graduate Hailey Johnson decided to go to college in Wisconsin, she didn't anticipate attending classes in a Scottish castle while wearing her pajamas.
"You wake up, walk down to class in your pajamas, and learn in a castle," said Johnson. "It was pretty cool."
From August to November of 2014, Johnson, who's attending the University of Wisconsin-River Falls while studying Animal Science with a Veterinary Tech emphasis, decided to expand her horizons for a semester abroad. Scotland seemed like another world away, but her decision to pursue her general studies in that country proved to hit closer to home than she could have realized.
"It was a physical journey, but an emotional one, too," said Johnson. "I thought it would be difficult being away from home at college, but I never anticipated being 4,000 miles away."
Details

Hits: 3498
Panthers win early opener at Mayer Lutheran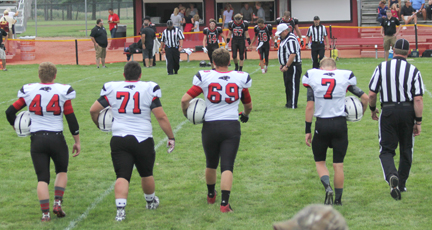 NRHEG High School football captains Trey Hoppe (44), Wyatt Fitterer (71), Zeke Erickson (69) and Palmer Peterson (7) make the walk to midfield for the coin toss of the 2015 season opener at Mayer Lutheran Saturday afternoon. The Panthers prevailed, 14-7. See the Aug. 27 edition of the Star Eagle for the Fall Sports Preview. (Star Eagle photo by Nikki Erickson)
Details

Hits: 5196
Painting a picture of real life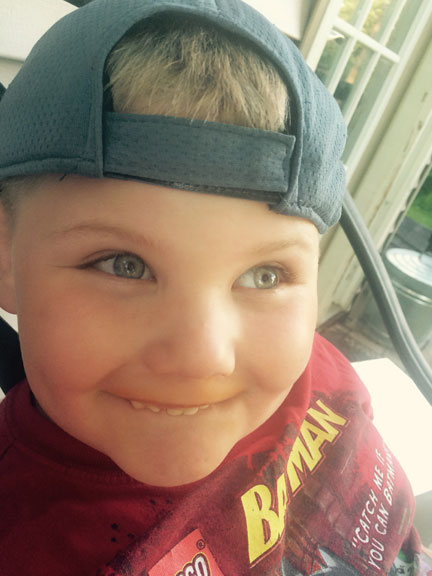 STILL SMILING — Conner Weckwerth of Blooming Prairie, son of Milo Weckwerth of New Richland, has been responding well since undergoing recent surgery to remove a brain tumor. (Submitted photo)
By MARK DOMEIER
Contributing Writer
Let's paint a picture.
Start with some bright, vibrant colors. These are the colors of a young man who enjoys the outdoors, so maybe some verdant greens and sunshine yellows. Throw in the reds and oranges of fires in the summer, toasting s'mores.
These are good colors for the beginning of a painting of Connor Weckwerth of Blooming Prairie. He lives with his mom, April, and is the son of Milo Weckwerth of New Richland. Connor just finished kindergarten in Blooming Prairie last spring, but then found some new colors added to his painting this summer, some colors that were unexpected and had a darker hue.