Details

Hits: 3815
STATERS — NRHEG cheerleaders trying out for the All State team were, from left: Nicole Edon, Jessica Nafe, Taylar Tieskotter, Abby Christopherson, Abby Wacholz, Bayli Possin and Lizzy Hagen. (Submitted photo)
By JIM LUTGENS
Editor/Publisher
If you live around here and you're paying attention, you already know the NRHEG High School cheerleaders are among the best in the state of Minnesota.
They proved it again Saturday, Oct. 10.
Seven NRHEG seniors tried out for Minnesota All State at Park Center High School. Five made the cut.
"All the girls did an amazing job and we're very proud of each of them," said NRHEG cheerleading advisor Kari Buendorf. "They will be learning a new routine with the members of the All State team this winter and then performing at the Minnesota State Cheerleading competition in late January."
Details

Hits: 5974
Former Panther was four-time All-American, national champion
By JIM LUTGENS
Editor/Publisher
For years, Matt Petsinger was an automatic win for the NRHEG wrestling team.
A varsity member for six seasons, he finished his high school career with a remarkable record of 179-30 with 131 falls, three state tournament appearances and two runner-up finishes at state. A fierce competitor, Petsinger was also a Junior National Greco-Roman runner-up.
The Minnesota Gophers, however, never called.
It left a bit of a chip on Petsinger's shoulder, but four years later he was redeemed with the Division II national championship at 157 pounds, completing a remarkable run of four consecutive All-American performances at Minnesota State University-Mankato.
On Oct. 9, he entered MSU athletics immortality, being inducted into the college's sports hall of fame.
Details

Hits: 2914
Volleyball team raises funds to fight cancer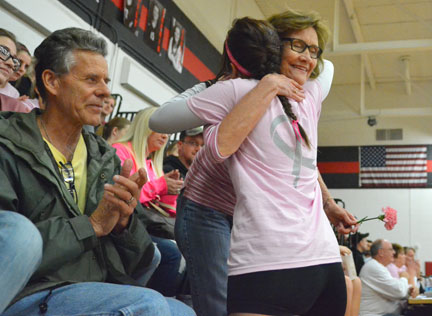 NRHEG volleyball player Corrie Powell hugs her grandma, Sandi Kurth, while grandpa Randy Kurth applauds during Dig Pink Night at NRHEG High School Friday, Oct. 9. The volleyball team raised $700 to help fight breast cancer. (Star Eagle photo by Chris Schlaak)
Details

Hits: 4092
New superintendent comfortable on first-name basis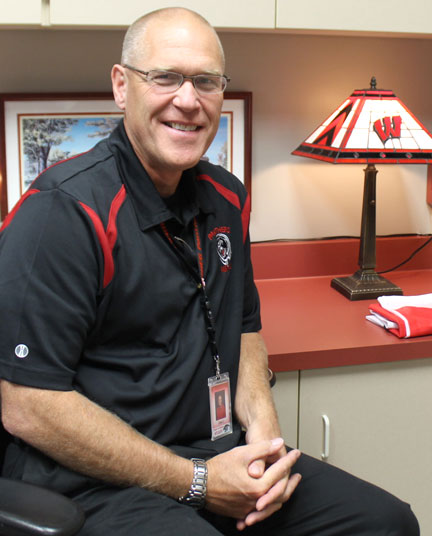 HAPPY TO BE HERE — So far, Dale Carlson has been comfortable with his decision to take the job as NRHEG Superintendent. (Star Eagle photo by Jim Lutgens)
By JIM LUTGENS
Editor/Publisher
NRHEG's previous school superintendent, Dennis Goodwin, was a down-to-earth enough  guy, but he liked the idea of being called doctor. He felt it was a title he earned, and you respected him for it.
It's also a title earned by Dale Carlson, NRHEG's new superintendent, but he's not a stickler for formalities.
"I hope it's Dale," he said. "I'm really more of a first-name kind of person."
Carlson, 53, comes off as a warm, genuine person, with an easy smile and a Leave It To Beaver upbringing. He's guiding NRHEG on an interim basis, though he's not ruling out the possibility of a long-term contract at some point if both sides see fit.
Details

Hits: 13484
Exchange student enjoying stay with Tollefson family
CULTURE CONTRAST — Swedish foreign exchange student Linnea "Lilly" Strom-Olsen has experienced many cultural differences since arriving in the United States in August. (Star Eagle photo by Jim Lutgens)
By MARK DOMEIER
Contributing Writer
NBC recently cancelled a sitcom titled Welcome to Sweden. The show centered around an American who moved to Sweden to be near his girlfriend, who was from that country, and to get away from the bustle of New York. The episodes showed Sweden as a relaxed, welcoming country where most people got along with each other.
New NRHEG foreign exchange student Linnea Strom-Olsen said that is a pretty accurate description of her home country. Strom-Olsen, who goes by Lilly, is staying with Mark and Sandy Tollefson, and their daughter Emma, of New Richland. Tollefsons said they had been contemplating hosting an exchange student for a couple years and have a little more room in the house now with both sons Carter and Spencer off to college.