Details

Hits: 2790
Volleyball team raises funds to fight cancer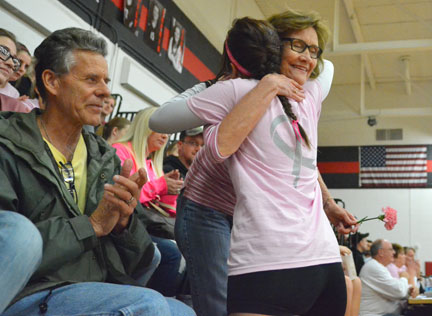 NRHEG volleyball player Corrie Powell hugs her grandma, Sandi Kurth, while grandpa Randy Kurth applauds during Dig Pink Night at NRHEG High School Friday, Oct. 9. The volleyball team raised $700 to help fight breast cancer. (Star Eagle photo by Chris Schlaak)
Details

Hits: 11830
Exchange student enjoying stay with Tollefson family
CULTURE CONTRAST — Swedish foreign exchange student Linnea "Lilly" Strom-Olsen has experienced many cultural differences since arriving in the United States in August. (Star Eagle photo by Jim Lutgens)
By MARK DOMEIER
Contributing Writer
NBC recently cancelled a sitcom titled Welcome to Sweden. The show centered around an American who moved to Sweden to be near his girlfriend, who was from that country, and to get away from the bustle of New York. The episodes showed Sweden as a relaxed, welcoming country where most people got along with each other.
New NRHEG foreign exchange student Linnea Strom-Olsen said that is a pretty accurate description of her home country. Strom-Olsen, who goes by Lilly, is staying with Mark and Sandy Tollefson, and their daughter Emma, of New Richland. Tollefsons said they had been contemplating hosting an exchange student for a couple years and have a little more room in the house now with both sons Carter and Spencer off to college.
Details

Hits: 3794
Speaker leaves students spellbound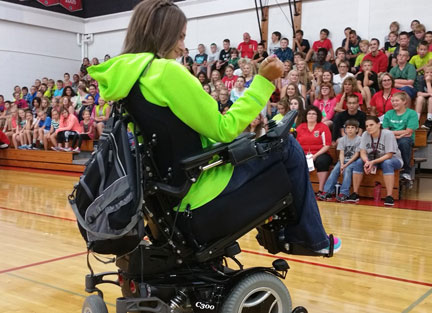 SPELLBOUND STUDENTS — Tasha Schuh, a quadriplegic from Ellsworth, Wis., held the interest of NRHEG students on the first day of school. (Submitted photo)
By MARK DOMEIER
Contributing Writer
Sixteen feet is a long way to fall. Falling that far and landing on your head on a concrete floor is often a tragic fall; survival odds are long.
Yet, that's just what Tasha Schuh of Ellsworth, Wis., did in 1997. While working on a production of The Wizard of Oz at her high school in Red Wing, Minn., Schuh fell through a trapdoor, breaking her neck, fracturing her skull, and crushing her spinal cord. She was in a coma for eight days and wasn't given much chance to live.
Yet there she was in front of the NRHEG student body on the first day of school, speaking about her life experiences and how to deal with adversity. "Yes I can," was a phrase she taught students to say in sign language, a phrase she has used as a mantra often during her recovery and subsequent embarkation on a career as an inspirational speaker.
Details

Hits: 4156
Nafe, Altermatt wear the crowns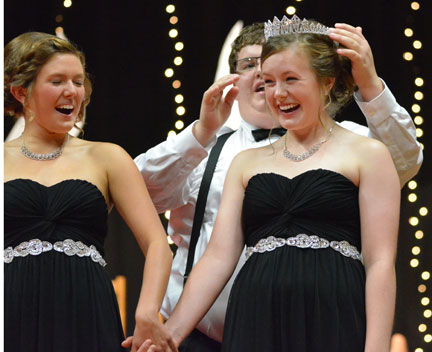 Above, Jessica Nafe is crowned 2015 NRHEG Homecoming Queen by King Michael Altermatt as Abby Christopherson looks on Monday night in the high school gymnasium in New Richland. Below, Altermatt, Dempsey Tucker and Palmer Peterson react after Altermatt's crowning. The Panthers face LeSueur-Henderson Friday at 7 p.m. in the Homecoming football game. (Star Eagle photos by Chris Schlaak)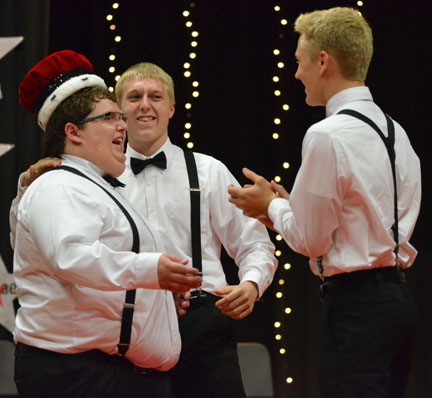 Details

Hits: 3875
2015 NRHEG homecoming candidates
NRHEG High School homecoming royalty candidates for 2015 are, front from left: Jessica Nafe, Taylar Tieskotter, Abby Wacholz, Abby Christopherson and Anna Bailey. Back: Michael Altermatt, Zeke Erickson, John Cole, Palmer Peterson and Dempsey Tucker. Coronation is Monday, Sept. 21 at 7:30 p.m. in the high school gymnasium in New Richland. (Star Eagle photo by Chris Schlaak)
By JIM LUTGENS
Editor/Publisher
It's time for homecoming week at NRHEG High School.
Candidates for queen and king, announced last week, are as follows:
• Anna Bailey, daughter of Steve and Mary Bailey
• Abby Christopherson, daughter of Doug Christopherson and Karla Christopherson
• Jessica Nafe, daughter of Terry and Karen Nafe