Details

Hits: 3604
Bohlen finally achieves perfection on the bowling lanes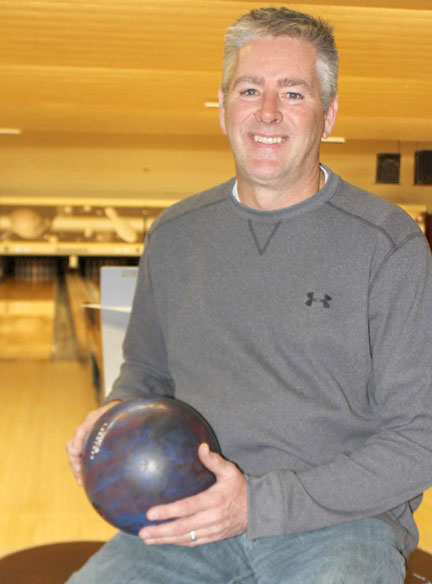 FAMILY AFFAIR — Bowling has definitely been a family activity for Rick Bohlen of rural New Richland, who rolled his first 300 game Nov. 16 at Trapper's Lanes. (Star Eagle photo by Jim Lutgens)
By JIM LUTGENS
Editor/Publisher
Nobody's perfect, of course, but on one night, for one shining moment, Rick Bohlen of rural New Richland was exactly that.
Bohlen, 55, finally bowled an elusive 300 game, hitting 12 consecutive strikes Monday, Nov. 16 during league competition at Trapper's Lanes in New Richland.
It was the first of a three-game 710 series for Bohlen, who followed the perfecto with games of 217 and 193, and it was a long time coming for someone who started bowling more than 50 years ago when his father, Merlin, owned the bowling alley then known as Bohlen's Lanes.
"I think it was kind of neat it was done here," said Bohlen, who bowled for many years in Albert Lea before returning to town with his brother, James, to take over their father's heating and air conditioning business in 2006. "To come back here to do it where we actually grew up and learned how to bowl, it was special."
Details

Hits: 4583
Peterson to auction Christmas lights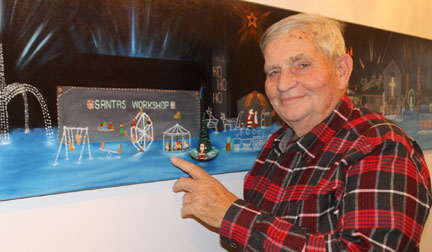 BITTERSWEET FAREWELL — After four decades, Vince Peterson of rural New Richland will not have his farmplace decorated this winter, as depicted in a painting that hangs in the entryway of his home. He's selling most of it by auction on Sunday. Peterson is pointing at two items that will not be sold. (Star Eagle photo by Jim Lutgens)
By JIM LUTGENS
Editor/Publisher
For anyone out there hoping to catch one last look at Vince Peterson's now famous Christmas display, you're out of luck.
It won't be there this year.
At 84, after putting up a portion of the lights — a task he's performed since 1975 — Peterson concluded that he's too old and too tired to continue, and decided to hold a public auction on almost all of his collection. It's set for Sunday, Nov. 22 at 1 p.m. — just in time for the holidays — at Peterson's farm north of New Richland. Auction proceeds will be donated, half to Trinity Lutheran Church of New Richland and half to the New Richland Area Fund.
It marks the end of an era for an impressive display, which gained popularity through the decades as Peterson and his late wife, Virginia, added items almost every year. It was a must-see for anyone with kids or anyone who enjoyed Christmas lights. It was known throughout Southern Minnesota.
Details

Hits: 3587
STATERS — NRHEG cheerleaders trying out for the All State team were, from left: Nicole Edon, Jessica Nafe, Taylar Tieskotter, Abby Christopherson, Abby Wacholz, Bayli Possin and Lizzy Hagen. (Submitted photo)
By JIM LUTGENS
Editor/Publisher
If you live around here and you're paying attention, you already know the NRHEG High School cheerleaders are among the best in the state of Minnesota.
They proved it again Saturday, Oct. 10.
Seven NRHEG seniors tried out for Minnesota All State at Park Center High School. Five made the cut.
"All the girls did an amazing job and we're very proud of each of them," said NRHEG cheerleading advisor Kari Buendorf. "They will be learning a new routine with the members of the All State team this winter and then performing at the Minnesota State Cheerleading competition in late January."
Details

Hits: 5326
Friends, family pay tribute to one of Geneva's favorite citizens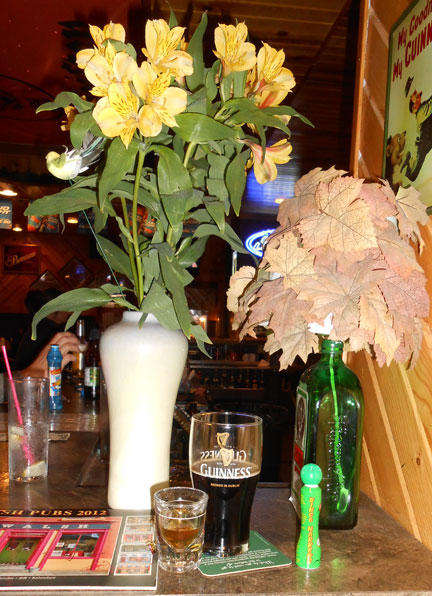 SOMETHING'S MISSING — A glass of Guinness, a shot of whiskey and other items were placed at Digger's usual spot at Geneva Bar and Grill during a recent bar bingo. (Star Eagle photo by Kathy Paulsen)
By KATHY PAULSEN
Staff Writer
This is a difficult story to write.
Difficult because in no way can it do justice to a special man who so warmed our hearts and left us with a vast amount of touching memories.
Leprechauns are special people who roam the world with their spirit full of tricks and laughter. They always smile and make you feel good.
It has been said if you find a leprechaun you will find a pot of gold at the end of the rainbow. That certainly holds true for the people in our area. The pot of gold was in the heart of Thomas Desmond Donnelly IV, and the rainbow of happiness always seemed to shine after the rain.
Tom was proud of his Irish heritage and could often be seen wearing green. Following his death, people passing by his home on Central Avenue in Geneva could see a lit green shamrock in one of the front windows.
Details

Hits: 5431
Former Panther was four-time All-American, national champion
By JIM LUTGENS
Editor/Publisher
For years, Matt Petsinger was an automatic win for the NRHEG wrestling team.
A varsity member for six seasons, he finished his high school career with a remarkable record of 179-30 with 131 falls, three state tournament appearances and two runner-up finishes at state. A fierce competitor, Petsinger was also a Junior National Greco-Roman runner-up.
The Minnesota Gophers, however, never called.
It left a bit of a chip on Petsinger's shoulder, but four years later he was redeemed with the Division II national championship at 157 pounds, completing a remarkable run of four consecutive All-American performances at Minnesota State University-Mankato.
On Oct. 9, he entered MSU athletics immortality, being inducted into the college's sports hall of fame.