Details

Hits: 3277
2016 cancer auction kicks off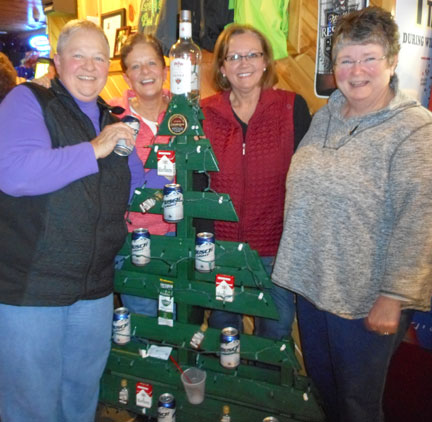 REDNECK MOTHERS — Cheri (Sloan) Krejci, Cindy (Sloan) Owen, Pam (Cornelius) Muri and Rita (Thompson) Louks stand by the Redneck Christmas tree auctioned off during the first weekend of the 2016 Geneva Cancer Auction. The event resumes at 7 p.m. Friday and wraps up Saturday, Jan. 16 at Geneva Bar & Grill. (Star Eagle photo by Kathy Paulsen)                
By KATHY PAULSEN
Staff Writer
Life is brief and very fragile. Hope, like love, transcends all time. It is a friend, a healer and a maker of dreams. When you give, you harvest an abundance of love that life offers.
Maybe all of life's promises don't come true. We can only try.
January is a month dedicated to extraordinary attention given to the cause against cancer. Though it is an ongoing cause year-round, January 8-9 and 15-16 are special days set aside for the Geneva Cancer Auction. Friday night began with a brief introduction by Jamie Hagen, followed by his father, DuWayne, or Whitey, Hagen, as he is best known, reviewing some achievements that go back 30 to 40 years ago.
Details

Hits: 2744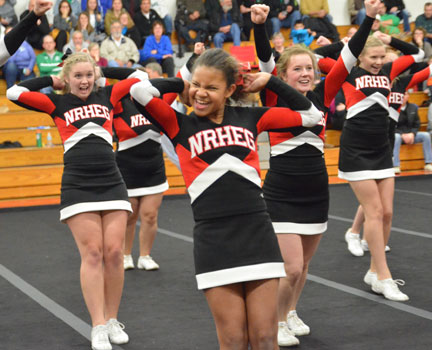 NRHEG High School winter cheerleaders get the home crowd excited during a December basketball game. From left are Anna Bailey, Avery Hill, Jessica Nafe and Lillian Bell. Panther athletic teams are in the midst of a busy season. See the sports schedule on Page 10 of this week's Star Eagle. (Star Eagle photo by Chris Schlaak)
Details

Hits: 5300
Goette recounts near death experience
DIFFERENT NOW — Russ Goette and his fiancée Patti Carlson have a little different outlook visiting the graves of his parents since Goette suffered a heart attack and subsequent surreal experience three years ago. (Star Eagle photo by Deb Bently)
By DEB BENTLY
Contributing Writer
Although the date on his birth certificate indicates he is 55, Russ Goette of Ellendale feels he is telling the absolute truth when he says, "I recently celebrated my third birthday."
And as unlikely as his statement may sound, his fiancée Patti Carlson will back him up 100 percent.
"Russ started a new life three years ago," she says.
Carlson would know: she was there when his first life ended without warning on the afternoon of Saturday, September 8, 2012. Napping in a chair near her, he suddenly made a gurgling sound, met her eyes, reached out toward her as if unable to speak, and then lapsed into unconsciousness. Carlson knew a heart attack when she saw it, so she dialed 911, requested paramedics, then worked CPR on his unresponsive frame for 15 to 20 minutes until first responders arrived and restarted his heart.
"They had to use the defibrillator twice," Carlson recalls. "But they got a beat going, and then they took him to the hospital."
Details

Hits: 3856
Students shine in annual concert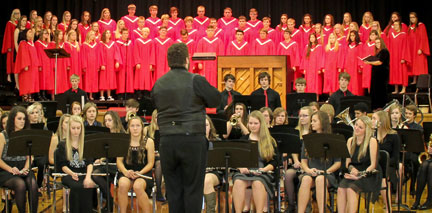 CHRISTMAS CONCERT — NRHEG High School music instructor Jacob Bender conducts the band during the annual Christmas Concert Monday, Dec. 14. (Star Eagle photo by Nikki Erickson)
By NIKKI ERICKSON
Contributing Writer
The Christmas season began at NRHEG High School with the combined choir and band Christmas Concert Monday, Dec. 14. 
The choir started the evening with a joyful piece called, "A Festival Holiday," by Jerry Estes. This rhythmic holiday tune was filled with solos by Nicole Edon on the xylophone, Emma Tollefson on tambourine and Mircedes Mattson on the bongos.
"Tänd ett ljus," a traditional Swedish piece, was played in celebration of NRHEG exchange student Linnea Strom-Olsen, who sang the lyrics in her native language. "Tänd eft ljus" translates to "light a candle" in hope for a better world.
"White Christmas," by Irving Berlin and arranged by Joyce Eilers Bacak, was sung with all the longing for a beautiful season of snow during the Christmas season.
Details

Hits: 6238
In the 1940s, boxing was king in New Richland
GOLDEN MEMORIES — Above, items on display at the New Richland Area Historical Society. Below, Earl Parriott with his silver gloves award (Star Eagle photos by Rodney Hatle)
(Editor's note: This is the first in a seven-part series about local, area, and state amateur and professional boxing.)
By RODNEY HATLE
Contributing Writer
At times there really is a rhyme and a reason. In this story of 68 years ago, the rhyme could be written:
Best in the state
At welterweight
In nineteen forty-eight.
And the reason is that Raul J. Donoso won the Upper Midwest Golden Gloves Welterweight Championship through dedication to his own skills. It was February in Minneapolis.
The trophy is inscribed: "U.M.G.G. Team Champion 1948 – Raul Donoso – Welterweight."
That was his graduation year at New Richland High School.