Details

Hits: 2319
Harpel wins NRHEG spelling bee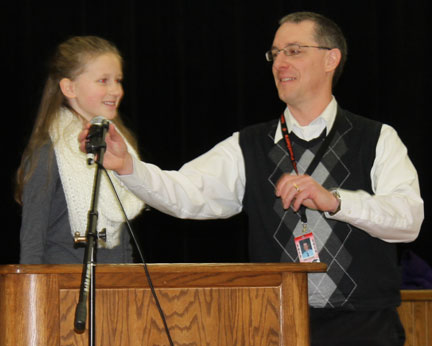 Cora Harpel, left, is announced as the winner of the 2016 NRHEG spelling bee by Mark Domeier Thursday, Jan. 28 in the high school gymnasium in New Richland. Last year's winner, Mason Ferber, finished second. (Star Eagle photo by Jessica Lutgens)
Details

Hits: 3259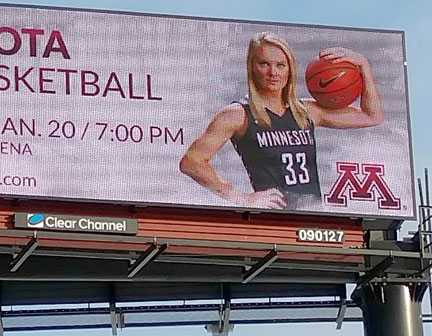 A familiar face, New Richland's own Carlie Wagner, was spotted on this billboard on the north side of 494 between 24th and 34th Ave. by the airport across from Mall of America. (Submitted photo by Vicki Forslund)
Details

Hits: 2231
NRHEG High School wrestlers react to a victory by Tyler Jacobson, right, during the Panthers' dual-meet victory at Lake Mills, Iowa Saturday, Jan. 16. Among those pictured, from left: Karter Sletten, Zeke Erickson, Wyatt Fitterer, Trey Hoppe, Chad Erickson. Read about it in sports. (Star Eagle photo by Nikki Erickson)
Details

Hits: 3098
NRHEG Snow Week royalty candidates for 2016 are, front from left: Hailey Schuller, Bayli Possin, Grace Logan, Sophia Fischer and Whitney McCamish. Back: Luke Overgaard, Lucas Herrmann, Trey Hoppe and Wyatt Fitterer. Not pictured: Cole Ignaszewski. The Snow Week queen and king will be crowned at 2:15 p.m. Monday, Feb. 1 in the NRHEG High School gymnasium in New Richland. The Snow Week talent show is Friday, Feb. 5 at 2:15 in the gym. The dance is Saturday, Feb. 6 from 8-10:30. (Star Eagle photo by Chris Schlaak)
Details

Hits: 3467
Cancer auction completes another year of fund-raising
ANOTHER YEAR, ANOTHER AUCTION — Whitey Hagen stands next to roses given in honor of Karen Hammersmith's 23rd year of being a breast cancer survivor during the second and final weekend of the 2016 Geneva Cancer Auction. (Star Eagle photo by Kathy Paulsen)
By KATHY PAULSEN
Staff Writer
Once again Whitey Hagen did his testing, "One-two-three, can you hear me?" as the second weekend of the 2016 Geneva Cancer Auction got underway Friday, Jan. 15.
"It is great to see all of you here, 'cause after all we are from Minnesota," said Hagen, referring to how bitterly cold it was outside.
"We had a hell of an auction last week," said Hagen, pausing before adding, "This is a cancer auction, not a hen party," trying to remind people to tone down the visiting and pay attention to what was going on.
The first item up for bid was a blanket donated by Geri Sorenson. He explained that Geri donated an afghan to the auction for the past 41 years.
"She gave me her 42nd afghan for the cancer auction before she died this past year," said Hagen. "This one is special."