Details

Hits: 3017
Trinity Lutheran to host annual event
NEVER TOO MANY COOKS — From left, Gail Batt, Sharon Eckart, Norm Eckart and Larry Goehring perform a skit during last year's Groove 4 Food at Trinity Lutheran Church. (File photo)
The Area Food Shelf of New Richland will host Groove 4 Food at 1:30 p.m. Sunday, Feb. 28 at Trinity Lutheran Church, New Richland.
The event is the biggest fundraiser of the year for the food shelf, which invites area folks to enjoy master of ceremonies Al Batt, live entertainment and a live auction. Entertainment confirmed includes the musical group Just Friends, Josh Gegel, Mr. Jacob Bender, NRHEG band instructor.
Between sets of each group will be a live auction. Admission to Groove 4 Food is free, but everyone is encouraged to bring non-perishable food donations or cash to help the food shelf.
Details

Hits: 3464
Peterson, Fitterer return to Xcel Energy Center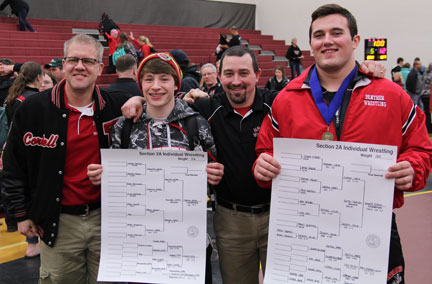 NRHEG High School seniors Cordell Peterson, second from left, and Wyatt Fitterer, right, pose for a photo with coaches Nathan Jensen and Shawn Larson at the conclusion of the Section 2A Individual Wrestling Tournament at Blue Earth Saturday, Feb. 20. Peterson was the section runner-up at 126 pounds and Fitterer was the champion at 285, advancing to this week's state tournament at the Xcel Energy Center in St. Paul. (Star Eagle photo by Nikki Erickson)
Details

Hits: 2524
NRHEG cheerleaders have experienced a lot of success the last two weekends, with both the varsity (above) and elementary squads placing second in state competition and the varsity finishing first in non-tumbling and second overall in the WOW Nationals at the Minneapolis Convention Center. Front from left: Lorelei Strom, Emma Klemmensen, Anna Bailey, Hailey Westrum, Lizzy Hagen, Nicole Edon. Row two: Taylar Tieskotter, Kyra Possin, Grace Logan, Grace Lewison, Tali Wayne, Avery Hill, Bri Podratz-Waters, Laura Worrell. Back: Corrie Powell, Jessica Nafe, Abby Wacholz, Abby Christopherson, Torrie Stencel, Taytum Ihrke, Bayli Possin, Michaela Besser, Lillian Bell, coach Kari Buendorf. (Submitted photo)
Details

Hits: 7175
Carlie's still blossoming basketball career chronicled at U of M
WAGNERVILLE — Gopher mailboxes have become a popular item in the area thanks to Carlie Wagner, recently featured in this article in the University of Minnesota's Ski-U-Mah magazine. (Submitted photo)
By JUSTINE BUERKLE
University of Minnesota
"Last person out turns the lights off. There's nobody left in town when the tournament comes around."
That line, reminiscent of the Hickory Huskers' following in "Hoosiers," is how Carlie Wagner's father described the mass exodus from the New Richland-Hartland-Ellendale-Geneva area as people traveled to support his daughter's Panthers team in the Minnesota state basketball tournament, including back-to-back championship wins.
Details

Hits: 2542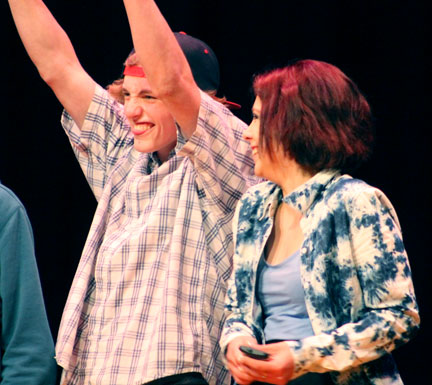 James Spence and Solveig Stafford react after Spence is announced the third-place finisher in the NRHEG Snow Week talent show Friday, Feb. 5 in the high school gymnasium in New Richland. Spence was too shy to perform his act in front of the crowd, instead singing "Dock of the Bay" from behind the curtain. Lillie Nielsen and Ben Witikko were awarded first place. Second went to Tanner Smith-Vulcan. (Star Eagle photo by Jim Lutgens)