Details

Hits: 4818
Area couple celebrates extraordinary anniversary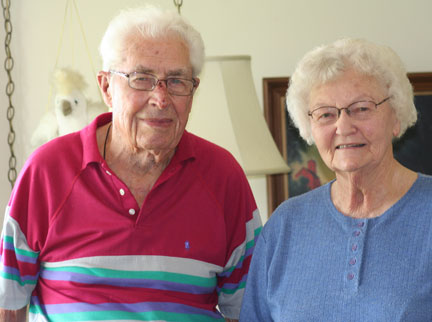 PLATINUM — Russel and Delores Rosenau of Waldorf celebrated their 70th — or platinum — wedding anniversary June 9. The couple will be honored with an open house Saturday, June 20 from 1-5 p.m. at the Waldorf Community Center. (Star Eagle photo by Troy Thompson)
By TROY THOMPSON
Contributing Writer
They say time flies when you're having fun. That's certainly been the case for Russel and Delores Rosenau, who hit their milestone 70th wedding anniversary on June 9.
 "It's been a long time," said Delores of her 70-year marriage, "but when you stop to think about it, it doesn't seem like it's been that long."
The couple was married in 1945, in a double-wedding ceremony along with Delores' sister Jane and Victor Kluenoer.
"It was unheard of at the time," said their daughter, Ramona.
"When our father found out both daughters were getting married, he said 'we'll do one pig, one wedding, and that's it," said Delores.
Details

Hits: 1596
NRHEG class of 2015 graduates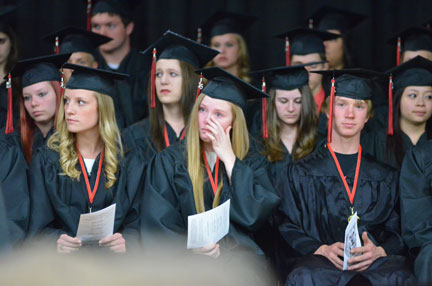 Members of the NRHEG High School class of 2015 officially ended their high school careers with commencement Sunday, May 31 at the high school in New Richland. Above from left: Jill Peterson, Anna Stork, Sam Pettey, Aurora Strom, Mikayla Pope, Dakota Thiele, Christina Quezada Jiminez. See Pages 9 and 12 of this week's Star Eagle for more photos from graduation Sunday. (Star Eagle photo by Chris Schlaak)
Details

Hits: 3859
WWII veteran Johnson visits D.C. memorial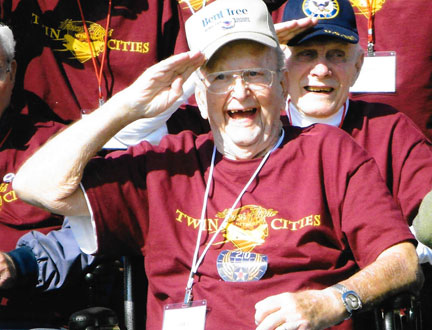 HONORED — Lee Johnson salutes during a ceremony during his recent visit to the National WWII Memorial in Washington, D.C. See Pages 8-11 of this week's Star Eagle for additional Memorial Day coverage. (Submitted photo)
By TROY THOMPSON
Contributing Writer
It took nearly 60 years from the end of World War II for the National WWII Memorial to open for public viewing in Washington, D.C. On April 11 of this year, nearly 70 years after the war ended, 90-year-old WWII veteran Lee Johnson of Ellendale was able see it in person.
"It was a trip of a lifetime," said Johnson while paging through a thick photograph album of his trip. "There were people everywhere, and wherever you went, they were always saying 'thank you for your service.'"
The one-day jaunt to visit a number of war memorials in Washington, D.C., was made possible by Honor Flight - Twin Cities, a non-profit organization that is part of a national Honor Flight network in all 50 states.
Details

Hits: 2440
Fire departments, ambulance crews pull off rare grain bin rescue
SUCCESS — Members of area fire departments and ambulance crews freed a trapped Chris Johnson of Owatonna from a grain bin northwest of Geneva Wednesday, May 20. According to at least one source, the chances of a successful grain bin rescue are one in 18. Johnson was reportedly stuck for more than two hours. (Photo by Brant Hemingway)
By KATHY PAULSEN
Staff Writer
The Geneva Fire Department received a call of assistance to the Chad Johnson farm northeast of Geneva at 9:47 a.m. Wednesday, May 20. A crusted layer that had developed on the top of the corn in a 50,000-bushel grain bin being emptied plugged the auger. Chad's uncle, Chris Johnson of Owatonna, had been helping load the corn into a semi at the farm, and decided he would have to go into the grain bin to free the auger.
Once Chris was able to get the 10-inch auger free again, the corn in the bin dropped extremely fast and started taking everything in the bin with it, including Chris. Originally they had thought there was about 8-9 feet of corn in the bin, but they soon discovered that there was more.
Safety measures had been considered before Chris entered the grain bin and he was able to grab a rope rescue system that had been installed in the bin. Chris was able to hold on to it until rescue workers were able to get him out of the bin.
Details

Hits: 6407
Holocaust survivor tells area folks exactly how she made it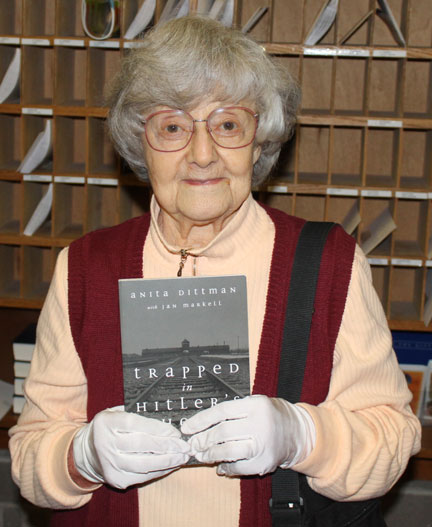 SURVIVOR — Anita Dittman holds a copy of her book, 'Trapped in Hitler's Hell.' Dittman spoke about her life Sunday, April 26 at Ellendale's First Lutheran Church. (Star Eagle photo by Nicole Billing)
By NICOLE BILLING
Editorial Assistant
According to Anita Dittman, there is an old saying, "Love your enemies and do good to those that hate you."
"Well," said Dittman, "God made me put this into practice."
Dittman, author of Trapped in Hitler's Hell, got a little choked up, something that happened many times throughout the afternoon as she spoke at First Lutheran Church in Ellendale Sunday, April 26.
Dittman was born in 1937 in Breslau, Germany, near the Polish border. Her mother was an Orthodox Jew and her father was a pure-blooded German. They lived in a lovely suburban neighborhood in a nice, big house. She lived a very comfortable lifestyle for 5 ½ years until Hitler came into power. When that happened, each person had to write their names on a list, either Jew or Aryan. Anita looked at her mother and asked, "What am I? I'm both." When her mother directed her to write her name on the Jewish list, she responded, "I would rather be on that list. I would rather be a victim than the oppressor."