Details

Hits: 3620
Panthers win early opener at Mayer Lutheran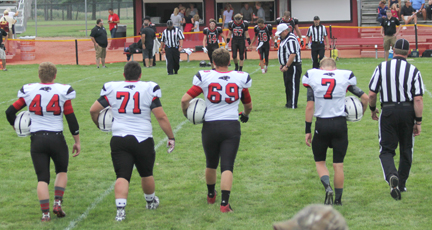 NRHEG High School football captains Trey Hoppe (44), Wyatt Fitterer (71), Zeke Erickson (69) and Palmer Peterson (7) make the walk to midfield for the coin toss of the 2015 season opener at Mayer Lutheran Saturday afternoon. The Panthers prevailed, 14-7. See the Aug. 27 edition of the Star Eagle for the Fall Sports Preview. (Star Eagle photo by Nikki Erickson)
Details

Hits: 4069
Johnson enjoys semester of study in 18th-century estate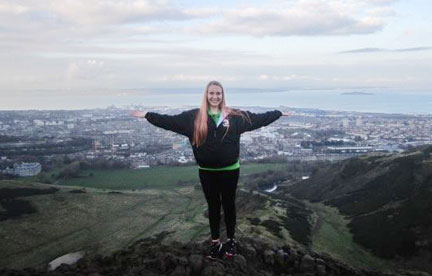 TOP OF THE WORLD — Hailey Johnson stands with arms stretched wide atop Arthur's Seat overlooking Edinburgh during her semester-long stay in Scotland. Johnson lived and studied in an 18th-century castle. (Submittted photo)
By TROY THOMPSON
Contributing Writer
When 2012 NRHEG graduate Hailey Johnson decided to go to college in Wisconsin, she didn't anticipate attending classes in a Scottish castle while wearing her pajamas.
"You wake up, walk down to class in your pajamas, and learn in a castle," said Johnson. "It was pretty cool."
From August to November of 2014, Johnson, who's attending the University of Wisconsin-River Falls while studying Animal Science with a Veterinary Tech emphasis, decided to expand her horizons for a semester abroad. Scotland seemed like another world away, but her decision to pursue her general studies in that country proved to hit closer to home than she could have realized.
"It was a physical journey, but an emotional one, too," said Johnson. "I thought it would be difficult being away from home at college, but I never anticipated being 4,000 miles away."
Details

Hits: 3747
Inaugural 5K attracts around 200 entrants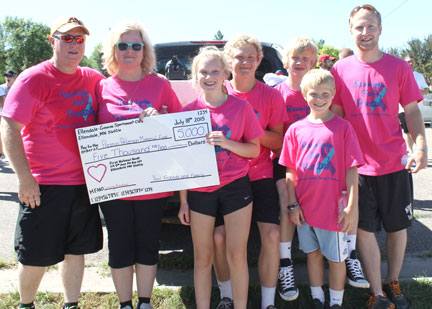 A GOOD DAY — The first ever Preston Peterson Memorial Fund 5K was held Saturday, July 18. Pictured here with a check for $5,000 are the Peterson family from left: Tom, Tammy, Paige, Palmer, Perry, Porter and Payden. More than 200 people were in attendance for the event. (Star Eagle photo by Nicole Billing)
By NICOLE BILLING
Editorial Assistant
Weather conditions were a little warm for the inaugural Preston Peterson Memorial Fund 5K.
But that didn't stop folks from turning out.
Approximately 200 participants showed up in New Richland Saturday, July 18 at 9:30 a.m. for the first scholarship fundraiser for Peterson, a 2014 graduate of NRHEG High School who tragically took his own life last December.
Some participants ran while others walked. Cindi Bartness, one of the organizers of the event said, "There were two reasons we decided to do this. One of them was to keep Preston's memory alive and the other was to continue to add money to the scholarship memorial fund." 
Details

Hits: 5288
Painting a picture of real life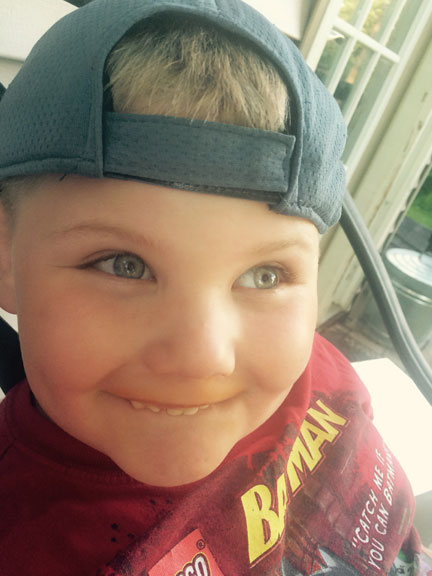 STILL SMILING — Conner Weckwerth of Blooming Prairie, son of Milo Weckwerth of New Richland, has been responding well since undergoing recent surgery to remove a brain tumor. (Submitted photo)
By MARK DOMEIER
Contributing Writer
Let's paint a picture.
Start with some bright, vibrant colors. These are the colors of a young man who enjoys the outdoors, so maybe some verdant greens and sunshine yellows. Throw in the reds and oranges of fires in the summer, toasting s'mores.
These are good colors for the beginning of a painting of Connor Weckwerth of Blooming Prairie. He lives with his mom, April, and is the son of Milo Weckwerth of New Richland. Connor just finished kindergarten in Blooming Prairie last spring, but then found some new colors added to his painting this summer, some colors that were unexpected and had a darker hue.
Details

Hits: 5840
Wayne, Merlys Wenzel chosen 2015 Farm and City Days grand marshals
WAY TO GO WAYNE AND MERLYS! — Pastor Charles Espe, left, congratulates Wayne Wenzel as his wife Merlys looks on during the pancake breakfast at the New Richland Fire Hall Saturday, July 11. Wayne and Merlys were selected grand marshals of the 2015 Farm and City Days parade. See Pages 9, 11 and 12 in this week's Star Eagle for more Farm and City Days photos. (Star Eagle photo by Nicole Billing)
By JIM LUTGENS
Editor/Publisher
Wayne Wenzel didn't know how to react when he and his wife, Merlys, were announced as 2015 Farm and City Days parade grand marshals.
He was stunned.
"It was a great honor, it sure was," said Wenzel, a New Richland native. "The wife and I were very surprised. I was just dumbfounded. I never imagined they'd pick us."
Wenzel, known around town as a friendly, jovial, down-to-earth character, has had his antique business, Dad's Good Stuff, on New Richland's main street for about 25 years.
Merlys Wenzel, born and raised in Glenville, moved here in 1959.
"That's when she found me, in 1959," quipped Wenzel.
The grand marshal announcement was made Saturday morning during the pancake breakfast at the NR Fire Hall. The Wenzels rode in the parade later that afternoon.