Star Eagle office
Details

Hits: 3529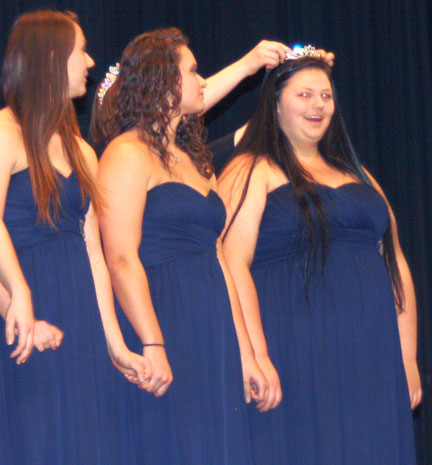 Whitney McCamish, above right, and Wyatt Fitterer, below center, were crowned NRHEG High School Snow Week queen and king Monday, Feb. 1 in the high school gymnasium in New Richland. (Star Eagle photos by Jessica Lutgens)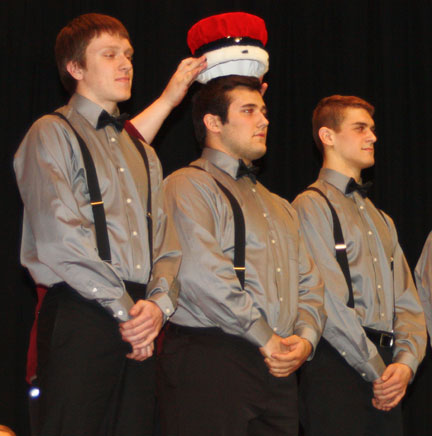 Details

Hits: 2545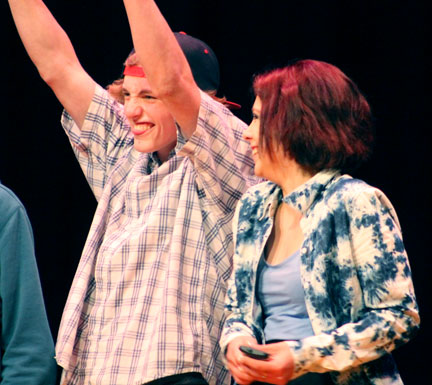 James Spence and Solveig Stafford react after Spence is announced the third-place finisher in the NRHEG Snow Week talent show Friday, Feb. 5 in the high school gymnasium in New Richland. Spence was too shy to perform his act in front of the crowd, instead singing "Dock of the Bay" from behind the curtain. Lillie Nielsen and Ben Witikko were awarded first place. Second went to Tanner Smith-Vulcan. (Star Eagle photo by Jim Lutgens)
Details

Hits: 2524
NRHEG cheerleaders have experienced a lot of success the last two weekends, with both the varsity (above) and elementary squads placing second in state competition and the varsity finishing first in non-tumbling and second overall in the WOW Nationals at the Minneapolis Convention Center. Front from left: Lorelei Strom, Emma Klemmensen, Anna Bailey, Hailey Westrum, Lizzy Hagen, Nicole Edon. Row two: Taylar Tieskotter, Kyra Possin, Grace Logan, Grace Lewison, Tali Wayne, Avery Hill, Bri Podratz-Waters, Laura Worrell. Back: Corrie Powell, Jessica Nafe, Abby Wacholz, Abby Christopherson, Torrie Stencel, Taytum Ihrke, Bayli Possin, Michaela Besser, Lillian Bell, coach Kari Buendorf. (Submitted photo)
Details

Hits: 7885
Field name to forever remember two of the community's finest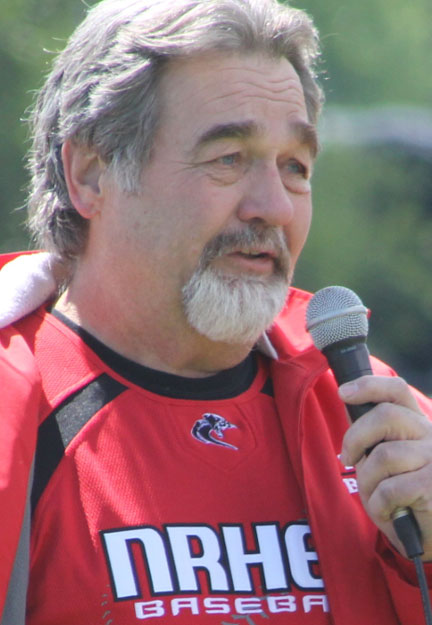 MEMORABLE DAY — Longtime NRHEG baseball coach Jeff Reese speaks Saturday, May 14 at the ceremony to rename the baseball field in New Richland after him and his late wife, Carol. (Star Eagle photo by Jim Lutgens)
By JIM LUTGENS
Editor/Publisher
Jeff Reese was wearing a New Richland-Hartland Cardinal uniform the first time a certain Morristown cheerleader named Carol Allingsworth caught his eye.
He was immediately stricken.
"I thought she was pretty neat the first time I saw her," said Reese.
He remembers talking to her for the first time after an afternoon football game at Morristown, and he remembers their first extended conversation when he ran into her — along with her then steady boyfriend — in the Waseca bowling alley lounge.
"She said I tripped her," said Reese.
In a way, he did.
Details

Hits: 2099
2016 NRHEG Pops Concert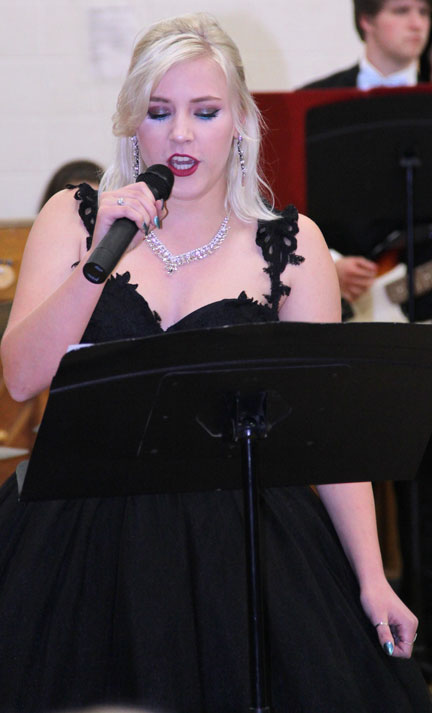 NRHEG High School senior Nicole Wallin performs a solo during the annual Pops Concert Monday, May 9 in the high school gymnasium. Wallin received a long standing ovation after her performance. Choral awards, presented by director Jennifer Fredrickson, went to Abby Christopherson, Outstanding Senior, and Nicole Edon, National School Choral Award. Band awards, presented by director Jacob Bender, went to Katharine Lewer, John Phillip Sousa Award, and Nicole Edon, Louis Armstrong Jazz Award. (Star Eagle photo by Nikki Erickson)