Star Eagle office
Details

Hits: 3858
Longtime owner of Lady Bug Thrift Store retires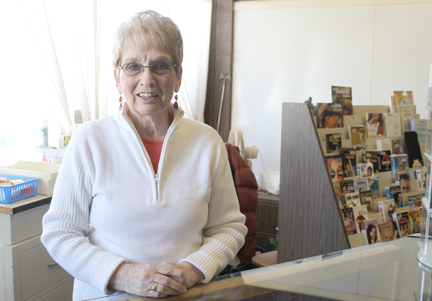 TIME TO RETIRE — After 38 years owning the Lady Bug Thrift Store in New Richland, Carol Shultz has decided it's time to let someone else take over. (Star Eagle photo by Jessica Lutgens)
By JESSICA LUTGENS
Editorial Assistant
If you live in or around New Richland, you're most likely familiar with the Lady Bug. Our own local thrift store tucked between Wagner's and New Richland Drug, this shop has been going strong for 38 years, thanks to the ownership of Carol Shultz, who recently decided it was time to hang up the towel and pass on the store to another owner.
When it all started, Carol and her sister shared ownership of the store.
"We wanted to be able to be home when our kids got home from school," Carol said when remembering her reason for starting the shop, "and regulate our own hours."
For the first 18 years, the Lady Bug resided on Highway 13. After Carol's sister retired, she decided to move to Broadway in New Richland, where she has owned the shop herself for 20 years. Looking back on her years, Carol shared some of her fonder memories.
Details

Hits: 1610
After 65 years, John and Lucille Nechanicky still spark the twinkle in one another's eyes
LONG AND WINDING ROAD — John and Lucille Nechanicky have enjoyed 65 years of mostly wedded bliss. They raised four children on the 40-acre piece of land near Ellendale and have 10 grandchildren and 14 great grandchildren. (Star Eagle photo by Kathy Paulsen)
They were sweethearts, she and John
In a time long past.
They were young and handsome
When they found love at last.
Each time she saw him coming
Her heart was all aglow.
She felt she couldn't love him more 
How little does youth know.
Details

Hits: 1125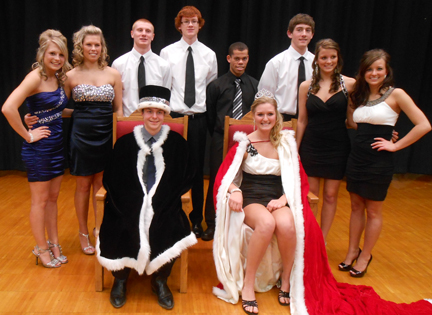 WINTER ROYALTY — NRHEG High School kicked off Snow Week festivities Monday afternoon with the crowning of royalty in the gymnasium. Front from left: king Jarred Hanson and queen Katie Cole. Back: Hannah Lewison, Tara Simon, Kevin Minter, Chandler Wisler, Johnny White, Brandon Herrmann, Abby Crabtree and Kalana Shurson. (Star Eagle photo by Kathy Paulsen)
Details

Hits: 1998
Royalty coronation set for 2:15 Monday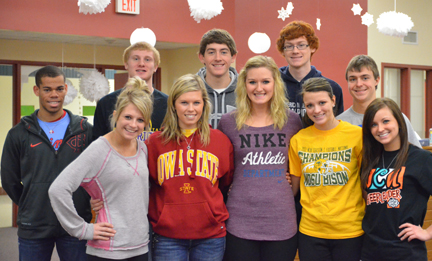 Candidates for NRHEG Snow Queen and King are, front from left, Hannah Lewison, Tara Simon, Katie Cole, Abby Crabtree and Kalana Shurson. Back: Johnny White, Kevin Minter, Brandon Herrmann, Chandler Wisler and Jarred Hanson. (Star Eagle photo by Chris Schlaak)
The first-ever NRHEG High School Snow Week is set for February 4-9.
Highlights of the week include coronation of the Snow Week royalty at 2:15 Monday in the high school gym, a talent contest Friday at 12:30 and a dance Saturday night.
"The Snow Week activities should be a nice way to bring some excitement to the long, cold weeks of winter," said NRHEG Student Council Advisor Sandy Schumacher. "It will be a great chance to highlight some of the talents our students have worked so hard to develop. During the days of snow week, it will be fun to see the costumes people find for the dress-up days. As far as the dance, it's nice to provide a social opportunity where our students can have fun, but a lot of variables can be kept under control. This whole event is new for NRHEG, so we hope everything goes well for all concerned. We appreciate the interest and support we are getting from people in the communities."
Details

Hits: 1926
2013 cancer auction wraps up, bringing total to $83,000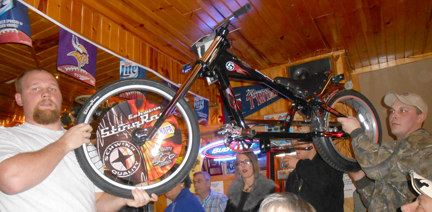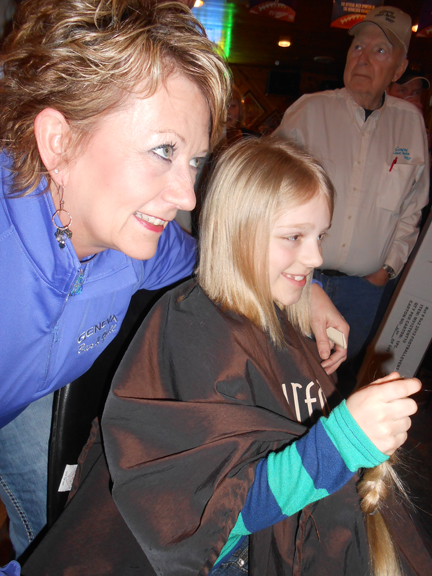 AUCTION ADVENTURES — Above, Jesse Quam, left, displays a Schwinn bicycle donated by Whitey and LaJune Hagen during the second and final weekend of the 2013 Geneva Cancer Auction Saturday at Geneva Bar & Grill.  Below, Asha Lighthizer of Blooming Prairie, right with hairdresser Lisa Full, donated her hair for "Locks of Love." (Star Eagle photo by Kathy Paulsen)
By KATHY PAULSEN
Staff Writer
Whitey Hagen caught and auctioned off a chicken 30 years ago, and for 29 years, the eggs have been rolling in as big money makers for the Geneva Cancer Auction.
Deviled eggs, pickled eggs, hot eggs, raw eggs, and egg omelets; dozens of eggs have found their way to the auction block and have received fabulous prices for this charitable event. Nobody seems to tire of making, buying and eating them. 
Like Whitey says, "With $100 or more a dozen, that is only $10 apiece."
Hagen was involved in a cancer auction in 1975 that raised $256. This year, $83,000 was raised during the auction and other fundraising events in Geneva.