Star Eagle office
Details

Hits: 2559
Old favorites, new faces take center stage at Geneva Bar & Grill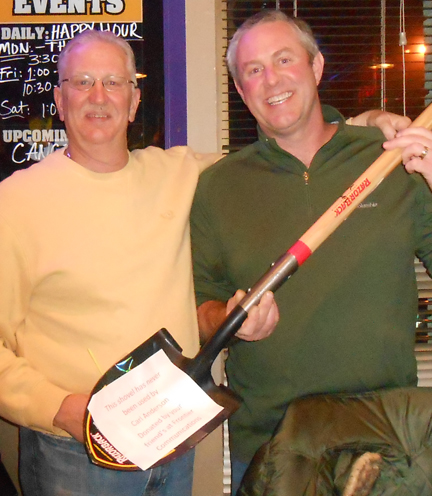 AUCTION ACTION — Above, Carl Anderson and Bill Kortz hold a shovel donated by Frontier Communications for the 29th Annual Geneva Cancer Auction last weekend. Below, Whitey Hagen makes the annual walk for cash around the bar. (Star Eagle photos by Kathy Paulsen)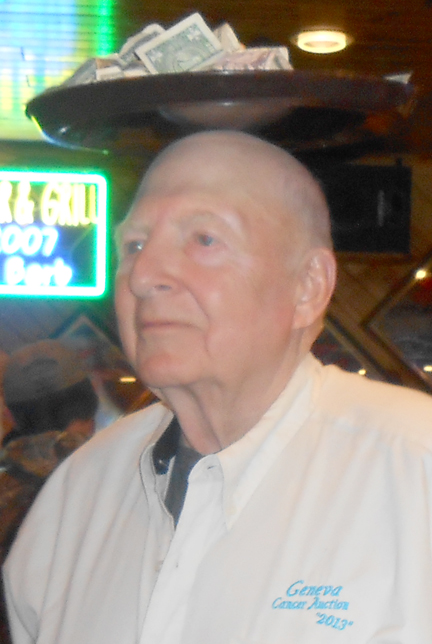 By KATHY PAULSEN
Staff Writer
For 29 years, Geneva and the surrounding territory have united in an effort to combat the effects of cancer on human happiness. Cancer is dreadful, strong and mind boggling, but it will eventually know defeat.
On Friday, January 11 at 7 p.m. Whitey Hagen welcomed everyone to Geneva Bar & Grill for the annual Geneva Cancer Auction. Whitey began, "God Bless you all for everything that you have done over the past 28 years to help find a cure for cancer. Some of you don't look like you are that old. A lot of good things have happened during this annual event, and we have raised a lot of money. "
Whitey went on to say, "Somebody from our area volunteered to go and pick up donated items for the auctions over the years and I am sad to say that person, Dean Johnson, died two months ago. He will be greatly missed by many." Whitey then asked everyone to observe a moment of silence for Dean, and everyone else we have lost to cancer.
Details

Hits: 1208
Wagner, NRHEG girls' basketball team steal the show
STATE SPOTLIGHT — Carlie Wagner (3) drives to the basket during the Panthers' state semifinal loss to Sauk Centre last March at Target Center in Minneapolis. It was the Panthers' only loss of the season. (Star Eagle photo by Chris Schlaak)
By JESSICA LUTGENS
Editorial Assistant
This past year has been filled with changes, achievements, giving, receiving, recognition, and so much more. We witnessed world and nationwide events that will be in history books one day.
It's hard to pinpoint the most important events of 2012, but we at the Star Eagle decided to give it a shot. 
The top story of the year: Carlie Wagner and her success in both basketball and track.
Why did we choose one girl out of everything that happened last year as the top story? Well, it's simple: she's just that good. 
Details

Hits: 79002
Back in the day, Carlie Wagner's grandmother, Joie Somage, showed athletic tendencies herself
BIT OF A TOMBOY — Country Neighbors resident Joie Somage admits she had somewhat of a tomboyish side as a youngster, riding horses bareback, climbing trees and stacking hay. (Star Eagle photo by Rachel Rietsema)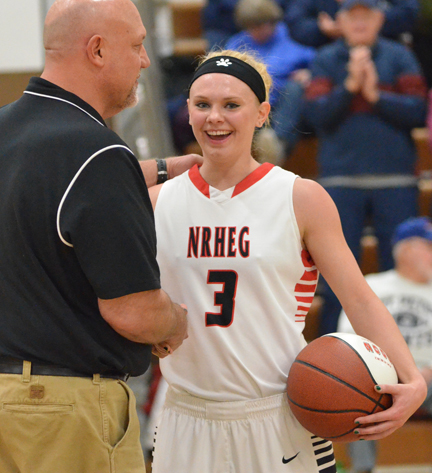 BASKETBALL MILESTONE — Carlie Wagner (3), Joie Somage's granddaughter, is congratulated by coach John Schultz after scoring her 2,000th career point Saturday. (Star Eagle photo by Chris Schlaak)
By RACHEL RIETSEMA
Staff Writer
Country Neighbor resident Joie Somage's birth certificate isn't what you think it would be. Neither are her prescription bottle labels, White Pages listing and check blanks.
Her daughter Jane's comment at age 10 sums it up well: "The pill bottle fell out of the cupboard and I asked, "Who's Shirley?"
After Joie's laughter subsided, she carefully explained to her little squirt how her middle name in fact became her first name at a very young age. And, that as they say, was that.
The goings on inside the Somage household still continued on as crazily as ever too.
Details

Hits: 935
NRHEG grad Adam Moen loves the stage
LOVING LIFE — NRHEG High School graduate Adam Moen (lower right) and the cast from "Bye Bye Birdie" currently being performed at the Chanhassen Dinner Theatre. (Submitted photo)
By RACHEL RIETSEMA
Staff Writer
One of New Richland's very own has struck gold you might say, on the theater stage that is.
There's no stopping him either.
"I am currently working at Chanhassen Dinner Theatre in Bye Bye Birdie," said NRHEG graduate Ryan Moen. "I will also be in their next production of Joseph and the Amazing Technicolor Dreamcoat."
Under these bright spotlights, Moen feels "completely honored."
"Every day I go to work I have a blast," he said. "It's the time of my life."
Details

Hits: 1095
Bench for Odd Fellows building displayed at bank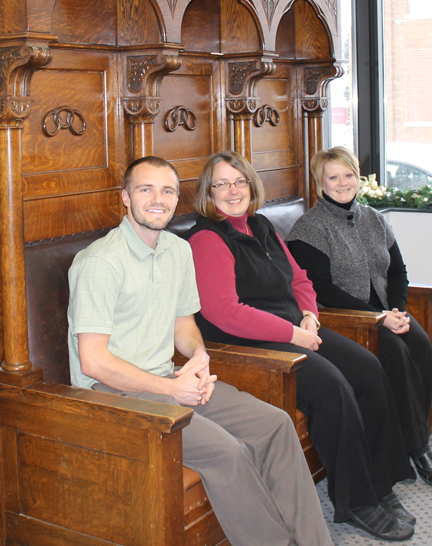 STROKE OF LUCK — That's what members of the New Richland Area Historical Society felt about finding an authentic Odd Fellows bench, whose original purpose remains a mystery. It's currently on display at State Bank of New Richland, with employees pictured above from left, Matt Harrington, Jean Billing and Jenny Thompson. (Star Eagle photo by Carrie Gilbertson)
By CARRIE GILBERTSON
Staff Writer
The New Richland Historical Society has acquired its latest piece of history intended for the new library, an Independent Order of Odd Fellows Bench. Currently, the artifact is being stored in the State Bank of New Richland. It will remain there until the Odd Fellows building renovation is completed. 
According to Barb Wildgrube, co-founder of the New Richland Area Historical Society and Chairperson for the New Richland Historic Preservation Commission, funding for the purchase was donated by the New Richland Area Foundation and By the Grace of God Fund. Both groups donated money to the purchase of furniture for the renovated building. This particular piece is intended for the lobby.
"We expect this to be the huge statement piece," said Wildgrube.