Coronation set for 7 p.m. at NRHEG High School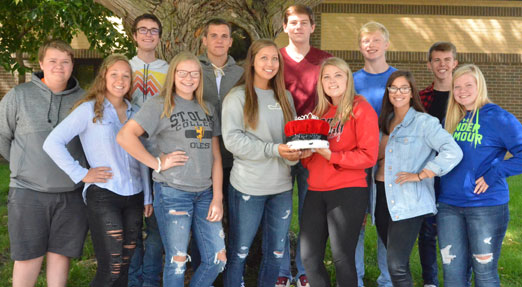 WHO WILL REIGN? — Homecoming queen and king candidates for 2017 at NRHEG High School. Front from left: Emily Prigge, Lillian Bell, Tali Wayne, Taytum Ihrke, Natalia Galindo and Makenzi Rhoades. Back from left: Cole Broitzman, Landon Johnson, Benji Lundberg, Jerret Utpadel, Perry Peterson and Ben Lewer. (Star Eagle photo by Chris Schlaak)
By JIM LUTGENS
Editor/Publisher
Homecoming week 2017 at NRHEG High School kicks off Sunday, Sept. 17 when the queen and king are crowned. Coronation is set for 7 p.m. in the high school gymnasium in New Richland.
The royalty will be crowned — based on a vote of the grade 9-12 student body — and will reign over Homecoming week.
This year's candidates, based on vote by their classmates, are:
Queen
• Lillian Bell, daughter of Angela and Alex Bell
• Natalia Galindo, daughter of Ann Arvarez
• Taytum Ihrke, daughter of Amy and Mike Ihrke
• Emily Prigge, daughter of Terry and Carey Prigge
• Makenzi Rhoades, daughter of Shannon Rhoades and Daniel Rhoades
• Tali Wayne, daughter of Kari and Tom Wayne
King
• Cole Broitzman, son of Carolee Palmquist
• Landon Johnson, son of Bernadette Metzger-Cornelius
• Ben Lewer, son of Sarah and Tim Lewer
• Benji Lundberg, son of Karen and David Lundberg
• Perry Peterson, son of Tammy and Tom Peterson
• Jerret Uptadel, son of Kelly and Troy Utpadel
The Princess is Riley Cromwell, daughter of Britt and Kyle Cromwell, and the Prince is Lucas Joecks, son of Denise and Todd Joecks.
Dress-up days at the high school are planned for each day of the week. At the high school, Monday is  Groutfit (gray on gray), Tuesday Zoo Day (favorite zoo animals), Wednesday Travel Day (where you would like to go), Thursday Flashback Day (from a past era) and Friday Panther Pride Day. At the elementary school, Monday is Pajama Day, Tuesday Zoo Day, Wednesday Travel Day, Thursday Flashback Day and Friday Panther Pride Day.
The NRHEG cross country team hosts an invitational at Riverview Golf Course at 4:30 p.m. Tuesday and the NRHEG volleyball teams take on WEM Thursday night at the high school.
The annual Homecoming parades are set for Friday, Sept. 22 at 12:30 p.m. in Ellendale and 2:15 p.m. in New Richland.
The Panthers face GFW at 7 p.m. Friday in the Homecoming football game.