Panthers nip Jordan for section title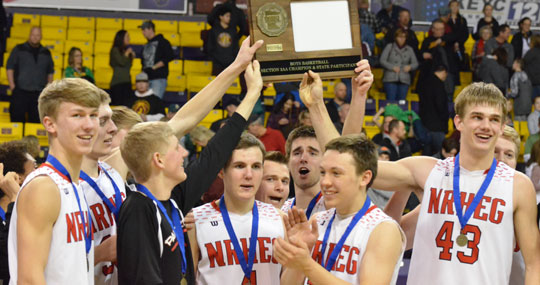 Members of the NRHEG boys' basketball team celebrate winning the Section 2AA championship for the first time in school history Friday night at Minnesota State-Mankato with a 65-64 victory over Jordan. The Panthers, unseeded at state, play Wednesday at 6 p.m. against No. 2 seed St. Cloud Cathedral in the opening round at Williams Arena in Minneapolis. If they win, they play Friday at 8 p.m. at Target Center. If they lose, they play Thursday at 8 p.m. at Concordia University of St. Paul. (Star Eagle photo by Chris Schlaak)
Finally.
After coming so close so many times, the hopes, dreams and aspirations of NRHEG boys' basketball have been fulfilled.
The Panthers advanced to state, defeating Jordan 65-64 in an exhilarating Section 2AA final Friday night at Minnesota State-Mankato.
"This was a great high school basketball game between two evenly matched teams," said Panthers coach Pat Churchill.
That was apparent from the outset. NRHEG led most of the way, but every time they tried to break it open, the Hubmen were there to answer.
Sam Prigge was hot early for the Panthers, hitting a pair of baskets and providing a spark plug as NRHEG opened a 9-5 lead at about the 13-minute mark.
Jordan pulled within 12-10, but the Panthers responded with an 18-13 advantage with about six minutes left in the half. They were up 26-20 before Jordan cut it to 26-23 at halftime.
Prigge opened the second half with a three and it looked like the Panthers were off and running, but the Hubmen quickly responded and tied it at 31.
It was then the Panthers made their move.
Behind a three-pointer by Brady Agrimson, a basket by Tyler Raimann and a traditional three-point play from Benji Lundberg, it was 39-31 with 13:04 remaining.
Then Jordan went back to work, going on a 10-4 run to pull within 43-41 at about the midway mark of the period.
Raimann had his troubles at the free-throw line but made them when it counted, as did Prigge, Agrimson, Lundberg and Oakley Baker.
A pair of Baker free throws with 30 seconds left and two by Lundberg with 15 seconds remaining left the Panthers up 65-62.
The Hubmen converted, but Baker was there for the rebound and ran out the clock, holding his finger in the air signifying the Panthers were No. 1 at last.
"Jack Schultz played huge minutes on their best player when we needed to give Tyler a blow," said Churchill. "Brady Agrimson gave us a huge boost. This was a team victory tonight. Tyler Raimann was a beast in the second half, scoring and with his defense. When we got up eight points with eight minutes left, Jordan called timeout and put on the full-court press that we struggled with, but our kids kept their composure and we made our free throws down the stretch."
For the game, Raimann finished with 17 points and nine rebounds, Baker 11 points and seven rebounds. Other scorers were Lundberg with 14, Prigge 12, Agrimson six and Jongbloedt five.
It's the first trip to state for NRHEG, which lost in the section finals in 2006 under coach Matt Eppen and in the 1990 region title game under Ted Pelzl.
It only seems like the Panthers were in the sub-section title game every other season.
It was the Panthers' seventh victory against no losses on a neutral court this season.
Jordan, which finished 25-4, was led by Jimmy Vollbrecht's 22 points.
"I am so proud of these guys," said Churchill. "They've worked for this all year long and for them to do what they did, words can't describe how proud I am of these guys."
Like the NRHEG girls, the Panthers are unseeded at state, and face No. 2 seed St. Cloud Cathedral (26-4) at 6 p.m. Wednesday, March 22 at Williams Arena in Minneapolis.
The winner of that game plays Friday at 8 p.m. at Target Center in the semifinals.
Opening-round losers go into the consolation bracket Thursday at 6 and 8 p.m. at Condordia.