NRHEG grad a key member of college volleyball squad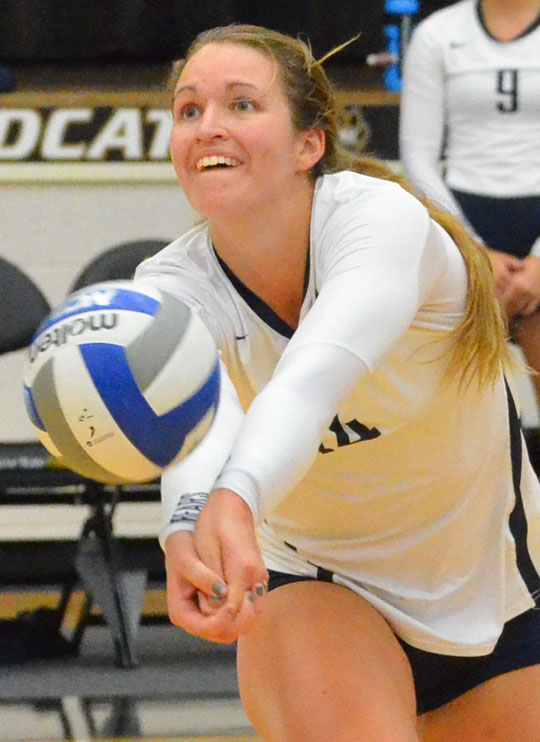 KEY PLAYER — NRHEG High School graduate Anna Schlaak has been a key member of the national powerhouse Concordia-St. Paul volleyball team, with more than 1,000 career kills and 1,000 digs. Her squad is in won its eighth national championship this past weekend as Schlaak was named the tournament's Most Outstanding Player. (Star Eagle photo by Chris Schlaak)
By JIM LUTGENS
Editor/Publisher
The only NRHEG graduate to make her hometown proud at the collegiate level does not play her home games at Williams Arena, and her sport is not basketball. She plays volleyball across the river, at Gangelhoff Arena, on the campus of Concordia-St. Paul, and her squad is on the brink of its eighth NCAA Division II national championship in the past 10 years.
Her name is Anna Schlaak.
Schlaak was a senior at NRHEG when she and Carlie Wagner played together at Gangelhoff Arena, where Wagner set a state tournament scoring record as the Panthers placed third in the girls' basketball state tournament. The Panthers, of course, went on to win two straight state championships and Wagner has been a standout with the Minnesota Gophers.
Schlaak, meanwhile, made a name for herself at Concordia. A senior, Schlaak is a three-time first team all-conference selection who was All-America honorable mention in 2014. She entered the 2016 season 13th all-time at Concordia with 1,136 kills, and earlier this year surpassed the 1,000 kill mark.
Schlaak will add to her stats starting Thursday as Concordia (32-2) opens national tournament in Sioux Falls, S.D. The Golden Bears punched their ticket to the ticket to the Elite Eight by winning the NCAA Central Region title with a sweep of Southwest Minnesota State (28-6).
Schlaak said after the region title match that regular-season competition helps her squad prepare for tournament play.
"I think it's awesome to be able to play in our conference week in and week out so we're well-prepared by the time we reach the region tournament," she said.
Schlaak contributed 11 kills in the region finals, but made her biggest mark by leading all players with 18 digs.
The Golden Bears will face American International in the Elite Eight on Thursday, Dec. 8 at 7:30 p.m. at Sanford Pentagon in Sioux Falls. The tournament continues Friday and Saturday.
Schlaak was a four-time all-conference volleyball player for the Panthers who also competed in basketball, softball and track. She holds the NRHEG school record for aces. 
A biology major who plans to become a pharmacist, Schlaak is the daughter of Neil and Jill Schlaak of rural New Richland.