Team opens season Saturday vs. Harvard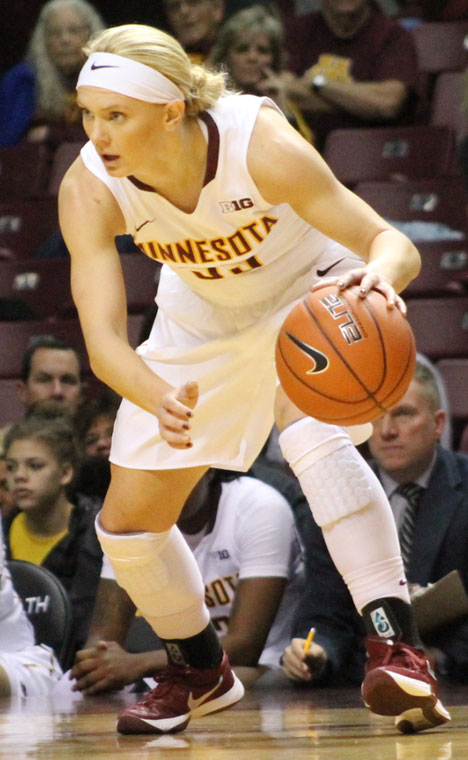 HOMETOWN HERO — Carlie Wagner again hopes to give NRHEG fans plenty to cheer about in her junior season at the University of Minnesota. (Star Eagle photo by Jim Lutgens)
By JIM LUTGENS
Editor/Publisher
Last season, Carlie Wagner was content to contribute however possible and let Rachel Banham handle the bulk of the scoring for the University of Minnesota women's basketball team.
That won't happen this year.
Banham graduated, off to the WNBA as the Gophers' all-time scoring leader, leaving New Richland's hometown hero Wagner as the focal point on this year's team, which opens the 2016-17 season Saturday, Nov. 12 against Harvard. Tip-off is at 2 p.m. at Williams Arena in Minneapolis.
"Carlie will move into a leadership role," said Gophers coach Marlene Stollings. "I love the fact she's gotten so much experience. Carlie has been able to excel in her position with all the speed and talent that surrounds her on the perimeter."
Stollings isn't the only one expecting big things from Wagner, a junior guard who in high school led NRHEG to three state tournaments and consecutive state championships. She was named to the media's Preseason All-Big Ten Team.
Wagner is Minnesota's leading returning scorer after averaging 18.9 points per game. She scored in double figures in all 31 of the Gophers' games, including 16 contests with 20 or more points. Wagner combined with 2016 Big Ten Player of the Year Banham to form the nation's top-scoring duo.
In the Gophers' final game of the 2015-16 season, Wagner became the 22nd career 1,000-point scorer in program history. She was only the fifth to reach that milestone as a sophomore and begins her junior year with 1,004 points.
Wagner ranked third on the team with 5.2 rebounds per game and 82 assists for the season. She played a Big Ten-high 37.8 minutes per game.
Previous conference honors for Wagner include her All-Big Ten Second Team nod from both coaches and media last year, and a spot on the All-Freshman Team in 2014-15.
The Gophers, 20-12 overall and 11-7 in the Big Ten last year, hope to make a return to the NCAA Tournament after playing in the WNIT this past year.
See the Gophers' full schedule on Page 11 of this week's Star Eagle.