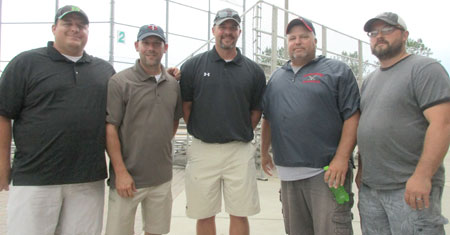 WELL WISHERS — Kyle Goslee, center, with former teammates Brody Richards, Ryan Glynn, Kevin Lindblad and Scott Klocek. (Star Eagle photo by Kathy Paulsen)
By KATHY PAULSEN
Staff Writer
Kyle Goslee was pretty much Mr. Everything in high school, starring in football, basketball and baseball at NRHEG.
Since then, he made his mark in another sport.
Goslee established himself as one of the best in the nation at fast-pitch softball, and in August he was honored as such by being named to the North American Fastpitch Association Hall of Fame during the NAFA World Series at Caswell Park in Mankato.
A 1996 graduate of NRHEG, Goslee got plenty of athletic support in high school from his parents, Keith and Marilyn, and sister Melanie. Keith passed in 2005. Marilyn remarried and she and Bob Jurrens live in Longville, Minn. Melanie, a CPA at Streaters in Albert Lea, is married to Scott Crabtree, a Minnesota State Trooper, and they live in Geneva with daughters Emily and Hanna.
Goslee's wife, Heather, is from the Madison/Marietta, MN area and graduated from Lac Qui Parle Valley High School in 1996. Kyle and Heather were introduced by friends through a blind date and got married April 2, 2005.
Goslee lived in the Geneva area his entire life until he went away to college, starting at Austin Community College. He played baseball at Austin for one year. He later transferred to Minnesota State University-Mankato for athletic training.
Football was his favorite sport in high school, when he received numerous all-conference, all-area and team honors. He was selected NRHEG 1996 Senior Athlete of the Year.
Goslee started playing fast-pitch softball when he was about 11. He went on to play a full 20-year career until he was forced to retire due to arthritis in his back along with what is called Schuerman's disease in 2010. He still continued to play one or two tournaments a year until this year.
He spent his earlier years on the softball field either on the pitcher's mound or shortstop. Later in his career he spent almost all his time on the pitcher's mound, with a little time in the outfield.
Goslee felt extremely fortunate to be able to start his career in his hometown of Geneva where he played with a number of great players that gave him tips on how to become a better pitcher/hitter or ballplayer altogether. Even more important than those tips were great friendships that will last a lifetime
Goslee continued playing for Geneva Liquors through 18 years of age. During that time the team won two state titles and placed multiple times in nationals with their best finish being third
Later, with the 23-and-under team, the RWP Hitmen, they placed second in nationals twice.  During the time of 18 and 23-and-under Goslee had the pleasure of playing with some men's teams from Geneva including the Gamecocks and RWP, as well as with some ASA --under teams including the Speed Kings of Leroy. He also played for the Junkers 23-and-under team.
In 2001, after graduating from college, Goslee moved to Montevideo where he began his career of teaching health and physical education at the high school.
At Montevideo, Goslee has coached JV football and JV boys' basketball and currently serves as head softball and assistant football coach.
When Goslee moved to Montevideo he that he had some dumb luck and fell into the best position he could have playing softball with Cerro Gordo out of Dawson. He said it was a great fit for him as he got acquainted with new people in the area and at the same time developed many lifetime memories and friends.
"Throughout my years playing with Cerro Gordo, our team won many local tournaments, placed very high multiple times in state and national Tournaments (in multiple divisions)," said Goslee. "But the biggest highlight of my years with the Cerro Gordo softball team and my career would have to be when we won the NAFA A-Major (National Title) in 2006!"
Goslee and his wife recently moved to the country with their son Jace, 10, and daughter, Drew, 5. Heather works as a nurse at the Chippewa County Montevideo Hospital.
During Goslee's acceptance speech he said, "I just want to thank the sport of faspitch softball for all the opportunities it has given me. It has taught me a lot about dedication, teamwork, character building, and life lessons and given me great memories and friendships."
Goslee was an All-World selection six times, an All-American three times, and the MVP of the 2006 NAFA National Tournament. He was named to the NAFA 20th Anniversary team.
Goslee's family and former teammates, Brody Richards, Scott Klocek, Ryan Glynn, Matt Peterson and Dan Schmidt, as well as Tomm Richards, Clete and Sharon Glynn and Daryl and Kathy Paulsen were in attendance.
Brody Richards and Lindblad took part in the induction ceremony and shared some special memories and acknowledged a number of Goslee's outstanding abilities. 
A total of 94 people — players, coaches, sponsors or umpires — have been inducted into the NAFA Hall of Fame since it started in 1999.
It just takes a ball, a bat and a determined young talent to achieve, and Kyle has certainly done that!