Wagner wins state championship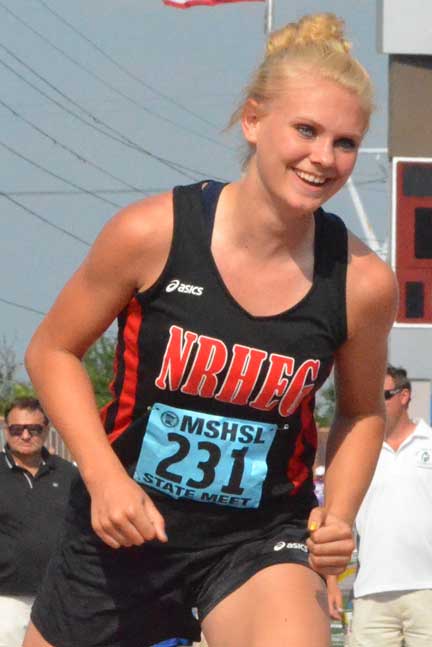 YES! — Carlie Wagner celebrates after clearing 5 feet, 6 inches in Friday's state track and field meet. (Star Eagle photo by Chris Schlaak)
By JIM LUTGENS
Editor/Publisher
Last March, Carlie Wagner nearly carried the NRHEG girls' basketball team to a state championship.
Last Friday, she won one by herself.
The sophomore sensation capped her 10th-grade year by winning the Class A girls' high jump state title at the state track and field meet at Hamline University in St. Paul, clearing 5 feet, 6 inches to tie her own school record.
As in the state girls' basketball tournament, when Wagner set single-game and tournament scoring records while leading the Panthers to third place, she won the state title in dramatic fashion. Wagner was the first to clear 5-6 and that was the difference as defending state champion Emma Lange of Caledonia/Spring Grove missed her initial attempt. Both girls missed all three tries at 5-7, giving Wagner the gold.
"It was almost like a storybook tale, like it was scripted," said NRHEG track and field coach Duey Ferber. "Good things happen to good people. She's unbelievable."
"It was nerve-wracking," said Wagner. "I looked over at Ferber and just started crying."
And, like last winter's record-setting state tournament, Wagner again made school history, becoming NRHEG's first state track and field state champion.
"It was a great day," said Wagner. "It's definitely a moment I won't forget, that's for sure."