NRHEG clinches share, then gets help from WEM for outright title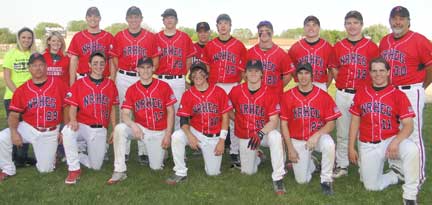 The NRHEG High School baseball team has captured the 2012 Gopher Conference championship. Front from left: coach Jon Meyer, Nic Mangskau, David Lassahn, Lucas Meyer, Sam Jewett, Brad Claycomb and Sam Lundberg. Row two: statistician Marissa Claycomb, statistician Natalie Donovan, Eric Sorenson, Carter Tollefson, Tyler Sorenson, coach Al Shultz, Casey Rosacker, Mitch Akemann, Jake Staloch, Matt Dahle and head coach Jeff Reese. (Submitted photo)
By JIM LUTGENS
Editor/Publisher
The NRHEG baseball players did what they needed.
Then they got a little unexpected help.
The Panthers defeated Blooming Prairie 7-3 last week to secure a share of the Gopher Conference title. Two days later, WEM knocked off then conference co-leader Mankato Loyola to give NRHEG the outright crown. It's the Panthers' 12th conference championship in coach Jeff Reese's 34 seasons at the helm and their first since 2006. It's also a big turnaround from last spring, when NRHEG was seventh in the conference at 3-8 and 7-13 overall.
"It was great to see these ballplayers win the conference," said Reese. "They have worked hard to achieve this first goal. They continue to play smart and are doing the little things correctly such as putting the ball in play and running the bases."
The Panthers, 10-1 in the conference, finished the regular season 17-3 overall. They're seeded No. 2 in the south half of Section 2AA and open tournament play Thursday, May 24 at home at 5 p.m. against seventh-seeded Waseca.
NRHEG wrapped up the regular season with a 2-1 week.
Sam Lundberg was the star at Blooming Prairie, pitching 5 2/3 innings for the win and going 3-for-3 with two doubles at the plate. He allowed four hits and five walks while striking out nine. David Lassahn went the final 1 1/3 inning on the mound.
Tyler Sorenson was 1-for-2 with a home run, Lucas Meyer 1-for-4 with an RBI double and Eric Sorenson 1-for-1 with two walks and two runs.
Jake Staloch laid down an excellent suicide squeeze bunt in the seventh after Lundberg was walked intentionally.
Last Thursday, the Panthers hosted Alden-Conger and won 16-4 in five innings.
Offensive leaders: Lassahn 3-for-4, double, three RBIs; Staloch 2-for-3, two RBIs; Tyler Sorenson 2-for-4, triple, four RBIs; Carter Tollefson 1-for-1, triple; Brad Claycomb 2-for-4, four RBIs; Casey Rosacker 2-for-3; Mangskau 2-for-3.
Mangskau, Rosacker and Staloch shared the pitching chores. Mangskau went three innings for the win, giving up one earned run on two hits, with six strikeouts.
"It was important to get off to a good start, which we did scoring seven runs in the first inning," said Reese. "Mangskau pitched well."
The Panthers were edged by Albert Lea 4-3 in 10 innings Saturday at Legion Field.
Matt Dahle was 2-for-4 with a double and an RBI, Tyler Sorenson 1-for-4 with a double and one RBI.
Mitch Akemann started and pitched 4 1/3 innings. Mangskau went five innings in relief and Lassahn got the final two outs.
"It was a very competitive, intense game," said Reese. "Mangskau, Akemann and Lassahn pitched well. We had several good defensive plays and a few pickoffs of Albert Lea runners. Offensively, we need to hit better."
If the Panthers defeat Waseca Thursday, they'll host St. Peter or Tri-City United Tuesday, May 29 at 5 p.m. The winner of that game plays May 31 at 7 p.m. at Sibley East-Arlington.