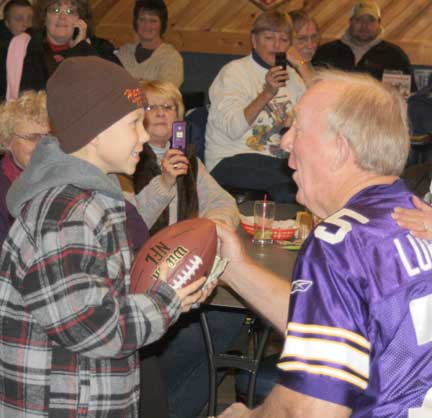 PRIZED POSSESSION — Tanner Oquist, left, got his football autographed by Bob Lurtsema Friday at the Geneva Cancer Auction. He had Jim Marshall autograph the ball last year. (Star Eagle photo by Rachel Rietsema)
By RACHEL RIETSEMA
Staff Writer
There's nothing like a little Bob Lurtsema banter to stir up the 28th Annual Geneva Cancer Auction crowd.
"I love small towns, so you people are right up my alley," said the former Minnesota Viking player of six years.
Sure enough, this special guest's ability to light up a room spread to even the smallest guests in attendance. But, he wasn't the only one there to amplify the Geneva Bar & Grill's atmosphere.
"When I heard you [Lurtsema] were coming and bringing the cheerleaders with you, I was really happy because you always seem to know what you are talking about," said event CEO Whitey Hagen. "That's what we like here."
Not a moment later, Hagen extended a word of thanks for both Jacqui and Mary's participation at this "28-year-old thing."
"It's always a pleasure to have the cheerleaders here," Hagen said. "We're proud to have them here at the cancer auction."
Mind you, this pompom toting pair and former defensive end's presence didn't come free. Frontier Communications made it all possible with a generous sponsorship.
"They did the same thing last year," Hagen said. "I thought, 'Well they can't top that, but here they are and right back at it again.' We want to thank them right at the bottom for that."
Geneva's National Football Leaguer of last Friday evening has actually dipped his purple and gold jersey into many a charity event. One time during his career, he dedicated 22 straight nights to help further causes similar to that of the auction.
"It's so much fun to meet the people and the fans," Lurtsema said. "These are just big kids out here to laugh together. They have even started roasting each other already."
Lurtsema enthusiasm for the cancer auction stems from his parents' influence. Even at a young age, the "respect factor" remained at his very core.
"When I see how other people live, I realize how lucky I am," Lurtsema said. "But here's the kicker: I get more of a rush out of it than the kids do. I actually have goose bumps right now."
Seeing their smiles recharges Lurtsema, and that won't change any time soon.
"Project integrity, work hard and always do the best you can," Lurtsema said. "If you have failure, you've actually succeeded because you learn more from failure."
In his opinion, the National Football League has "just done an outstanding job with the cancer awareness." And, the cheerleaders are a big part of that.
"They do hundreds and hundreds of appearances each year," Lurtsema said. "We're lucky to have two of them right here."
Both Jacqui and Mary felt even luckier though.
"We are sisters and have more than one relative that has been affected by cancer, so of course tonight was a big thing," Mary said.