PTO's Community Night Out set for Feb. 4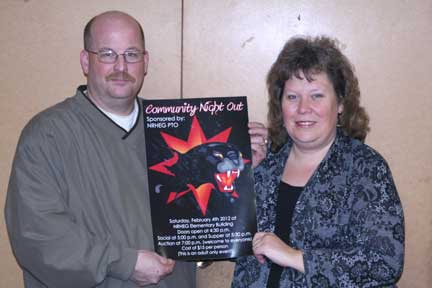 DINNER AND AUCTION — Rich (left) and Penni Mueller pictured with the "Community Night Out" poster for the NRHEG PTO fundraiser. The inaugural event is slated for Saturday evening, Feb. 4 at the Ellendale Elementary school gym. (Star Eagle photo by Jody Wynnemer)
By JODY WYNNEMER
Staff Writer
Do you need something to do on a Saturday night? The NRHEG Parent Teacher Organization is hosting its inaugural Community Night Out on Saturday, February 4 at the Ellendale Campus gymnasium.
"We wanted to try something a little different this year," said Penni Mueller, one of the organizers of the event. "We figured a catered dinner followed by a live auction would make a wonderful night out."
The festivities get underway with the doors opening at 4:30 p.m. Social time will be observed until the meal is served at 5:30 p.m. Diners will have their choice of roast beef or chicken breast, mashed potatoes, vegetables, salads, bread, desserts and a beverage especially prepared by Superior Foods of Ellendale.
"The live auction starts at 7 p.m.," said Mueller. "There are many items including a television, mystery prizes, autographed photos, theatre tickets, a hotel stay and a pie a month for a year."
Tickets for the adults-only event are on sale now until January 31 for  $15 at the following locations:
Ellendale: NRHEG Elementary, Lerberg's, First National Bank.
New Richland: Corn Palace Ag Center, State Bank of New Richland.
Hartland: Village Inn. Geneva: Commerce Bank, Geneva Foods.
For those not wishing to have dinner but attend the auction, the doors will open at 6:30 p.m.
"The proceeds from the evening will be used for technology upgrades at the school," said Mueller.
In the past, the PTO has helped purchase everything from playground equipment to smart boards for the classrooms.
More items are still needed for the auction. Anyone having items to donate, including unusual things, is urged to contact Rich or Penni Mueller at (507) 684-2205.
"We want to thank the entire community for their support and hope to see everyone at the Community Night Out," said Mueller.