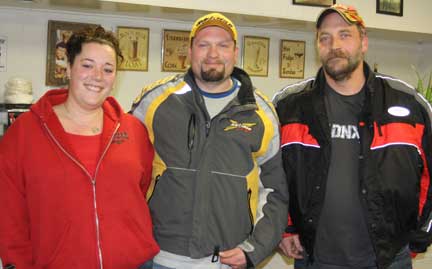 OFFICERS — The inaugural meeting of the Powder Hounds Snowmobile Club was held Sunday, Jan. 8 at Blondie's in New Richland. Officers are, from left, Jessie Shaffer, Secretary/Treasurer; Brian Hoffman, Vice President; and Joe Ranniger, President. (Star Eagle photo by Jessica Lutgens)
By JESSICA LUTGENS
Contributing Writer
Eventually, it will snow.
At least that's what New Richland's new snowmobile club is hoping.
The Powder Hounds held their inaugural meeting on Sunday, January 8th at Blondie's Grill, during which they discussed what the group plans to do, and who they'd like to see be a part of the club.
They're looking for new, younger members who will be able to bring new ideas and be the future of the club. They are hoping it will be something for everyone to be able to take part of and enjoy as a group.
Don't snowmobile? That's O.K. They plan on having the club be a year-round project, which will include a hosting of events in the winter as well as the spring, summer and fall. For the seasons without snow, they're hoping to hold events such as four-wheeling and hay rides, as well as appearing in parades in the summer. They also want to be able to give back to the community in ways such as cleaning ditches or helping out around town.
In short, they want to be more than just a snowmobile club.
The club is open to anyone who would like to join. They'll be holding a membership drive in February, as well as other upcoming events. If you're looking to meet new people and have fun with other members of your community, this is definitely something to look into.
Their next meeting will be February 12th at 6:30 p.m. at Blondie's. If you're interested in joining, feel free to go to their next meeting and sit and listen to what they've got planned for the future. Families and individuals of all ages, as well as people from surrounding towns, are welcome to join.
The Powder Hounds have a bright future, and with a little help from the people of our communities, they could be something great, which is all they're hoping for.