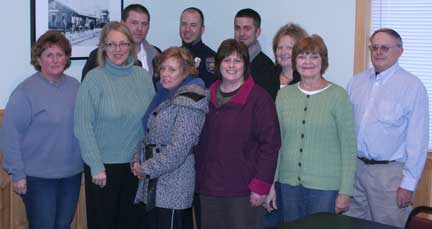 BY THE GRACE OF GOD — New Richland Area Foundation Fund representatives and grant recipients gathered at The Willows restaurant in New Richland for a recent grant presentation ceremony. Pictured front from left: Gail Schmidt, Cindy Coy, Toni Larson, Kathy Flor, Pam Goehring and Kermit Schoenrock. Back: Jeremy Parpart, Scott Eads, Cody Dobberstein and Jennie Johnson. (Star Eagle photo by Jody Wynnemer)
By JODY WYNNEMER
Staff Writer
Giving back to the community.
This is exactly what the New Richland Area Foundation Fund expects to accomplish, and they are exceeding expectations. 
Thanks to an anonymous donor or donors, the grant committee handed out $5,100 on Thursday, December 29 at The Willows restaurant in New Richland. The money came from the By The Grace Of God Fund, which is part of the NRAFF.
"This $5,100 brought the total to $14,600 granted by the NRAF and the BTGOG Fund to various projects in the New Richland area in 2011," said Gail Schmidt, NRAF representative. "Added to this amount is another $9,400 from the Waseca Area Foundation and the EF Johnson Foundation Funds. That's a total of $24,000 given back to our schools and community in 2011."
Area organizations who recently benefited from the benevolence were the New Richland Care Center ($700); Waseca Area Neighborhood Service Center ($700); NR Legion Field Improvements ($700); NR Ambulance Dept. ($1,000); NR Fire Dept. (1,000); and NR Police Dept. ($1,000.) Representatives from the organizations were on hand to receive their various grants.
Schmidt wanted to again thank the anonymous donor who gave the gift of grain this past fall.
"That donation will have a huge impact in the coming year on the amount the NRAF will be able to give out in grants," said Schmidt.
The NRAF grant committee announced the deadline for 2012 grant applications will be June 5. The grant recipients will be announced at the annual Farm and City Days Pancake Breakfast.
"2011 has been an amazing year in giving out money to the New Richland area," said Schmidt. "This is an opportunity none of us had two years ago and to get this far in such a short time says a lot about the people in our community and the area we live in. It takes a lot of people to make this a success and we are all  definitely headed in the right direction. We would not be able to do this amount of grants without the BTGOG fund. We on the grants committee want the anonymous donors of that fund to know how much their generosity is appreciated and what it has done for our foundation here in New Richland."  
Waseca Area Foundation Executive Director Karen Buum was present for the grant presentation ceremony and encourages anyone who wishes to contribute to the fund to come forward.
"It's an excellent vehicle to give back to the community," said Buum.
For more information on the NR Area Foundation Fund, contact Gail Schmidt (507) 465-8272 or Karen Buum (507) 835-5990.