NRHEG's favorite daughter ponders future after college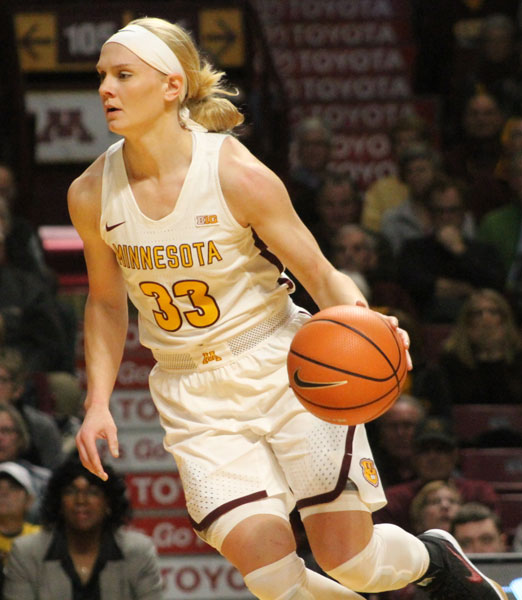 MOVING ON — After leading NRHEG High School to consecutive state titles and finishing No. 3 on the University of Minnesota's all-time scoring list, Carlie Wagner is pondering her future. (Star Eagle photo by Jim Lutgens)
By MARK DOMEIER
Contributing Writer
Carlie Wagner was known as the golden girl of NRHEG girls' basketball while in high school, helping lead the team to three straight state tournaments and back-to-back championships. She then became a Golden Gopher, excelling at the University of Minnesota and setting records for the women's basketball program in the process.
Now she has finished her college career and looks toward graduation and the future. Carlie was kind enough to take time to answer some questions for the Star-Eagle and reflect on her basketball career... so far.
Star-Eagle: So let's start by just sitting back and reflecting on your basketball career. Nine years ago, you made your varsity debut at NRHEG as an 8th grader. How did you feel at that age? Did you already have goals in place for your varsity career?
Wagner: Being an 8th grader playing varsity is scary at first just because of the age difference and level of maturity, so I was nervous being in 8th grade playing with all these girls that were quite a bit older than me. At that point in time, I didn't have goals in place for my high school career. I was just having fun and enjoying the game.
Star-Eagle: As you and the team got better and better, when did you really feel like this could be a state championship team? Did you even think about that before the playoff run your sophomore year, when you ended up finishing third at state?
Wagner: I think my whole high school career we always had a strong girls basketball program. It was the end of my freshman year when I knew we had something special going on. We were a very young team that was beating very solid teams, and well respected teams. At that point, I knew the next few years were going to be fun. So, going to state sophomore year wasn't a big surprise to me because I knew how good we were.
Star-Eagle: Looking back at the three years in a row going to state and the back-to-back state championships, do you see those years in a different light now that you're done with college? How so?
Wagner: I think I see those three years in a row going to state, and the back-to-back championships, in a different light. At the time, I knew how special our run was, but looking back now, it was one of the highlights of my entire basketball career.
Star-Eagle: There were so many great memories from those state tournaments. Which one stands out in your mind first and foremost when you look back?
Wagner: Playing with Maddie and Marnie stands out the most for me. Getting the opportunity to play with them and win two state titles is one of my favorite memories.
Star-Eagle: How unique was it to be able to play three years on varsity with your twin sisters, Maddie and Marnie?
Wagner: It was very unique to play three years with my sisters because it is a rare opportunity. There were some not so pretty times and some tears because l would be hard on them, but the good times always overpowered the bad.
Star-Eagle: Describe the recruiting process. When did you first start getting approached by Division I schools to play basketball? How crazy did your life get? When did you know for sure you were going to the University of Minnesota?
Wagner: I first started getting recruited by the end of my freshman/ beginning of sophomore/ junior year is when my life got chaotic. I remember Schultz calling me to the office almost every day, giving me a list of coaches to call. After a long time going through the recruiting process, I knew my heart belonged to the University of Minnesota my junior year.
Star-Eagle: Do you ever play the "what if" game? What if you had gone to Iowa or Iowa State? What if you had gone to Maryland and had a chance to play in multiple Final Fours?
Wagner: I am proud to say that I never really played the "what if" game because I know I made the right choice, and have had the time of my life being a Gopher. This place has become a big part of me and who I am. I knew this is where I was meant to be.
Star-Eagle: Another "what if" for you. You don't ever wish ill on others, but Rachel Banham's injury your freshman year really opened a door for you. How do you think things might have been different if she had stayed healthy, both for you personally and for the team?
Wagner: Things may have different for me for sure. I am a firm believer that things happen for a reason. It was awful that Rachel got hurt and missed her senior season, but look what she came back and did her fifth year! When Rachel was out, she was like a mentor to me, and helped me up when I stumbled. We both had the chance to experience something different, that benefited us in the long run.
Star-Eagle: What kind of goals did you have going into the U of M? Have you met or exceeded all of them?
Wagner: Going to the U of M, I am not sure that I had a ton of goals. To be honest, I just went in with a mentality that I was going to work my butt off, and help the team any way that I could. One goal I guess I did have was to earn a starting spot, maybe not right away, but eventually.
Star-Eagle: How is your game different at the end of your college career compared to four years ago? Where did you improve the most?
Wagner. Throughout my career, I really improved my shooting and became more efficient, especially my senior year. My shooting and becoming a three-point threat became a big part of my game and really evolved over my 4 years here at the U of M.
Star-Eagle: You were named Academic All-American the past two years. How difficult is it to do that being a full-time athlete and student? What is your official major and what jobs does it open the doors to in the future?
Wagner: Honestly if you prioritize and just put in the work and effort, it really is not as hard as people would imagine. It just takes a lot of self-discipline. I am doubling in business marketing education and communications!
Star-Eagle: How big an adjustment was it for you when the coach that recruited you to Minnesota, Pam Borton, was replaced by Marlene Stollings? At any point, did you consider going elsewhere?
Wagner: It really was hard being recruited and growing a relationship with Borton, then seeing her go, because obviously we were very close, and she was a big part of the reason I chose to stay home. I never did get the chance to have her as an active coach, so I think that helped me. I didn't get used to Borton and her system and then have to adjust and then take in a whole new system like the upperclassman that had to adjust to for Coach Stollings. I didn't know any different, and just came right on in.
Star-Eagle: Compare the coaching styles of Stollings and your high school coach, John Schultz. What were the impacts each had on your playing style and career?
Wagner: Coach Stollings and John Schultz actually have very similar styles of play. Both coaches loved an up tempo game that pressed, ran the floor hard in transition, and loved putting up the three ball. Obviously both coaches had huge impacts on me as a player. Schultz is the reason I made it as far as I did. He saw something in me that I did not see, and he pushed me every day to improve and get better. He taught me how to shoot, to do my left-handed layups, but the biggest thing he did for me was instill the confidence in me that I could be great. Coach Stollings took what Schultz taught me, and made it so I could use my talents at a higher caliber- the Big Ten. She added new skills. So Schultz built my foundation, and she built me up from there.
Star-Eagle: Compare what it's like to prepare for a game in high school compared to college.
Wagner: In high school we would totally just goof around before games, and laugh and joke. Totally different for college. I took preparation for games in college way differently. I would do my rituals, put in my headphones, and be very focused. Teammates used to laugh at me and say, "Wags, you know you can smile," but that is just how locked-in and focused I was, not that I wasn't in high school but it is very different.
Star-Eagle: You finished third all-time on the Gophers' career scoring list for women. Only Rachel Banham and Lindsay Whalen had more points than you. Can you even put that in perspective right now? Do you think anyone can ever catch those two?
Wagner: My whole perspective on that is simply this: I didn't and wouldn't have accomplished that without great teammates and coaches that have pushed me these past four years. I am honored to be third on the list, but do not take much credit for it. I was just lucky enough to have coaches and teammates who believed and trusted me. Someday someone will catch them, no saying when though.
Star-Eagle: Talk about your feelings at senior night at the Barn. You had strong support in the arena, a great tribute, and played a great game. When you walked off the floor for the last time, what was going through your head?
Wagner: So many emotions were going through my mind walking off the court that last time. I wear my heart on my sleeve, and there was no hiding how I was feeling. I really got emotional senior night, not just because we lost, but because that was my home. I have never cried, bled, sweated, screamed, fell and got back up, grown and prayed harder anywhere but that court. Williams Arena is a very special place to me, and the love and support that place has shown me just made it so hard to walk off one last time.
Star-Eagle: How was life on campus? Were you just another student or were you often recognized as Carlie Wagner from the basketball team? How about your followings on Twitter and other social media outlets? Does that faze you at all?
Wagner: Campus life was pretty normal. This is the second biggest school in the country, so it is pretty easy to blend in. I had people know who I am and recognize me, but I don't pay any attention to that. Having a ton of Facebook friends and followers on Twitter is not what it is about. I never let that stuff get to me because all those people don't know me, they think they do, but they do not know the real Carlie Wagner. If they really knew me, they would know social media and all that comes with it is not of value to me.
Star-Eagle: Looking at your whole career, how important was it to you that you also participated in volleyball and track? Did that make you a better basketball player?
Wagner: I think participating in volleyball and track was huge for me. It kept me in shape all year round, and allowed my body to use and work other muscles that I didn't as much in basketball. In all honesty,  it kept me from getting burned out, and kept my love strong for basketball because I got to mix it up instead of just playing basketball all year round.
Star-Eagle: What advice to you have to young people who want to "be like Carlie"? How about those who say they want to just focus on basketball to get better?
Wagner: My advice to them is work to be better than me, but know that the road is not easy. It takes a lot of hard work, dedication, and sacrifice. You will have to give up a lot if you truly want to chase your dreams and play at this level someday. Yet, I will add that you can accomplish anything, go further, and do more than you ever imagined if you push yourself. People may doubt you, but never doubt yourself because you are the key to your success, no one else. It is all yours for the taking!
Star-Eagle: Having played college basketball, your opinion on a shot clock in high school. After the Waseca girls' game against Marshall that finished 17-4, there's a debate going on. Would it be good for the high school game, or should things stay as is? Of course, this coming from someone whose team never would have been called for a violation!
Wagner: It is my opinion that high school needs a shot clock. I remember being in games where teams would have the ball sometimes five minutes at a time. It takes the fun out of the game and doesn't allow the game to be played the way it should be. When I saw the score of the Waseca/Marshall game, I thought "how boring." Plus, it will help girls who want to play the college level adjust easier if they had shot clocks in high school.
Star-Eagle: Any thoughts of someday finding a job in the NRHEG area and settling down, maybe coach a little basketball?
Wagner: Settling down in NRHEG would be so ideal for me, but not sure if it is a realistic option for me. I think with my degree the Cities would be better for a career, as much as it pains me to say that, but NRHEG will always be my home!!
Star-Eagle: What does the future hold for Carlie Wagner? The rumors of a place in the WNBA are swirling. If you are drafted on April 12, will that be the next step in your basketball career or has Carlie Wagner taken her last shot?
Wagner: The rumors are true. I entered the WNBA and am anxiously waiting for April 12th! I am very excited to see what happens. As of right now, that is what the future holds.
Editor's note: Wagner was picked in the third round by the Minnesota Lynx with the final choice in the WNBA draft Thursday, April 12.