Dobberstein thoroughly enjoyed
four decades of teaching at NRHEG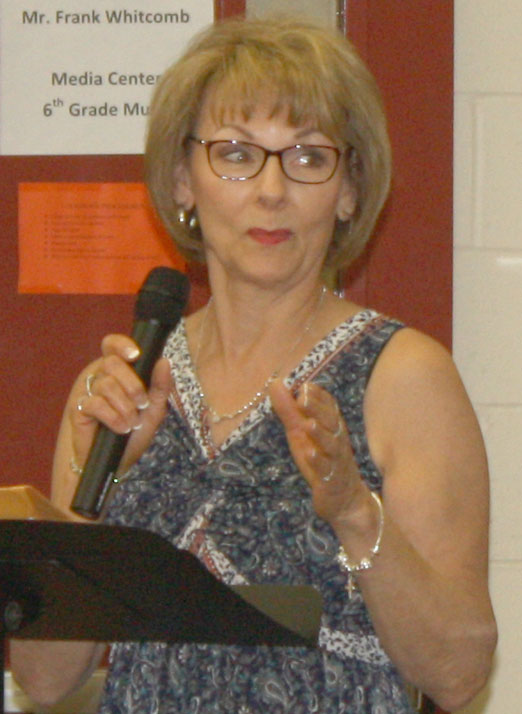 SWEET GOODBYE — Marilyn Dobberstein addresses those gathered at NRHEG's Staff Appreciation day. (Star Eagle photo by Aloni Duncan)
By MELANIE PILTINGSRUD
Contributing Writer
Marilyn Dobberstein, who grew up in Ellendale, Minn., is retiring having taught for 40 years in the local school district.
Dobberstein taught Home Economics, which is now called Family and Consumer Science, to 7th–12th grade students. "I went into teaching because I loved all of the aspects of Home Ec.," says Dobberstein. "I loved to sew, cook, etc., and I wanted to make a difference in children's lives. I had an awesome Home Ec. teacher in high school and she really encouraged me to pursue my degree in education.
"My first job was in Lanesboro, Minn.," Dobberstein continues. "I taught there for one year. The last eight years I have been in NRHEG and USC serving as Community Ed. Director."
After many years of teaching 7th–12th grade students, Dobberstein's job transitioned into teaching 7th- 8th grade students when her school combined with the New Richland-Hartland School district. "I gained the Community Education Director position when the elementary principal left our district," says Dobberstein. "ECFE was then being developed in the state of Minnesota, so I implemented that into our district. I also taught Parent Education in the evenings along with my full time job. I have enjoyed teaching a variety of Community Education classes throughout the years.
"I loved all aspects of my job," says Ms. Dobberstein. "Working with the junior high and high school students was very rewarding, but working with the preschool children and their parents was such a fun part of my job. I am really going to miss the ECFE program. Other highlights were working with all ages in Community Education. I experienced a lot of variety in my job from teaching to researching fun and exciting ideas for the Community Ed. and ECFE programs.
Dobberstein saw some big technological changes over 40 years of teaching. "There are so many time savers today that we did not have when I first started," she says. "Just making a worksheet or handout when I first started was a major project. If we had to make copies, it was done on a machine that had a round drum and we had to crank it for each copy. It took forever. To correct a mistake was not easy at all. The computer has made that part of our job so much easier.  Technology has totally changed the way we teach." There have been other changes, too. "Unfortunately, the family structure and support has really changed and hasn't made our job as easy as it was when I started," she says.
Dobberstein hopes her students remember having fun while they learned. "When I taught sewing I did not stress perfection," she says. "I just wanted them to love it, so they would continue to do it after they left my classroom. When I taught cooking I wanted them to learn the correct technique, so they would end up with an edible product. Again I wanted them to really enjoy being in the kitchen.
"I know that the projects made by the students were precious memories for them," Dobberstein continues. "It was so heartwarming to attend their graduation parties and see their many different projects displayed with their awards and other important items from their years in school. It made me feel special that they would include the projects from my classroom."
Dobberstein has so many memories from 40 years of teaching, that she says it would be hard to pick out just a few. "There were many humorous events: exploding eggs in the microwave, "extra ingredients added in the waffles" by the guys, a sleeve sewn in the neckline of a sweatshirt, a special lunch brought in by one of my students that he wanted me to eat (cow brains)."
Dobberstein says she wouldn't change a thing about her career: "I have been very lucky to have loved my job and enjoyed going to work every day. I had such a variety in my job that it was never boring."
Dobberstein will miss a number of things about working at NRHEG: "I will miss working with the preschoolers and their parents in ECFE. I will miss the social interaction with the office staff, teachers and paras here at NRHEG. I really have been blessed to work with such wonderful people.
"I am very proud of this school system since attending all of my elementary and high school years here. I have walked these halls for many years as a student and employee and it will be hard to leave this building.  NRHEG can be proud of its facilities and also the employees here. The staff here is very close and we really try to help each other in every aspect of our lives. I have gained so many lasting relationships throughout the years."
Dobberstein has some fun plans for her retirement. "I have a lot of hobbies like quilting, sewing, gardening, crafts and reading that I want to pursue," she says. "I plan on traveling a lot and going to visit my daughter and her family in Texas. I will be able to help family with their many activities. I look forward to spending more time with my grandchildren. I also want to volunteer and give back to our communities."
Dobberstein's daughter, Michelle, lives with her husband, Brian Neve, and their children, Miles and Westlynn, in Dallas, TX. Dobberstein has family in this area, too, with whom she will be able to spend extra time. Her son, Brian, and his wife, Angie, live in Geneva with their children, Bennett and Kelly. Her son, Jeffrey, and his wife Melissa, live on a farm south of Ellendale.
After all her wonderful years of experience, does Dobberstein have any advice for new teachers?  "Make learning fun. When you first start teaching you have to have strict rules and be consistent in enforcing them. After you have the students' respect, you can then ease up and have more fun with them."
We wish Marilyn Dobberstein much enjoyment during her retirement.