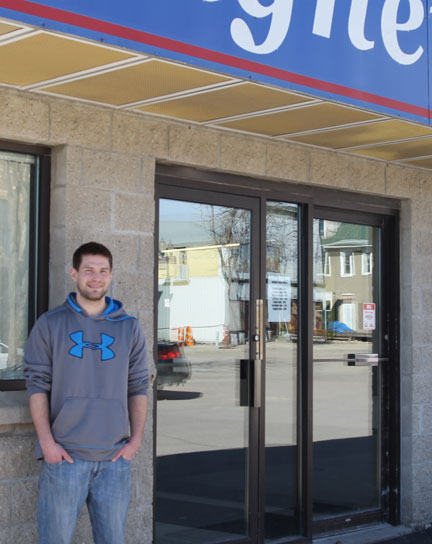 HE LIVES HERE – Wagner Foods' new owner Mitch Heimer is no stranger to locals, since he's been managing the store for over two years, while living in New Richland and attending MSU in Mankato. (Star Eagle photo by Jessica Lutgens)
By JESSICA LUTGENS
Staff Writer
Wagner Foods has changed hands, and its new owner, Mitch Heimer, is no stranger to the business. 
In his hometown of Adams, MN, Heimer's dad owned a grocery store that he purchased from Dan Wagner—father of the now former owner of Wagner Foods, Pete Wagner. 
For the past two and a half years, Heimer has been managing New Richland's grocery store while attending college at Minnesota State University, Mankato. During his senior year of college, he was asked if he'd be interested in owning the store, as Wagner had purchased another store and was having difficulties managing two grocery stores. 
"I worked in the front and back of a grocery store before college, so I kind of knew the ropes before I arrived here," Heimer said. "But I've picked up a lot, and there's more to learn."
Heimer, 25, has lived in New Richland for a year and a half, having bought the home he currently resides in with his wife, Liz, and their dog Hardee and cat Rue, about eight months ago. The two met while attending college at MSU, where Heimer graduated with a degree in public relations and journalism. Liz will graduate this spring with a Master's in public health.
In his free time, Heimer likes staying active and going out and trying new things with his wife. He also enjoys sports—the Vikings and the Twins—as well as spending time with friends, and eating pizza.
A few changes have already been made to Wagner Foods, including new coolers, freezers and remodeling last year, with some work yet to do. 
"We're excited to be here and hope to make improvements," said Heimer, "keep the small-town feel, keep prices down and match bigger stores."