16-year New Richland fireman succeeds Mike Shurson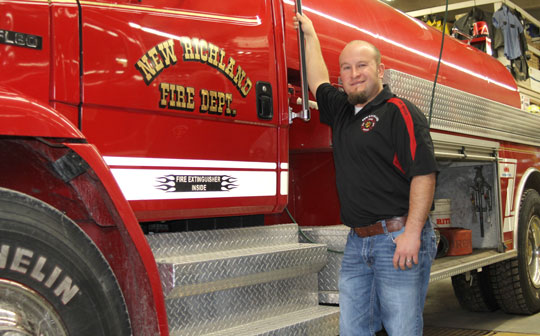 NEW LEADER — Josh Moen was voted New Richland Fire Chief at the department's organizational meeting Thursday, Jan. 5. (Star Eagle photo by Jim Lutgens)
By JIM LUTGENS
Editor/Publisher
Josh Moen was elected New Richland Fire Chief at the department's annual organizational meeting Thursday, Jan. 5. Moen, 31, succeeds Mike Shurson.
Also elected: Tyler Hansen, Assistant Chief; Shannon Young, Deputy Chief; Chad Neitzel, Captain; Adam Wacholz, 1st Lientenant; Brian Ziemke, 2nd Lieutenant; Tom Gislason, Secretary; Shurson, Gambling Manager. All terms are for one year.
The New Richland Fire Dept. has 25 members, all volunteer. Several, including Moen, serve as First Responders.
Moen, a 2004 graduate of NRHEG High School, has been a member of the New Richland Fire Dept. since December of 2005, having previously served as first lieutenant and assistant chief. He's looking forward to serving as chief.
"It's an honor," he said. "I'm very honored to have that support within my department. I feel good that they instill that trust in me."
In 2016, the department responded to 55 local calls, from fires to medical calls to car accidents, as well as many mutual aid assignments, most recently on Saturday at a hog farm near Hartland.
"I'm looking forward to the new year," said Moen. "As every fire chief hopes, you hope it's a quiet year, but I'm excited to lead the guys on."
Moen said previous department chiefs have set an excellent example.
"I really owe a lot to former chiefs, people like Wayne Billing and Jeremy Parpart," said Moen. "They taught me a lot over the years."
Moen and his wife, Jackie, live on S. Broadway Ave. in New Richland and have four children: Kendra, 17; Ashton, 12; Breckyn, 4; and Bexleigh, 1. He works as commercial applicator for SunOpta in Hope and also operates Moen Snow Removal in New Richland.