Band culminates marching season with indoor show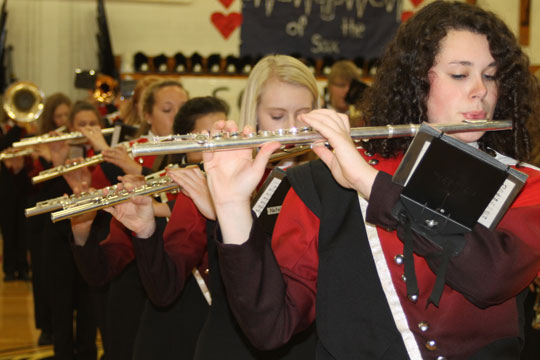 FAMILIAR ROUTINE — Jill Jongbloedt and the flute section perform during the 2016 Indoor Marching Band Concert Tuesday, Nov. 22. (Photo by Deb Bently)
By DEB BENTLY
Contributing Writer
The NRHEG Marching Panthers closed the 2016 marching season last Monday and Tuesday evenings in front of near-capacity crowds at the annual Indoor Marching Band Concert in the high school gym.
Excitement and a bit of nostalgia were the order of the evening as students culminated the season which began last spring and carried through the summer, performing the year's routine, "The Sound of Music," together for the last time. The concert's theme was "Sounds of the '60s."
An especially awaited feature of the Tuesday evening performance was the announcement of band members who have been chosen for season-long awards, and to occupy leadership positions beginning next spring. Retiring senior drum major Kallie Spooner was named "Panther of the Year," freshman Jayna Domeier was named "Rookie of the Year."  Devin Buendorf received the "Most Improved Drumline Member" title, while Autumn Thompson took "most improved" honors among the wind sections. Emma Tollefson and Taytum Ihrke were announced as next year's color guard captains, and Jayna Finseth as the new junior drum major. Kyra Possin will advance to senior drum major.
Director Jacob Bender said he was very pleased at the quality of the performances, and that he was especially impressed that performers could sustain energy and even improve from one evening to the next. "That's not easy to do," he said. "They demand a great deal of themselves, persistently raising the bar to do even better."
Bender commented that one of the greatest rewards of his job is seeing students stretch their skills and reach a level of proficiency they once thought beyond their ability. "That's tremendously rewarding," he said, "helping them see their own potential and then guiding them to reach it. Eventually, everyone can see how far they've come."
The band members' enthusiasm and goodwill are also a tremendous benefit, says Bender. "Everyone was willing to put in extra time to make sure the concert was a good show," he observed. 
For those band members who are seniors, the indoor concert is the end of a career which may have begun when they were in middle school. Each year, the seniors plan and present a performance; this year's was a dance number to the song "Canned Heat" by Jamiroquai.  
In keeping with the Sixties theme, the Color Guard created and performed a number entitled "Apollo 16." It featured representations of the tension, excitement, and triumph of the 1969 moon landing.
"There's really no describing what the indoor concert means," comments senior Jill Jongbloedt. "It's everything that's good about band, mixed in with the realization that the end of our time in school is getting closer. Suddenly, everything has a deeper, richer significance."
The band will present its annual Christmas Concert Monday, Dec. 12 at 7:30 p.m. in the high school gynmasium in New Richland.