Hartland's Alice Miller turns 100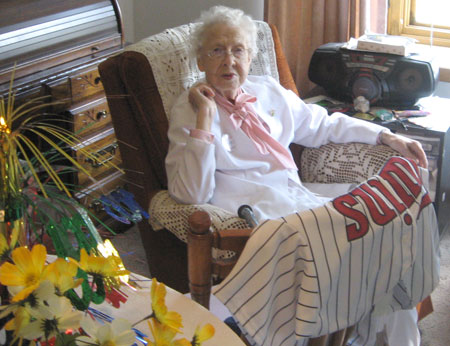 100 AND COUNTING — Alice Miller of Hartland with a Minnesota Twins jersey presented to her by the city in honor of her 100th birthday Monday, Aug. 22.
By JIM LUTGENS
Editor/Publisher
How does it feel to be 100 years old?
According to Alice Miller, not much different than 99.
Miller was asked the question Monday, Aug. 22, the day she reached the century mark, a day after a big birthday celebration at the community center in Hartland, where she was born, raised and still lives.
"There were so many people there," said Miller, who still retains her physical health and mental faculties. "I met so many people I hadn't seen for many years. A couple of them said, 'You're sharp as a tack.' I remember things pretty good. I'm just a little hard of hearing."
So, how does it feel to be 100?
"Oh, I don't know," said Miller. "Pretty good, I guess. I'm glad I made it this far."
Miller had an idea she might have a long lifespan because her father lived to 91.
"I thought, I'd like to get that far too," she said. "Then weeks and months went by and pretty soon it was another year. That's the way it's been going."
Miller, who still lives in her own home, used to stay active in her garden until a few years ago, but she still enjoys cooking, watching the Minnesota Twins on television and reading the Star Eagle — especially Kathy Paulsen's column.
Among birthday gifts received was a Twins jersey and cap presented by the City of Hartland. It's believed she's the first person in Hartland to reach 100 years of age. Sources say the second-oldest was Julius Sibilrud at 99 years and nine months.
What's Miller's secret to longevity?
She thought for a moment before answering.
"The good Lord has been good to me, I guess," she said.
Miller was born on the family farm northwest of Hartland, the second of five children for Lewis and Alva Myhre. She was 17 when her youngest brother, Donald, was born; he died in January.
She attended country school through eighth grade when, like many kids back then, she went to work full-time on the family farm. Work was a way of life.
"When we were little, you just had to do a little bit more every day," she said. "We had no electricity until 1939, when we moved to town. That was the best part about moving to town, electric lights."
Miller performed various jobs for area farmers, did housework and, for a while during World War II, worked for a defense contractor in s