Reunion held for Wayne Feder, town's first-ever cross country coach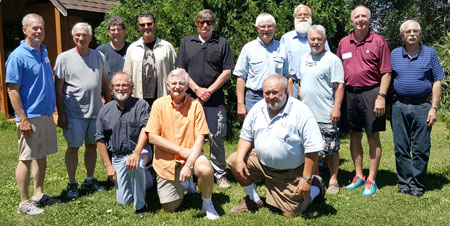 CARDINALS — Former New Richland-Hartland cross country runners with coach Wayne Feder. Front from left: Bruce Himmerich, Randy Meyer, Denny Prescher. Back: Dennis Byron, Mike Berg, Richard Swenson, Dave Lyndgaard, David Liane, Feder, Bob Yerhot, Greg Swenson, Dave Shurson, Bill Bartholmey. (Submitted photo)
By JIM LUTGENS
Editor/Publisher
There was a time, not all that long ago, when cross country in New Richland was thought of as the route you took to visit Disneyland.
Then Wayne Feder came along.
It was the fall of 1966 when Feder, a first-year teacher, convinced Superintendent G.T. Norswing to let him start a cross country program at New Richland-Hartland High School.
He created something special, obviously.
Feder's former runners — spearheaded by Denny Prescher — held a reunion to honor their coach and the 50th anniversary of the first-ever Cardinal cross country team on Saturday, July 9 at the NR Sportsmen's Club during Farm & City Days. They rode a float in the parade.
Feder, now retired and living in Blue Earth, was overwhelmed by it all.
"This is absolutely an amazing day," said Feder. "I really had fun. I hadn't seen a lot of those kids in 45 years. It brings back a lot of wonderful memories."
Feder, who authored the book "He'll Never Amount to Anything" in 2015, was asked by Milesplit.com writer Bill Peyton to share thoughts on the early days of New Richland-Hartland cross country, chronicled in a Peyton article.
"What we found," wrote Peyton, "is a fun story about a little town that dared to challenge the big city teams in Minnesota's one-class system in cross country and track and field from 1966-1973."
Feder remembers coming to New Richland fresh out of Mankato State, "Wearing a pair of green and white Adidas Italias and feeling overwhelmed by the idea of finally having to work for a living."
Somehow, Feder managed his duties as assistant B-squad football coach while assembling the cross country program — on a volunteer basis — with the help of Athletic Director Tom Smith. No other Gopher Conference schools had cross country. Road trips were long.
Wrote Feder: "Excused and unmissed by my football mentor, I would load the team into our school's old fake-wood-sided station wagon and drive us for our weekly pummeling."
Feder was able to coach cross country full-time the next year when, he wrote, "I was able to attract several more runners to the program. Workouts increased in intensity and our team was definitely better than the previous year, but I don't remember that we won many meets."
The summer of 1968 was, according to Feder, a turning point for his career and New Richland-Hartland cross country. He stayed in town and ran with his team. He attended a coaching seminar in Michigan.
The result was an undefeated regular season and a surprise showing at the district meet.
"We showed up at the meet unheralded with our raggedy sweats," wrote Feder. "I remember the shock and surprised look on the faces of the Big Nine coaches when the scores were tabulated. We had defeated Owatonna, Faribault, Northfield and won the district title. Not yet strong enough, we had a poor performance in the region meet, but we were beginning to believe."
In 1969, due partly to the encouragement of Feder, the team decided they would all run 1,000 miles during the summer. Dave Lyndgaard, Dan Lyndgaard, Bruce Himmerich, Byron Himmerich, Al Tappe and Dennis Byron did it. Brad Finseth and Mike Berg came close.
Continuing to fine-tune his coaching strategy, Feder guided the Cardinals to stellar seasons in 1970, '71 and '72, when they finished second, third and ninth in the one-class state meet — a remarkable run for a school in the middle of farm country.
Dan Lyndgaard was undefeated in '70 and '71 after placing fifth in the state as a sophomore. Several others attained all-state status. Al Tappe had the distinction of running for the varsity on all five district championship squads.
The ninth-place state finish stands out for Feder.
"Unranked all year, we had several great performances that race, including a third-place finish by sophomore Dave Tappe," wrote Feder. "It seems strange for me to talk about individual performances. We were a team. We had less talented kids that became good runners and a few average kids who became great. We all worked together, supported each other and became friends."
Feder, a graduate of Madelia High School, was named Teacher of the Year at New Richland-Hartland, Woodbury and Blue Earth.
Editor's note: Many of the Cardinals' trophies are on display with other New Richland-Hartland trophies at the Star Eagle office in New Richland. Feder and the team are looking for the missing 1970 second-place state meet trophy, the 1971 third-place state meet trophy, and the wooden 1000-mile plaque.