Field name to forever remember two of the community's finest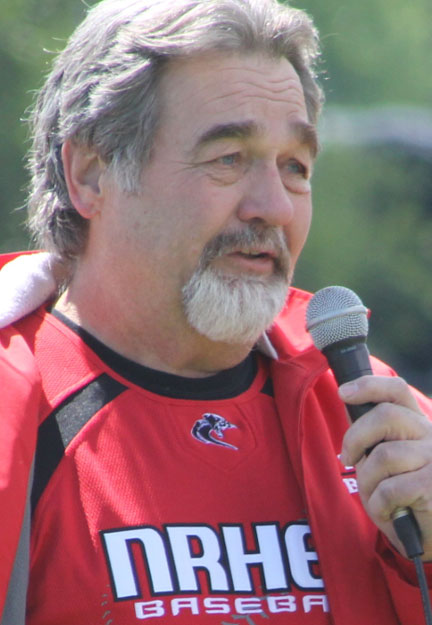 MEMORABLE DAY — Longtime NRHEG baseball coach Jeff Reese speaks Saturday, May 14 at the ceremony to rename the baseball field in New Richland after him and his late wife, Carol. (Star Eagle photo by Jim Lutgens)
By JIM LUTGENS
Editor/Publisher
Jeff Reese was wearing a New Richland-Hartland Cardinal uniform the first time a certain Morristown cheerleader named Carol Allingsworth caught his eye.
He was immediately stricken.
"I thought she was pretty neat the first time I saw her," said Reese.
He remembers talking to her for the first time after an afternoon football game at Morristown, and he remembers their first extended conversation when he ran into her — along with her then steady boyfriend — in the Waseca bowling alley lounge.
"She said I tripped her," said Reese.
In a way, he did.
The athlete and the cheerleader eventually got together, got married, raised a family, and lived an idyllic lifestyle in Reese's home town of New Richland, he as a well-respected teacher and coach and she as a beloved dance instructor.
That life as Reese knew it ended on March 4, 2015, when Carol succumbed to pancreatic cancer after a valiant 19-month battle.
Now, New Richland is making sure neither Jeff nor Carol Reese is ever forgotten.
After Saturday, May 14, the baseball field in town will forever be known as Jeff and Carol Reese Field at Legion Park.
"It's a great honor," said Reese, who still gets choked up when he talks about his wife. "I mean, it's extra special that they're going to mention Carol. I wish she could be here for this. She sacrificed a lot. But, she always knew where I was at."
Where he was most of the time was the ballpark, which he cared for — with help from others, he stresses — helping secure lights and a sprinkler system, coaching the high school or American Legion baseball team or playing for the local town team.
A three-sport standout who graduated from high school in 1973, Reese played basketball and baseball at Waldorf Junior College in Waverly, Iowa before concentrating on the latter at UW-Stevens Point for two seasons. By all accounts, he was a decent first baseman.
Billy Robinson gave him his first coaching opportunity at age 20 with the NR American Legion team. It was the spring of 1979 and the team was loaded with athletes, the school having won the state football
 championship the previous fall.
"I thought, 'Boy, this is easy,'" said Reese, who was hired by superintendent Tom Hedman and athletic director Tom Smith as NR-H's head baseball coach in 1985.
His teams went on to win 457 games in 35 seasons, No. 9 all time in state history. Waseca's Tink Larson, by comparison, is No. 12 with 420 wins.
Reese's squads won numerous Gopher Conference championships. Don't ask him how many because he doesn't know. He took a leave of absence from coaching in 2013 when Carol was diagnosed and retired from coaching the next year.
A low-key individual with a wry sense of humor, Reese was known as an on-field coaching wizard, outsmarting opponents at every opportunity. As a person, he's unassuming and quietly commands a lot of respect.
Reese credits Carol with attracting so many ballplayers to the program in his first seasons, when she kept the scorebook in the dugout.
"She was my best recruiter," he said. "I found out later that guys were going out for baseball not only because they loved the game, but so they could be closer to Carol."
Generations of young girls were positively impacted by attending Carol's Dance Studio, which would pack the gymnasium every spring for its annual recital.
Together the Reeses raised three children: Joy (Josh Drinkall) and children Lilly, Reese and Shay; Dusty (Amanda) and children Asher, Aiden, Brynna and Gunnar; and Jacey (Toni).
A fourth son, Cazzie, lived for only two days before dying in January 1979.
"That," said Reese, "was a tough one."
But not as tough as losing Carol, whose memory is alive and well in the Reese home east of New Richland, a house built over a period of years while the family lived in a mobile home on the property.
"I can't bring myself to change much," said Reese, who still has his wife's clothes in his closet.
Carol was remembered Saturday as Joy presented her speech on the newly named field.
Reese was more brief. He didn't read his prepared statement in its entirety. It's doubtful he would have gotten through it with a dry eye.
"I was so blessed and fortunate to have my wife as my best friend for close to 38 years," Reese wrote. "She was the rock that kept our family grounded. She had so much energy and such a soft spot for children and left a tremendous legacy. I wish so bad that she could be here in person as she would be so honored, but I know she has the best seat in the house. I would often ask her how she could keep her frantic pace and she would tell me, 'You can sleep when you're dead.' Now she is resting in eternal peace, but she lived every minute to the fullest."
Reese thinks of her often, especially sitting at his kitchen table.
"It's the same, except for the shotgun sitting in the corner," said Reese.
That, he said, is something Carol would not approve of.
"It's not fair," said Reese. "She lost her dad (to lupus) when she was a ninth-grader. They had a dairy farm and had to get up early and milk the cows. She knew how to work. She was one of six kids, and they were all successful in life. Hard times are good times sometimes, I think."
As hard as it's been on Reese, he just knows Carol is in a good place after her long cancer ordeal that included countless trips to the doctor and experimental treatments at Johns Hopkins Medical Center in Baltimore and the University of Minnesota.
In a recent dream, Reese was standing on a hill and Carol was at the bottom of the hill dancing, dancing and smiling.
"I called out to her, but she didn't see me," said Reese. "She didn't answer me. She just kept dancing and smiling."