Dinneen makes one final trip to nation's capital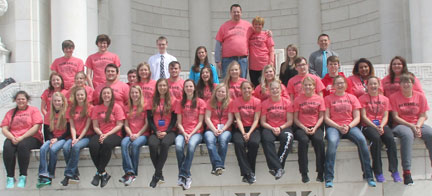 D.C. CREW — Front from left: Whittney McCamish, Natalie Aaseth, Emily Crabtree, Michelle Katzung, Aubrey Schlinger, Tali Wayne, Jennifer McKay, Gabby Muri, Gretchen Ramaker, Grace Johns, Rachel Collins, Maci Surat, Emily Prigge, Chris Stenzel. Row two: Nicole Frechette, Kylie Lembke, Wyatt Fitterer, Tyler Mithun, Justin Mortensen, Karter Sletten, Natalia Galindo, Lillian Bell, Lillie Nielsen, Braden Routh, Ben Lewer, Mercedes Dickerson, Madison Martin. Back: Payton Misgen, Randal Anhalt, Caleb Harpel, Kyra Possin, Pat Churchill, Georgia Dinneen, Taytum Ihrke, Sam Prigge. (Submitted photo)
By JIM LUTGENS
Editor/Publisher
Officially, Georgia Dinneen is retired from her job as an instructor at NRHEG High School.
But early this month, she was coaxed out of retirement for a few days.
As she has done 10 times since 2004, Dinneen accompanied NRHEG students and other chaperones on what has become the school's annual trip to Washington, D.C.
"Our intention in the beginning was to go every other year," said Dinneen. "This trip was our fourth year in a row."
After retiring last spring, Dinneen was asked by NRHEG Administration to go on one last trip to D.C.
"That's why I did it," she said. "It was an especially enjoyable trip to me just because I got to spend time again with teenagers. They are what I miss most about retirement."
A total of 33 students made the trip this year, all reportedly well behaved — as usual — and interested in what they were seeing and doing.
The group had the same tour guide NRHEG has had nine of the last 10 years, a lady named Marisa Caviness, someone Dinneen calls "an amazing lady."
One of the things she tells the students as they hurry from one historic site to another: "Let's walk with a purpose!"
And they do.
"We cram a lot of things into a three-and-a-half-day trip," said NRHEG history teacher Pat Churchill, a chaperone the last several years. "By the end of it you are so exhausted, but it is definitely a very rewarding trip. It's a great experience for the kids. To actually see these great historical sites and to hear the stories, it is a trip they will never forget."
Four NRHEG students were given the honor to participate in the wreath laying ceremony at The Tomb of the Unknown Soldier: Taytum Ihrke, Kyra Possin, Sam Prigge and Caleb Harpel.
The itinerary included:
Wednesday, April 6
• Pentagon Memorial - An outside memorial honoring those that were killed on 9/11 at the Pentagon
• Pentagon building tour - Given by military personnel; one of the largest office buildings in the world; both civilian and military personnel in this building
• The Air Force Memorial - A very simple but impressive monument
• Lincoln Memorial
• Vietnam Memorial
• Korean War Memorial
• FDR Memorial - Beautiful waterfalls; this memorial is very symbolic of the era when FDR was president
• World War II Memorial - Water fountains; also very symbolic
• Evening illumination tour of the Jefferson Memorial and the Martin Luther King Memorial (one of the newer memorials in D.C.)
Thursday, April 7
• The Library of Congress - Considered by some to be one of the most beautiful buildings in D.C.
• Met with Senator Amy Klobuchar in the Hart Office building; She talked to the students for a few minutes prior to her departure to Andrews Air Force Base where she was going to board Air Force One with President Obama
• Tour of The United States Capitol
• Gettysburg, PA - Gettysburg Civil War Museum; Gettysburg Battlefield; Various monuments including the First Minnesota Regiment Monument.
"This is the first time in all 10 trips to D.C. that we have gone to Gettysburg," said Dinneen. "It was a very interesting tour for the students and chaperones alike."
Friday, April 8
• Museum Day - Newseum
• Smithsonian Museums including: Air and Space, American History and Natural History
• Holocaust Museum
• Evening comedy performance at The Kennedy Center For The Performing Arts
Saturday, April 9
• Mount Vernon - Home of George Washington
It was raining, sleeting and snowing while the NRHEG group was there.
• George Washington Mansion located on the Potomac River
• Arlington National Cemetery Tomb of The Unknown Soldier; Watched the Changing of the Guard.
• Iwo Jima Memorial
Said Churchill, "We have been so blessed to have such amazing kids go on this trip. They always represent NRHEG very well."
"I have truly enjoyed all of the D.C. trips with our NRHEG students," said Dinneen. "We've taken close to 400 kids on this adventure and I still hear from students who went on this trip years ago and they comment on what a wonderful time they had and the great memories they made. Even this year, while we were in D.C., I saw Facebook posts of students from years ago saying they wish they were with us! I wish they were too."