2016 cancer auction kicks off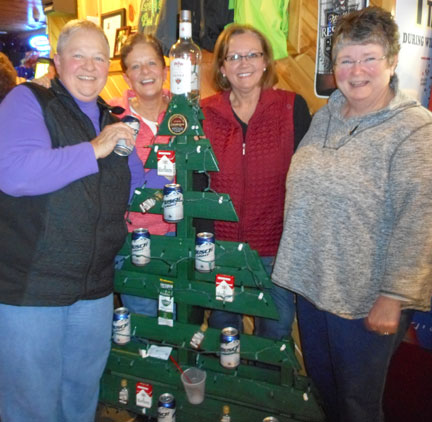 REDNECK MOTHERS — Cheri (Sloan) Krejci, Cindy (Sloan) Owen, Pam (Cornelius) Muri and Rita (Thompson) Louks stand by the Redneck Christmas tree auctioned off during the first weekend of the 2016 Geneva Cancer Auction. The event resumes at 7 p.m. Friday and wraps up Saturday, Jan. 16 at Geneva Bar & Grill. (Star Eagle photo by Kathy Paulsen)                
By KATHY PAULSEN
Staff Writer
Life is brief and very fragile. Hope, like love, transcends all time. It is a friend, a healer and a maker of dreams. When you give, you harvest an abundance of love that life offers.
Maybe all of life's promises don't come true. We can only try.
January is a month dedicated to extraordinary attention given to the cause against cancer. Though it is an ongoing cause year-round, January 8-9 and 15-16 are special days set aside for the Geneva Cancer Auction. Friday night began with a brief introduction by Jamie Hagen, followed by his father, DuWayne, or Whitey, Hagen, as he is best known, reviewing some achievements that go back 30 to 40 years ago.
The first item up for auction block was a jar of Vi Blazek's pickles. Vi was one of the first to donate for the auction; she raised cucumbers and peppers and canned them and they sold, and the recipe lingers on because her daughter, Sue, continues the tradition. The pickles have sold for anywhere from $1 to more than $1,000 for one jar when everybody chipped in and bought it to honor her memory.
There are countless stories of the people who made this a commitment and kept using their knowledge and love to raise the kind of money they have for the fight against cancer. They reached the $1 million mark several years ago. They all have one thing in common: they are all people who have love and sympathy for their fellow man.
Whitey started his involvement with raising money for cancer with a chicken. His family not only encouraged him, they joined his venture. Judy Thompson started her involvement with wild game from her freezer. Dee Ann Randall sends out goodness in many directions, all dedicated to research, financial aid, caring, kindness and love. It all adds up.
It is hard to describe all that goes into the auction. People bring items you wouldn't believe and others pay prices you wouldn't believe because they care. No department store could ever have the variety of merchandise up for auction. Nothing could make you feel so good to be part of it.
It is estimated that 40% of the Fifth District Eagles Telethon fund-raiser last year came from so-called rural communities.
The corner where Tom "Digger" Donnelly sat at Geneva Bar & Grill was empty but Digger was there in spirit and memory.
On Saturday afternoon, seven-year-old Finn Baumann, son of Meghan and Ben Baumann of Geneva, shared his story about Digger. Finn and Digger had been friends since he was 2 years old. The two of them did many things together, including play music.
Finn has missed Digger since his passing in October, and he wanted to do something to honor his friend during the cancer auction. The Baumanns talked and decided they would match up to $100 the amount of money that other people would like to donate in memory of Digger. Finn made his way around the people gathered carrying a large bowl and many contributed. Finn offered a big thank you to everyone who helped him honor Digger. Before the afternoon came to a close it was announced a total of $401 would be donated in Digger's name.
Darrell and Cindy Hansen also wanted to honor Digger. They donated a picture of Digger sitting in his favorite spot at the bar and a shovel. Donnelly was the local gravedigger for a number of years and others also donated shovels in his honor.
Many others donated items in honor and in memory of family and friends. A large metal flamingo was donated in memory of Dean Johnson; several items were donated in memory of Matt Felt. Cody Christensen, who helps organize the Matt Felt Pool Tournament, presented a donation of $1,010 from the tournament, as well as announced a $1,000 donation from the Matt Felt/Dillon Gordon Motorcycle Run.
Dee Ann Randall made a presentation on behalf of the Geneva Cancer Motorcycle Run. The mission of the run is twofold. They raise money for cancer research and donate money to help area people in need. This year Dee Ann presented a check in the amount of $2,000 for cancer research.
Jamie Hagen said we often hear about people who have died from cancer, but also felt we need to hear about people who have survived. He asked people to raise their hands if they were a cancer survivor. It was interesting seeing how many years people have survived. Evidently, the money raised from cancer auctions and other fundraisers is helping.
A Minnesota Vikings jersey signed by Paul Krause will be auctioned Saturday afternoon, Jan. 16. Krause played for the Vikings for 11 years, including four Super Bowls. The NFL's career record holder for interceptions, Krause was inducted into the Pro Football Hall of Fame in 1988.
Before the first weekend of the auction came to a close, Whitey Hagen announced he would make his yearly trip to Rochester on Sunday, Jan. 17 for the 5th District Eagles Cancer Telethon, where he will make a donation to include the funds raised from the many different events in our area.