Bohlen finally achieves perfection on the bowling lanes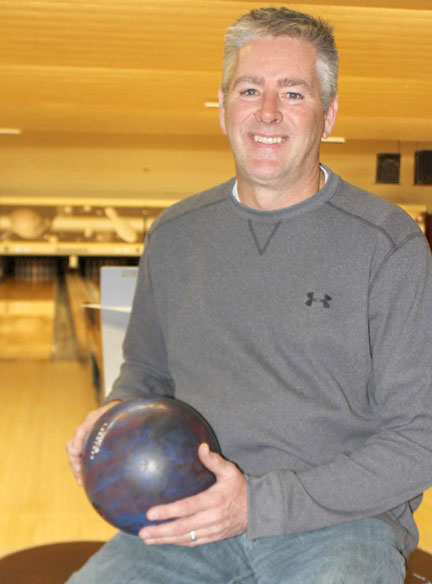 FAMILY AFFAIR — Bowling has definitely been a family activity for Rick Bohlen of rural New Richland, who rolled his first 300 game Nov. 16 at Trapper's Lanes. (Star Eagle photo by Jim Lutgens)
By JIM LUTGENS
Editor/Publisher
Nobody's perfect, of course, but on one night, for one shining moment, Rick Bohlen of rural New Richland was exactly that.
Bohlen, 55, finally bowled an elusive 300 game, hitting 12 consecutive strikes Monday, Nov. 16 during league competition at Trapper's Lanes in New Richland.
It was the first of a three-game 710 series for Bohlen, who followed the perfecto with games of 217 and 193, and it was a long time coming for someone who started bowling more than 50 years ago when his father, Merlin, owned the bowling alley then known as Bohlen's Lanes.
"I think it was kind of neat it was done here," said Bohlen, who bowled for many years in Albert Lea before returning to town with his brother, James, to take over their father's heating and air conditioning business in 2006. "To come back here to do it where we actually grew up and learned how to bowl, it was special."
Bohlen fondly remembers the years his father owned the bowling alley, 1964-70.
"I remember just being able to stand up there and roll the ball between my legs," he said. "I remember we'd sort pop bottles for Dad, and then he'd let us bowl."
When he got older, Bohlen traveled throughout the Upper Midwest competing in tournaments with his father.
"Dad was a very consistent bowler," said Bohlen. "He told me the other day the best game of his life was a 265, at a tournament in Blooming Prairie. Bowling has definitely been a family thing. I can't remember the last time I was old enough to bowl in a league that I didn't bowl in a league."
Bohlen, averaging 198 this year, bowls in one league per week, and sometimes finds it hard to fit that in. His best season average was 213, around eight years ago.
After bowling for so many years and coming so close a number of times, Bohlen had to wonder if he'd ever record a 300 game. He had a number of 279 games, when he started with a spare and finished with 11 consecutive strikes. Several times he started games with seven or eight strikes in a row.
"The pressure is not as bad when you start with the second frame and go all the way to the end," said Bohlen, who earned a plaque for his 279 and will receive a ring for his 300 from the American Bowling
Congress.
Bohlen started to seriously ponder a 300 after his eighth strike Nov. 16.
"At that point, you start to think about it, if you get that ninth," said Bohlen. "I've always felt if you can get that first one in the 10th, you've got a good chance for the next two because you're on the same lane."
After his first strike in the 10th, he was in uncharted territory and his head was spinning.
"I just thought, 'Wow, you've got a chance to do this,'" said Bohlen.
And everything proceeded as usual, at Bohlen's request. Bowling on other lanes did not stop, as usually happens when someone nears a 300 game.
"That was very thoughtful," said Bohlen. "There have been times when everyone stopped what they were doing to watch, and I asked them not to do that if I was ever in that position. So this time it wasn't like that."
And the final ball?
"I would say your knees get a little bit weak where you wonder if you can walk quite right," said Bohlen.
But he nailed it, and at that point fellow bowlers did stop to congratulate him.
"The whole bowling alley is a pretty good community," said Bohlen. "If you get close to 300, they all want you to get there."
Bohlen's lone regret is that his brother, James, was not there. It happened to be his night off from bowling.
Perfect games are rare at Trapper's Lanes, but Bohlen's was the second this season after Jon Becker recently rolled a 300 and followed it with a 299 a couple nights later.
"These are tough alleys," said Bohlen, who averaged 178 his first year back in New Richland after averaging 200-plus for more than 10 years in Albert Lea.
And Bohlen feels good he was able to do it while his dad, one of New Richland's most beloved citizens, is still alive.
After the Bohlen brothers took over Merlin's business in 2006, they received checks from a number of people in the area for whom their father had performed work but never billed.
"This really meant a lot to me," said Bohlen. "We bowled all our lives. It's definitely one of those bucket list items, you know? It's pretty neat to do something like that, and pretty special to do it with Dad still around."