Doc Flor's legacy spans generations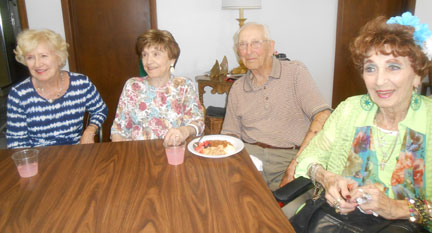 REMINISCING — Albert Flor and his three sisters enjoy dinner together at Albert's cabin on St. Olaf Lake. From left: Phyllis Cooper, Ordelle Schmid, Albert Flor, Arlene F. Ros-Crum. (Star Eagle photo by Kathy Paulsen)
By KATHY PAULSEN
Staff Writer
For many folks, one of the happiest days of their life was the day they started going to Dr. Albert Flor's dental office. One of the saddest days was when he retired and they had to find someone new.
For more than 50 years, "Doc" has been an interesting character in New Richland. At 95 years of age he still keeps busy, not doing dentistry work, though he jokingly said he still carries his trusty pliers in his pocket, which he proudly displayed.
Since his retirement in 1991, Flor has been using his garage to build utility trailers and picnic tables. He is not the type of person to just sit. He has to be up doing something and his garage has become like a second home. He said he has already made 15 utility trailers and 13 picnic tables. He has given picnic tables to some of his grandchildren, but he still has a few more to make.
When Flor isn't busy working on these projects, he spends time at his cabin on St. Olaf Lake during the summer and manages to make a few trips to Florida during the winter months to visit two of his sons, David and John, who spend winters there. But that is just the tip of the iceberg in Albert Flor's life. If anyone doubts the reason for living a good healthy life, all they have to do is think of Doc Flor.
Albert turned 95 on June 25 and recently his family held a traditional Minnesota birthday party at St. Olaf Lake, including deep fried fish. The birthday party also honored all three of Albert's sisters. Arlene, who lives in Huntington Beach, Calif., turned 97 on May 10. Ordelle, who lives in New Prague, celebrated her 97th birthday April 8, and Phyllis, who lives in Edina, will be 93 in October. That is a lot of years and they are all still active and living full lives and were very happy that they were able to spend time together at the lake.
Flor is the son of Albert D. and Marie Flor and he and his sisters were born in New Ulm. Flor graduated from high school in 1938 and later went on to further his education at the University of Minnesota. He met his wife to be, Lois, who grew up in Sleepy Eye, in the early 1940s and they were married in 1943. Albert was asked to serve his country and was commissioned into the Army Dental Corps from 1942-1945. He was fortunate to be able to continue his education during that time period. Flor graduated from the University of Minnesota School of Dentistry program in December of 1943. Buck Private Flor was active in the Army reserve unit and was recognized as a first lieutenant upon his graduation.
Following his discharge, Albert and Lois, looked for a place in Owatonna to live, as Flor had hoped to be able to start his dental practice there, but they were not able to find a home. He learned that New Richland was looking for someone, and the rest is history. Albert and Lois were able to live in the top portion of the building that currently houses "Dad's Good Stuff" in New Richland. The area contained both their living quarters, as well as Albert's office space. Lois was the bookkeeper for the business, as well as kept the house and raised their seven children, David, John, Judy, Brad, Tim, Beth and Jennifer.
Albert and Lois had originally thought that they would stay in New Richland for a time, but it developed into 50 years. Flor continues to enjoy living in New Richland, but misses his wife, who died in 2003.
Albert Flor will always be a hero to many. He gave dentistry a great name. Several of his children followed in their father's footsteps. David, John, and all went on to become dentists, and Beth is a dental hygienist. 
David first worked in Wells and later moved his business to Albert Lea.
John works as a dentist with Main Street Dental in Blooming Prairie, Owatonna, Rochester and New Richland.
Tim got his start in New Richland and located his practice, "Prairie Arts Dental," in Waseca.
Beth lives in New Richland and works in Mankato and Worthington for Midwest Dental.
Albert's daughter, Judy, is married and she and her husband, Roger, live in Lake Crystal. Judy is a farm manager.
Brad retired as Chief of Police in New Richland in 2007 but continues to call New Richland home.
Jennifer also lives in New Richland and works for New Richland Liquor Company.
Albert also has 19 grandchildren and 26 great-grandchildren.
Albert and Lois Flor always wanted to spend time at the lake during the hot days of summer, and back in 1952 they were able to purchase the former lake home of Bernard Rodegard, who had been a druggist in New Richland. The Flor family enjoyed many great years together at St. Olaf Lake. When their children were younger they developed a ball diamond behind their cabin and the kids played many ball games on that field over the years.
Flor said he has always liked to build or make things. He shared a story about how he made his first wood boat in the basement of his home. Yes, the basement. Many wondered how he planned to get the boat out of the basement. But have no fear, he had that all figured out. He had been wanting to do some remodeling at his home, as well as wanted to move the basement stairway, as he felt it wasn't safe where it had been located. So in the process Albert was able to remove the boat from the basement before he finished the construction.
Several Flor children also share their love of being able to live at the lake with their dad. David lives at St. Olaf Lake, right next door to his dad's cabin, during the summer.
John and Jackie Flor also made their home at St. Olaf Lake for a number of years, but they now live "right on the water" in the Fort Meyers, Florida area, except during the hurricane season, when they have to relocate for a time. John and Jackie have a 46-foot lake home on the water.
Albert, David and John reflected on many good times spent at the lake. They talked about fishing, as well as about all of the great years they enjoyed waterskiing. John reminded us about they year he started waterskiing behind the boat, which later helped him get airborne with the help of a large kite and harness system. John was possibly the first "barefooted" water skier on St. Olaf Lake. 
The Flor family was a busy, happy group and I am proud to say they were part of my "growing up years" at the lake. People like these don't come around often enough. If there was ever anyone who "made a difference," it was Doc.
One of his kids used to laugh about how the baby crib would creep across the floor in their old apartment in downtown New Richland. Albert's life didn't start out easy. He earned every right to be the great guy he is.