NRHEG School District awarded $25,000 grant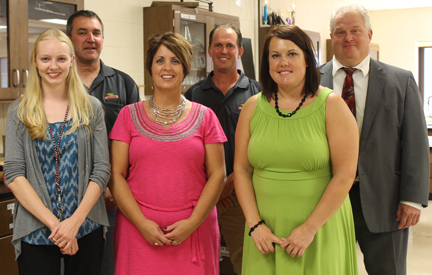 EXCITING STUFF — NRHEG School District has been awarded a $25,000 grant from Monsanto. Front from left: science teachers Amanda Inouye, Anne Feist and Jennifer Hatten. Back: Rick Schultz and Doug Christopherson, local Asgrow/Dekalb Seed dealers) and Superintendent Kevin Wellen. (Star Eagle photo by Jessica Lutgens)
By JESSICA LUTGENS
Editorial Assistant
It's not just good – it's great.
The NRHEG School District has been selected to receive a $25,000 grant for science lab equipment through America's Farmers Grow Rural EducationSM, sponsored by the Monsanto Fund. Schools from all over Minnesota applied for the grant, and our district was lucky enough to be one of the winners. The district applied for a $10,000 grant a year ago, but was denied and given $500 as a consolation prize.
In order to be selected to receive the grant, schools must be nominated by local farmers and the money they would receive, if chosen, has to tie into science, math, and agriculture. NRHEG received 100 nominations this year, surpassing last year's nominations by 40.
"It was really exciting stuff for us," said Superintendent Kevin Wellen. "When I got the e-mail, I talked to everyone within the hour."
In their proposal, staff members noted, "We are requesting the grant for the purpose of purchasing equipment to make our science labs state of the art. It will allow us to create labs and provide accurate data for the students to view in all fields of science. This will stimulate student interest in science and is
 expected to improve test performance of students on both local assessments and the Minnesota Eighth Grade Science MCA test."
In recent years, the school has moved from 24.4 percent of eighth-graders meeting the MCA test standard to 40 percent. Although this is impressive growth, the staff is not satisfied with that figure.
"Utilizing this lab equipment, we are setting the goal that we will exceed the State average performance on that test in the coming year and improve our performance by at least 5 percent per year over the next five years," the proposal stated.
Science teachers already use SMART Boards and iPads in their classrooms, and the new equipment they will receive will extend opportunities and activities for students in order to offer more high-tech and hands-on educational training. The ultimate goal of the purchase of the new equipment is to "provide our rural students with even footing when competing with students from metro school districts who generally have access to more opportunities."
Thirteen sets of equipment will be ordered which will allow students to take part in new, interesting lab activities. For example, one of the experiments that can be conducted will allow a student to run in place while a partner observes and records the different effects this has on the body. They will have equipment to monitor blood pressure, heart rate, carbon dioxide output, oxygen intake, etc. They will also be getting two ProScope Digital Microscope Deluxe kits, which will allow whatever is seen under the microscope to be projected onto the SMART Board for the whole class to see. Overall, the new equipment will allow students and teachers to explore new areas and activities related to science to hopefully stimulate their interest in the science, math, agriculture and engineering fields.
In order to make sure that the new equipment is utilized and advancing student performance, Wellen, a former science teacher, will be visiting the classrooms quarterly. The overall impact will be measured using assessments throughout the year by teachers as well as state tests and by the school counselor, Tim Stoesz, as he examines postgraduate interview data.
"I want to extend a big thank you to the farmers who nominated us," Wellen said. "It all comes down to a balance of where your needs are, what you're putting your money towards and the support of people using the products."