Slow but steady wins eating contest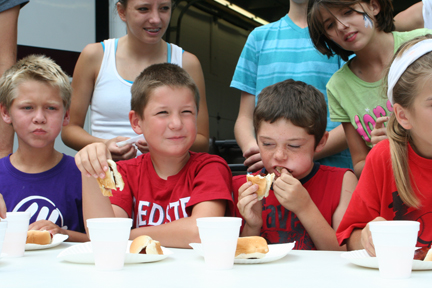 A GOBBLING GOOD TIME — Hot dog eating contest participants try to beat the clock in the hopes of winning some pretty stellar prizes Saturday, July 21 during Ellendale Days. (Star Eagle photos by Rachel Rietsema)
By RACHEL RIETSEMA
Staff Writer
Slow and steady chompers won the Ellendale Days hot dog eating contest last Saturday afternoon.
The head organizer of this event, Erin Schlaak, didn't witness any vomiting this time around. The barf bucket was on hand though. Contestants could be sure of that.
"A couple of us parents in the community decided a couple years ago that there weren't enough activities for kids," Schlaak said. "So, we came up with the idea of having the fun zone and hot dog eating contest."
As the countdown commenced, every last big and little eater braced themselves. Stuffing one's face takes quite a bit determination and chewing power, you know.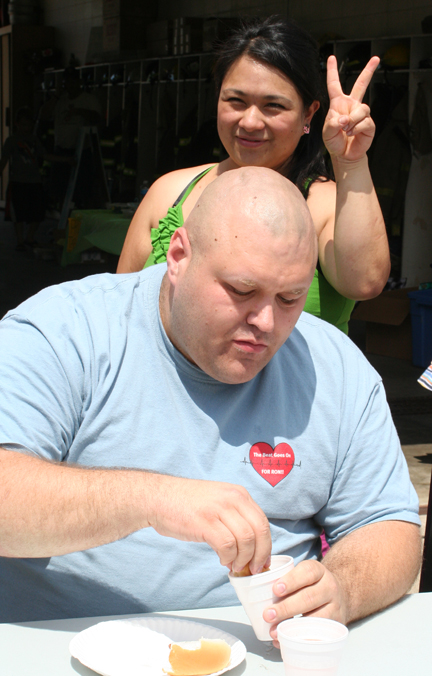 FIRST-PLACE PACE — Tim Gassmann demonstrates his winning form in the Ellendale Days Hot Dog Eating Contest. (Star Eagle photo by Rachel Rietsema)
"Right beforehand, we do one last call to make sure anybody that wants to be in it can participate," she said. "Eight-year-olds and higher can participate. Any younger and we run the risk of choking."
Hot dogs and other supplies for the feast were made possible by the Ellendale Sportsmen's Club and Steve's Meat market. The fun zone donors also include the Ellendale Fire Department and Whispering Oak.
"As long as they support us, we are lucky enough to keep going," she said.
The contest emcee, Patrick Stitt added, "The adult division reigning champion, Tim, attends where I pastor at Vibrant Life. They were all pushing me to do it, but I didn't want to be too humiliated in front of Tim."
Instead, he "wiped the salty porky sweat" from their brows. He had a blast with it too.
"The least amount of chewing possible is the best way to go," he joked. "I've never seen a contest like this before. If this was in
 Ireland, I think we would have about 200 people signed up."
First prize in the 8-12 year old division went to Kelby Johnson. A five-piece game set is now in his possession as a result of his fine eating habits.
"I did it last year, but I just wanted to try again and see if I could win first," Johnson said. "There's a lot of competition so I was pretty happy to get a good prize."
Both runners-up for the 8-12 and 13-17 age divisions won great prizes as well. Silver award winners nabbed a two-person slip and slide, while bronze qualified for some pool toys.
"I did it last year and this year," said two-year champion Tim Gassman. "There's a $5 entry fee, but this Buffalo Wild wings prize is definitely worth it."
Gassman's victory plan is simple really. And for those unlucky participants, he dished out what it takes to come out on top.
"I didn't eat much earlier in the day," Gassman said. "Some people try to force it in and rush it, but I just find that working it slow produces better results."
Those interested in the 2013 hot dog eating contest, also mentally prepare yourself. There's some thick competition out there, Schlaak says.
"We are just excited to see people come into town and enjoy the day," she said. "Having a place for the kids to be – we just love that."