Discussion proves educational, even for longtime area residents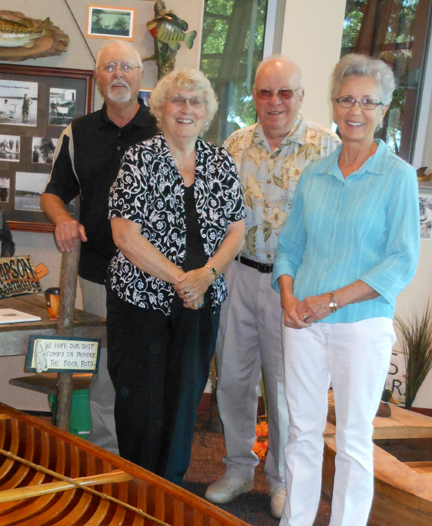 PRESERVING HISTORY — Ellendale Area Historical Society members Ed Jensen, Norrine Jensen, Lloyd Kaplan and Barbara Mrotz were at the Steele County History Center June 21 for a roundtable discussion on Beaver Lake. (Star Eagle photo by Kathy Paulsen)
By KATHY PAULSEN
Staff Writer
While driving around the east end of Beaver Lake, which includes 99 acres of water, one will glimpse 103 seasonal cottages, 13 year-round homes and a sandy beach with children taking swimming lessons and having fun in the water.
It brings back wonderful memories of when my family camped in our first motor home, a renovated school bus, on the south shore.
Many more memories were rekindled during a roundtable discussion about Beaver Lake at the Steele County History Center June 21.
I learned to swim in Beaver Lake, so its history was most interesting. I can remember how the beach back in the 1960s and '70s could be so crowded, people would reserve a spot on the shore by going early and laying down their towels on the beach area hillside.
It was mind boggling all the things I learned that night. I wasn't disappointed.
Todd Hale from Owatonna served as emcee, and panelists for the discussion included Bob Hansen, Norrine Jensen, Lloyd Kaplan, Bill Kottke and Andy Lerberg. The discussion correlated with the Beaver Lake exhibit on display at the History Center, 1700 Austin Road in Owatonna. 
Norrine Jensen presented a verbal picture of what she knew of the Indian tribes that lived in this beautiful area and spent their summers there, and Kaplan shared fishing experiences. Kottke talked about living at the lake, Lerberg reminisced about Beaver Lake tradition, and Hanson talked about a variety of Beaver Lake activities.
The History Center currently has a great display of Beaver Lake artifacts from the Wahpetuke tribe who once lived — or at least summered — on its shores, as well as many great items, including a couple of boats and a muskrat. Special thanks were extended to Ed and Norrine Jensen, Kaplan and Barbara Mrotz, from the Ellendale Historical Society for their leadership that made the exhibit possible.
Jensen, who laughingly called her husband Hawkeye Ed, said many of the artifacts they currently have on display at the history center are artifacts he spotted from the tractor when he was plowing the field. Just recently, a huge long tooth had washed up on the shore. 
He quickly cleaned it and added it to the selection in the display case at the center. Ed also discovered an antelope skull at the lake a number of years ago. 
Also on display are bison bones, arrowheads, spear points, axes, hammers, scrapers, bowls, grinders, tools and other artifacts embedded in the soil around Beaver Lake. The collection of artifacts suggests the area was once used for Native American encampments and hunting expeditions. Legend says there are, or were, two Native American burial grounds located on the west side of the lake.
Jensen lived her entire life near the Beaver Lake shore, so she shared stories her relatives and others before her time experienced. Her parents, Noel and Ardis Thompson, also ran the boat rental at Beaver Lake for a great number of years. 
The Thompsons, who at one time owned most of the shore line on the east end of the lake, ran their boat rental business on the lake from the mid-1940s into the late 1960s. They had boats for rent for 10 to 25 cents an hour, offered bait for sale, including a dozen minnows for a quarter, as well as had wool bathing suits for rent. 
The Thompsons spent many hours at the lake, and Jensen says, "They loved being around people and time flew by. We ate fish four times a day: fish for breakfast, fish at noon, fish for supper, and fish at 10 at night when they went back home after all the boats were back in. Fishermen didn't want to clean just four or five fish, so they gave them to my parents. When I served fish for breakfast to my new husband, he thought I had lost my mind. I thought it was the normal thing to do."
The Thompsons sold 3.65 acres of land, including the gravel pit, to Steele County in the 1960s when the park and parking lot was established. Ash trees were planted on the beach. Two picnic pavilions, a volleyball court, horseshoe court, bathhouse and concession stand were built in the park area. A tunnel was built under the road, which allowed people to safely reach the beach area from the parking lot. Noel and Ardis discontinued their boat rental and bait business in 1968.
Back in 1910, Beaver Lake had a launch, and in 1930, a roller coaster was built. The coaster had wheels. One could rent it and ride the coaster down a tower out into the lake in their wool bathing suits. 
This area by the lake also had a roller rink from 1934-42, and provided opportunities for dancing, picnics, water skiing, fireworks, ice fishing contests, as well as car sinking contests, free shows and concerts and softball games. These past few years a Polar Plunge event has also been held at the lake. 
Harry Christensen and Noel Thompson use to harvest ice from the lake in those early years as well.
Since 1902, six generations of Thompsons have lived on the family farm by Beaver Lake.
Norrine left plenty of room for stories from Bill Kottke, Todd Hale, Bob Hanson and Andy Lerberg who remembered the ice fishing contests, ice cutting, the loss of horses who drown in the lake and people, too. Lloyd Kaplan shared fish stories and told how the students from District 86, which was north of Ellendale, would bring the students to the lake so they could fish. The students were able to fish from a wood boat and caught sunfish, and once the fish were caught, they were scaled, cut, gutted, washed, and then fried in lard and butter for all to enjoy. Lloyd shared a story about fishing with his son, Dean, and how
Dean watched his fishing pole go to the bottom of the lake. He also shared stories of catching crappies that weighed over a pound each, as well as walleyes and Northerns, some as large as 6, 8 and 12 pounds each.
Lloyd also told how Francis Misgen would get called out to Beaver Lake to help people who had gotten stuck in Lovers' Lane.
Bill Kottke shared his memories of living at the lake, shared stories of fishing from the tower by the boat house, and catching crappies with his cane pole. Bill also talked about a bad storm that occurred back in 1949 and how the winds moved the Sanderson cabin, #19, out into the neighboring field.  Bill also talked about the swimming hole in front of the cabin #23, the Johnson cabin, as well as about the raft they used to jump from out into the lake. Bill also talked about Stan Wodartrek, who worked as the water patrol for a great number of years.
Andy Lerberg presented information about Beaver Lake, which is 18 miles southwest of the Owatonna, or three miles west of Ellendale, and is located in Berlin Township. The lake is spring fed, and at one time Indian burial mounds could be spotted on the west end, but cabins have now been built there. 
He also talked about the 1910 school picnics, as well as when his dad, Art Lerberg, and Art's sisters first got a cabin on Beaver Lake. Andy's sister, Jo, now owns the cabin. Andy and Mary currently have a cabin at Beaver Lake, and their daughter, Wendy, and her family live at Beaver Lake year round. Doc and Martha Ertel, the Campbells, and E. M. Thompsons built the first cabins on Beaver Lake. People from all over the area have called Beaver Lake their lake on occasion. 
Andy also shared stories about the Yanke Brothers, who were twins, and how they would go out early in the morning fishing and had great luck catching walleyes. Andy also talked about the 4th of July events on the south side of the lake.
Bob Hanson, who is like a rock on the shores of Beaver Lake, shared many entertaining stories.
Where did the lake get its name? It came from the beaver that dammed the east end of the lake so wide and thick they made a road of it. 
Not exactly where it is now, but on the east side of Ed & Norrine Jensen's farm site, a road capable of driving on was built upon the beaver dam.
Following the presentations, the audience was invited to share their stories, and many did. There was a good representation of people who shared stories about events and their love of the lake.
Facts and figures may sometimes be legendary but are true to the best of knowledge. Because there are so many recollections of events at the lake it is hoped that more of the stories we know and don't know could be collected and recorded in a book for history and reading enjoyment. Friends of the lake are invited to share their stories and recollections of time spent at the lake.
The Ellendale Historical Society has a very active group of people, and many of them did a terrific job of presenting a Beaver Lake exhibit that is currently on display at the Center through the end of December. Ed and Norrine Jensen host a meeting at their historic Thompson Boathouse each August, and during those gatherings many stories and history of Beaver Lake have been shared. 
Beaver Lake is one of 200 lakes in the northern part of the United States that is part of an ongoing research program being conducted by Dr. Kenton Stewart at the University of Buffalo in New York.  He has recorded ice-on and ice-off dates of Beaver Lake, dating back to the winter of 1988-89 and the research will continue every year.
Following the roundtable discussion, many toured the building and were fascinated by the displays and reminisced about good times at the lake. Included in the displays were artifacts, pictures of many great sites an events at Beaver Lake, including the Old Thompson Boathouse, the water roller coaster, ice harvesting, car sinking contest and softball teams, as well as observed the buffalo and beaver that were on display.
Beaver Lake — boy, what a place. Many people have been able to enjoy it, and will continue to do so for years to come.