Schmidt named parade grand marshal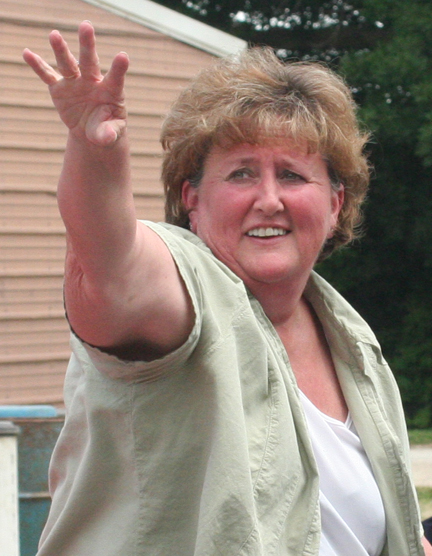 Gail Schmidt waves to the crowd during the 2012 New Richland Farm and City Days parade Sunday, July 8. Schmidt was selected grand marshal. (Star Eagle photo by Jim Lutgens)
By JIM LUTGENS
Editor/Publisher
Pastor Charles Espe always does a great job of announcing the grand marshal for the New Richland Farm and City Days parade, so Gail Schmidt was an eager listener at the Fire Hall Saturday morning.
The clues went right over her head.
Even as Jim Kozan played "Six Days on the Road," Schmidt, with her husband truck driver Joe sitting next to her, looked around the room for truck drivers.
Then, as Espe was reading the nomination letters, Schmidt was thinking, "Wow, those are really nice words to say about someone," never once thinking he was talking about her.
But he was.
And she was humbled and proud to be named the 2012 grand marshal.
"Those were some pretty awesome words and I only hope that I do live up to them," said Schmidt, who hugged Farm and City Days committee member Kelly Martens and thought, "Oh no, I have to get up front again and talk."
"People don't believe me when I tell them I'm really quite shy and definitely not comfortable in front of crowds," said Schmidt. "I forgot to hug my family. I remember shaking as I was trying to gather my thoughts. I'm not sure what I even said. I just hope it wasn't dumb and that people could see I was truly honored. There was no rehearsal time for that one."
There was, however, plenty of time for Schmidt to earn the honor. Her past activities as she recalls them:
• Park & Rec Board member
• Waseca Area Hospice Board member
• Sunday School teacher
• Waseca County Red Cross board
• Foster Care for Waseca County
• City Clerk/Treasurer
• Headed the mural project and memorial park area next to the post office
• Farm and City Days committee
• New Richland Care Center Advisory Board member and chairman
• Trinity Lutheran Church Council
• Waseca Area Foundation Board of Directors as the New Richland Representative
• New Richland Area Foundation Fund Grants committee member
• Pushing for a Community Group to get started to take over where the Commercial Club left off.
"It seems like a lot now that I think about it," said Schmidt. "But I was raised to help out whenever and wherever you can. My mom has been my role model. I've very blessed and thankful to have her and to have been able to learn from her. Joe, Dan and Tina have been very supportive of the things I am involved in. If it weren't for their support, patience and help in operating our family business, I wouldn't have the time to do the things I do."
And how does it feel to be named grand marshal?
"To be honest, I never thought about me being a grand marshal," said Schmidt. "But, I am so honored to join that list of past grand marshals.  I've always thought the ones chosen in years past were so deserving and I always looked at them as such great role models in the community and hoped that I could be half the person they are. I do enjoy doing the things I do — definitely not for any recognition, but mainly for the passion I feel about the things  I am involved with. I do worry that I might be driving people nuts with my passions."
All in all, Schmidt says the experience has been very humbling.
"There are so many others that deserve this honor and I do hope that they get their turn," she said. "It is an awesome feeling. But truthfully, I have been so lucky to have worked with so many awesome volunteers throughout the years. I have learned so much from them. I am feeling extremely lucky these days to be a part of such a great community and I thank everyone for this opportunity to be this years Farm and City Days grand marshall. It's just one more thing in my life that I have been truly blessed with. If this last paragraph is not what I said at the pancake breakfast, it should have been."
New Richland Farm and City Days parade grand marshals
2012 — Gail Schmidt
2011 — Pastor Paul Andree
2010 — Pam and Larry Goehring
2009 — Myron Schumacher
2008 — Gene and Sylvia Dodge
2007 — Mary Ann Schlaak
2006 — Vince Peterson
2005 — Don and Audrinne Smith
2004 — Pastor Phil Lewison
2003 — Gene and Mildred Budach
2002 — Orrin Ribbe - Honorary Gary Billing
2001 — Bernie Anderson
2000 — Dale and Dawn Halgren
1999 — Beth Wesselhoeft
1998 — Jim Jessen
1997 — Margaret Engesser
1996 — Pastor Charles Espe
1995 — Lee Mendenhall
1994 — Gene Amley
1993 — Elmer and Marilyn Quiram
1992 — Jean Horn
1991 — Bill Robinson
1990 — Edna and Vince Erdmann
1989 — Herb Prescher
1988 — Abraham Family
1987 — Dr. Albert Flor
1986 — Harry Anderson
1985 — Leo Eckart
1984 — Dr. Olds