New manager thrives on challenges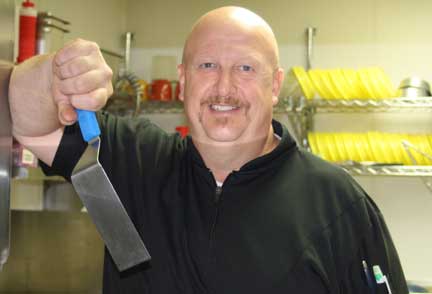 AIMING TO PLEASE — New Ellendale Municipal Liquor Store manager Pete Paulson describes himself as customer oriented, saying "I enjoy pleasing the customer. I like the people contact." (Star Eagle photo by Rachel Rietsema)
By RACHEL RIETSEMA
Staff Writer
Pete Paulson doesn't just love challenges. He thrives off of them.
And so, when Paulson officially filled the Ellendale Municipal Bar and Grill managerial position on June 1, he knew the fun was about to begin.
"Since we have added the grill, business has definitely increased," Paulson said. "The numbers aren't earth shattering or anything, but customers are on the rise."
Only about a month in, the development of friendships with customers has been effortless, really. It's been a real treat to reconnect with Ellendale too, he says.
"Because of my ties to the community, I'd like to give back or see it prosper so to speak," Paulson said. "I enjoy pleasing the customer. I like the people contact."
In short, he just wants to make the Ellendale Muni the place to be — all made possible by simply listening to the customer's needs.
If there are things they don't like, we can take care of those situations," Paulson said.
Actually, he has even taken into consideration the needs of younger customers, by tweaking the menu a bit.
"We did add a few dishes for the kids," Paulson said. "So, after T-ball or whatever it may be, kids and their parents can stop by."
Striving for that family-friendly environment will always be at the top of his list. But even so, he reminds the general public of the Muni's identity.
"We want to serve good food and make it as accessible as possible, but still keep that adult flavor later in the evenings," Paulson said.
In order to do that though, he knows it can't be all about him. The three remaining employees are vitally important and quite possibly, the glue of the place.
"The customers know the bartenders," Paulson said. "I don't want to ignore how their long hours have made the Muni into something that is successful."
So, whenever something isn't producing good results, he has no qualms about making a change. In fact, he is on the lookout for one or two more bartenders to fill the holes.
"The liquor side of things is new for me," Paulson said. "That's where I rely on Kirby and Kristy to help me out."
His domain lies more in the kitchen, where he too often concocts recipes of genius. Well, this is according to customer response anyway.
"We have had a real good response on our cheese steak sandwiches, Beef Philly and the Chicken Philly," Paulson said. "I guess I cook things a little bit differently than most."
Serving "some of the best food around," he knows what it takes to survive in the restaurant-like atmosphere.
"We're competitive with other restaurants that serve similar types of food," Paulson said. "We are serving fresh burgers, not frozen ones."
It's also his mission to exceed customer expectations, in both customer service and menu items.
"I want to make it a viable business," Paulson said. "I want to make it profitable so it can stay around to serve the community."
The same goes for other local businesses.
"We work with the local businesses to keep them viable too," Paulson said. "Our meats come from Lerberg's and our bratwursts from Steve's Meat Market."
Zooming out a bit more, he just wants to see the city of Ellendale prosper.
"This new position is my opportunity to help that happen," Paulson said. "I enjoy being here and I hope they enjoy having me here."
At some point, he would also like to tap into different events such as car and motorcycle runs. Maybe there will be even a Muni dart league someday.
"We offer a good value, and you don't have to travel to get it," Paulson said.