Pfeffer's 41-year teaching career reaches its final hour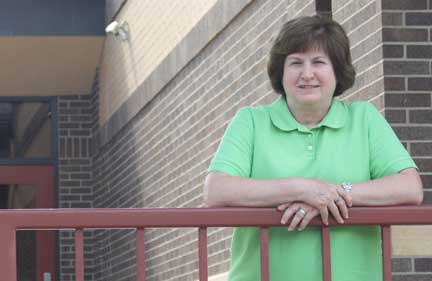 FORTY-ONE YEARS — Kris Pfeffer poses in front of NRHEG High School as a commemoration for her many years with the school district. (Star Eagle photo by Rachel Rietsema)
By RACHEL RIETSEMA
Staff Writer
For Kris Pfeffer, the very first day she set foot inside the New Richland school site seems just like just yesterday.
Pfeffer had no reservations about her new teaching duties, just a few butterflies as she unlocked the fourth-grade classroom door.
"Each year was a brand new experience," Pfeffer said. "I bounced around the grades a lot, but from 1989 on, I taught first grade."
Forty-one years later, Pfeffer's teaching time clock has reached its final hour. Or as she so eloquently sums it up: "I'm just a retired teacher now."
"I have a grandson, Nolan John, who was born  February 4 of this year," Pfeffer said. "I'd like to be available if they need us to babysit."
Her remaining retirement plans don't involve anything fancy per say. She's just going to go about life as normal, at her own pace.
"I'm not going to watch the clock anymore," Pfeffer said. "I do like to garden because like teaching, I get to see things grow."
She already misses all the staff members and the fun they had together. She is also a bit sad to forego activities inside the classroom.
"I had the pleasure of hearing a lot of their interesting stories and how they perceive things," Pfeffer said.
 "I never knew what to expect."
Those unforeseen moments she will forever hold near and dear to her heart.
"Kids are so honest," Pfeffer said. "Sometimes, I really wanted to laugh, but I had to take it seriously. It was just really fun every day. And, I never could say that I had seen it all because there was always tomorrow."
Without fail, she could also gaze across the classroom and see excited faces, sometimes accompanied with whispers and giggles.
"When they realized they could read a book, I felt so lucky to have a part in it," Pfeffer said.
Often times however, the day's events exhausted her beyond belief. And yet, she knew without a doubt that she had at least impacted one child's life.
"I could always see progress from the beginning to the end," Pfeffer said.
Facilitating that educational clarity only came about by establishing a solid set of rules, a stability she says is not always prevalent in this busy thing called life.
"That's important for kids," Pfeffer said. "I tried to always be fair. I didn't play favorites, and tried to focus on the positives."
More specifically, she created a smiley system as a means to reward good behavior. And don't let anyone fool you, that sticker method worked wonders.
"When they had seven smileys in their envelope, they turned them in for a reward," Pfeffer said. "They could for example sit by someone for a day, go to the library with a special friend or have a special play time with a friend."
Actually, these tiny stickers possessed more power than she ever imagined possible.
"I decided to do the smileys one year as I felt that certain students weren't being acknowledged for good behavior," Pfeffer said. "By giving them a smiley, they would know that I paid attention to them."
In turn, the remaining students would soon want the adorned item as well, again proving how this method can whip a classroom into shape with the touch of a sticker.
"Sometimes it took a while for some to catch, but soon enough, they realized they had to change in order to earn that smiley," Pfeffer said. "It made them really feel good when they did."
She also encouraged her students to use their imaginations, always leading by example. And on occasion, that meant engaging in activities a little out of the norm.
"We read this one story about a little boy who had an imaginary friend," Pfeffer said. "So, at the beginning of the story, I sat next to an empty chair and pretended like I was talking to my friend. And, I made sure to clarify I was doing it for the purpose of the story."
After the giggling subsided, she could tell all those little faces knew one thing to be certain.
"The kids can tell if you enjoy what you are doing or not," Pfeffer said. "I always thought if the kids could see staff members laughing, how could they think school isn't a fun place to be?"
It was also pretty obvious that inside the Pfeffer classroom, science time meant joy for everyone involved.
"I always like teaching reading and science," Pfeffer said. "If I told the kids it was time to take out their science books, they would be so excited to learn about birds and dinosaurs. It was like I was giving them a treat."
She will indeed miss their enthusiasm, but she knows that it's time to pass the torch to someone else.
"My advice to anyone new to teaching is to just enjoy each day and before they know it, it will be 41 years," Pfeffer said. "And remember, they listen to every word that you say."