Veteran relates Vietnam experiences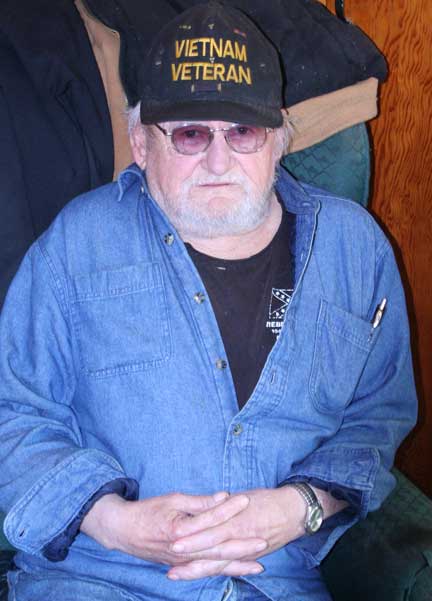 PROUD TO HAVE SERVED — Harlan Kohnert of New Richland is proud to have served his country in Vietnam in the 1960s. (Star Eagle photo by Jody Wynnemer)
By JODY WYNNEMER
Staff Writer
Harlan Kohnert of New Richland served his country in the United States Army. Enlisting right out of high school in 1957, his career spanned nine years, with his discharge in 1966.
"I signed up to be in ordinance, but they threw me in the medics," said Kohnert.
Kohnert was sent to Ft. Sam Houston for school and later to Ft. Hood. His other duty stations were at Scofield Barracks, which is near Honolulu, Hawaii, and to Nuremburg, Germany. In 1960, he was sent to Ft. Benning, GA. The Army had other plans for him.
"I was with the 11th Air Assault, attached to the 101st Airborne," said Kohnert.
U.S. Army Air Assault units use helicopters with light infantry troops to seize and hold key terrain which has not been fully secured, and to directly engage enemy forces. U.S. Army CH-21 helicopter transports arrived in Vietnam on December 11, 1961. Twelve days later, air assault operations using South Vietnamese troops began.
"When we arrived in the country it was 1965, the 101st was getting hit hard," said Kohnert. "They took a lot of casualties."
The small base Kohnert and the rest of his unit called home was mostly comprised of tents, and hot meals were hard to come by.
"We ate a lot of C-Rats," said Kohnert. 
Combat rations (C-Rats for short) were the staple of the American troops serving in the field. During Vietnam, they were called MCIs (Meal, Combat, Individual.) They consisted of 12 menus with the following components:
• One canned meat item
• One canned fruit
• Bread or a dessert item
• Crackers, peanut butter or jam
• Accessory pack (spoon, salt, pepper, instant coffee, sugar, creamer, gum, four cigarettes, moisture resistant matches and toilet paper).
Kohnert spent the majority of his time as a crew chief on a Huey UH-1B gunship in the central part of Vietnam. The crew chief is ultimately responsible for the helicopter, inside and out. A thorough knowledge of the engine, armament and electrical systems was essential. 
This particular helicopter was well armed, capable of carrying six guns and 14 rockets. Kohnert even knew how to fly the Huey and his knowledge was pressed into service during a firefight.
"I had to fly the helicopter once after the pilot was hit," said Kohnert.
Many of the pilots and crews who spent time in Vietnam echoed the praises of the Huey helicopter. It was the first turbine-powered helicopter in the Army's inventory. It could take multiple hits from hostile fire and still accomplish its mission, enabling soldiers to fight another day. 
Kohnert suffered gunshot wounds to both his arms while in Vietnam and received the Purple Heart medal. At times, he finds it hard to talk of his experiences, as most veterans do. When asked about some of the things he had seen, his reply was short and to the point: "I didn't like shooting women and kids."
Many of our country's veterans suffer from the trauma they experienced in combat. Some come home completely changed from what they have seen. Others wake up at night screaming, one of the symptoms of PTSD (Post Traumatic Stress Disorder). The VA (Veterans Affairs) finally saw the need to treat these veterans and now offer services to those who need it.
The day finally came for every serviceman or woman who was in Vietnam dreamed about; they were finally going home.
"Even the plane I was leaving in was shot at," said Kohnert.
After his discharge, Kohnert returned to Minnesota and settled in Waseca. He was a machinist at E.F. Johnson Co. for many years. Now at age 71, he's retired, living in New Richland and proud of his military service. He is a member of the American Legion.
"I was just glad I made it home," said Kohnert.