Tollefson and Johnson gracefully accept diplomas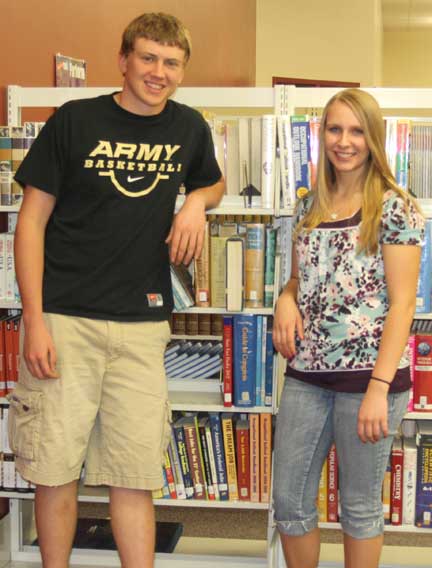 FEATHER IN THEIR CAPS — As NRHEG co-valedictorians Carter Tollefson and Hailey Johnson rejoice in their newly claimed appellation, the dignified honor fails to inflate their academic egos. (Star Eagle photo by Rachel Rietsema)
BY RACHEL RIETSEMA
Staff Writer
On occasion, Hailey Johnson and Carter Tollefson received the revered classification of walking dictionaries or encyclopedias. Sure, these two definitely are whizzes in the high school classroom, but they don't claim Webster or Brittanica status.
Now crowned with the title of co-valedictorian for the NRHEG High School class of 2012, Johnson and Tollefson humbly accept in utter glee.
"It's an honor," Johnson said. "Yes, smarts come natural to me, but I also have to turn in all my assignments. I don't think I've had a late assignment through high school. It's great to be rewarded for that."
Tollefson couldn't agree more.
"It's the culmination of all the hard work I've put forth," Tollefson said. "I went into high school thinking, 'I'm just going to do the best I can.' I wasn't thinking I had to get a 4.0 GPA."
Their flair for homework perfection started at a young age. In fact, Tollefson dare says he has received an A in every class since the third grade.
"It's pretty easy for me to remember information," Tollefson said.
Johnson actually recalls Tootsie Roll rewards for extra work inside the "CIS lab."
"When I was younger, they couldn't keep me busy enough with assignments," Johnson said. "So, many times, I sat behind a computer doing extra programs on screen."
These so-called Einsteins shined outside the classroom as well, whether on the football field or the sidelines.
"I never knew I would be able to lift somebody in the air by myself," Johnson said.
Tollefson added, "I love playing baseball, football and basketball. My favorite memory from sports was during a football game against Blooming Prairie. Backed up on their five-yard line, they threw a screen pass, and I broke through the line and intercepted it directly from the quarterback. We still lost, but it was fun."
It may sound cliché, but they both agree that high school days flew right on by. And even though they will most assuredly miss their friends and colleagues, they anticipate their bright futures at four-year college institutions this fall.
"At the University of Wisconsin in River Falls, I'm double majoring in dairy science and pre-veterinarian," Johnson said. "I'm excited to be out on my own and figure out how the real world is."
Just a little farther southward, Tollefson plans to wow the University of St. Thomas with determination and add to his already firm academic foundation. He tentatively hopes to earn a degree in engineering.
"I'm ready to meet new people, find new hobbies and learn more about myself. Find out what I really like," Tollefson said. "I do know that intramural sports are something I'll be active in."
Johnson's collegiate extracurricular path will take a different route. The Dairy Club to be exact.
"I spend a lot of time with animals," Johnson said. "If I have a problem and need some relaxation time, I can go talk to them. They are very understanding that way."
The tassel tradition just days away from fruition, they can't thank the NRHEG teachers enough for their guided attention and wisdom. Their support systems at home helped tremendously as well.
"My mom and dad always said to try the best I could," Tollefson said. "I stayed so busy with things that it seemed as if I didn't really have a second to myself, but I made it work."
Johnson's parents never burdened her with expectations of homework perfection either.
"My mom was valedictorian too," Johnson said. "So, she just stressed the importance of keeping up with my school work."
Cash incentives never a part of the academic equation, she just chugged right along knowing that a hard homework's work was reward enough.
"I knew I could do it," Johnson said. "I never let myself fall below it. At times, pre-calculus frustration set in, and I would get very close to saying forget about it. But, I knew if I studied, I could get it."
Their futures unknown, they both are 100 percent certain of one thing that has ringed true the last four years.
"What you put into things is what you will get out of it, and you must work hard to get anywhere in life," Johnson and Tollefson said.