Years of preparation behind NRHEG students' barrel racing quest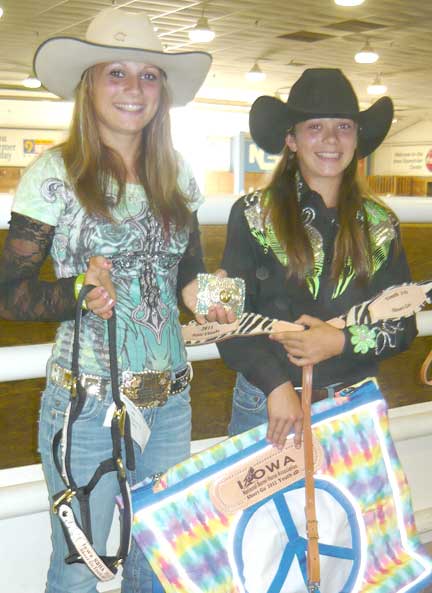 WORLD FINALS QUALIFIERS — NRHEG students Hannah Lewison, left, and her sister Grace have qualified for the National Barrel Horse Association Youth World Finals in Perry, Georgia this July. Both girls had a love of horses at an early age. (Submitted photo)
By RACHEL RIETSEMA
Staff Writer
The Lewison kitchen table is all abuzz these days, and it isn't all about glitter and glam for NRHEG students Hannah and Grace Lewison. 
Prom dresses and Hello Kitty are important and all, but these National Barrel Horse Association Youth World Finals qualifiers have bigger fish to fry.
"We are very excited to represent the Midwest as we travel to Perry, Georgia in July," said Hannah, 2011 youth 2D Reserve Champion. "The event is invitation only. Competitors all under age 18 must ride in their respective NBHA District Barrel Races to earn points."
Her sister Grace, the 2011 Youth 3D Champion, added, "The top five point earners in each division qualify for the NBHA Youth World show. The NBHA Youth World Show is one of the largest barrel races in the World. Contestants will come from all over the U.S., Canada, Italy, and Australia to compete."
Of course, this ginormous feat came with a combination of factors in their favor, the first two on that list being great determination and an undying love for horses.
"It's in our blood to love horses," said youth qualifier Grace. "Our parents started us with a pony as soon as we could walk and our Grandpa Cob taught us how to drive his draft horses. Now, we like to help our cousin, Justin, show his Clydesdales at county and state fairs too."
Involved with anything horse-related since they could walk, these two also credit their parents for their heightened success. Most recently, their help has been demonstrated in the form of money for the "World Pot."
"We have been working on our end to earn money for our "World Pot" the past several months," Grace said. "We have and will continue to take horses in for "tune ups" along with finishing a few "project" ponies for resale. This is something we are able to do right at home and we graciously thank our parents for supplying any feed and board for these animals."
The road to Georgia isn't quite feasible just yet though. They are actually looking for sponsors to finance their "trip of a lifetime."
"The cost of the trip will include entry and stalling fees, fuel expenses, RV rental for transportation and lodging as well as extra supplements, electrolytes, etc.," Hannah said. "Your sponsorship, in any amount, would be greatly appreciated. However, if your sponsorship amount is $500 or greater, we will detail our competition shirts with your business logo for Perry, Georgia."
With July inching that much closer, these national competitors have been training like crazy all winter long. Their registered horses Frankie, Ace and Hot Shot continue with easy conditioning and tuning until D-day.
"We have never traveled outside of Minnesota or Iowa for a barrel race so this is really big for us," Grace said. "It's still hard to believe that we are really going."
Competing in the most important barrel race of their life may give the girls butterflies. But, every last winged creature will fly away as soon as that buzzer sounds.
"We like that we are not being judged," Grace said. "Barrel racing is just you and the clock, nobody's opinion."
Hannah added, "We love to go fast and run clean, strong sets of barrels! It's our passion because it involves horses and family."
If they place as one of the top 20 fastest riders, they will receive a portion of the $200,000 prize money to be equally distributed amongst the winners. But with 1400 youth at the event, landing the money "would be a dream."
"We will be competing against some of the best barrel racers in the world," Hannah said. "Many of these individuals do this on a full-time basis."
Frequently recalling this added pressure, they don't let intense intimidation scare them so easily. It only spurs these part-time barrel racers to reach for the gold even more.
"Physically, we stay fit by riding at home regularly, helping bale hay, working with our dairy steers and doing chores to keep our upper body strength and leg muscles in shape," Grace said. "The emotions of it all haven't really hit yet. We think that will become more real as the summer nears."
Riding these waves of reality in July won't be too terrible though. They will have each other's backs no matter what the outcome.
"It feels good knowing that both of us are going," Grace said. "It wouldn't feel right if one of us wasn't going. Having two horses along should help things along too. They will settle in better and keep each other company on the long trip and in the new barn."
Also along for the ride are the girls' parents, Brad and Tammy. They couldn't be more excited to see them compete at a national level.
"As parents, we owe a great deal of gratitude to those who have mentored our girls over the years," Tammy said. "Stephanie Dryden, Ashley Janssen, and Emma Pittman have all played key roles in where our girls are today. We are also extremely grateful for Morning Glory Hill Stable, Dan and Leona Suchanek, for providing a wonderful indoor facility for the girls to practice and school their horses in inclement weather."
This trip is actually one that has been many years in the making.
"Hannah and Grace have come from many generations of horse lovers so it came as no surprise to us when they took a liking to the industry as well," Tammy said. "Each of the girls began riding at a very early age and has never looked back."
Advancing from bikini and cowboy booted trots to more sophisticated mentor sessions, Hannah and Grace's confidence and self-esteem has flourished immensely. Brad and Tammy are most proud of all their achievements.
"I qualified for Youth World in 2010, but did not take the trip," Hannah said. "We really wanted to see if both of us could qualify for world in the same year and do this as a team."
That dream about to come true, all they can do is practice like mad while always looking at the glass half full.
"Upon entering the warm up pens, adrenaline will be sure to kick in, but as soon as our name is called, it's just us and the clock," Grace said. "We're not worried. Our horses have been some of our best friends and always give 100 percent every time we ask."