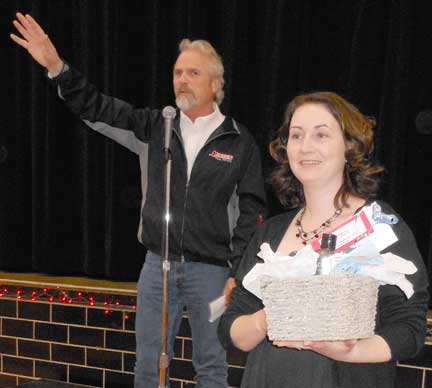 PLENTY OF ITEMS — Greg Jensen calls for bids as Melissa Karl holds one of the many items auctioned off at the NRHEG PTO's Community Night Out. (Star Eagle photo by Kathy Paulsen)
By KATHY PAULSEN
Staff Writer
The inaugural NRHEG PTO Community Night Out was held in the Ellendale school gymnasium on Saturday, February 4. The evening began with a social time and supper, which included a catered meal by Superior Foods. There was a variety of cheesecakes donated by Great American Company. Great American manufactures the cookie dough the elementary students sell to raise funds. 
The event has been in the works for a while. Rich and Penni Mueller actually started working on it last September, as the PTO is always looking at what else they can do as a fundraiser the whole district could get involved in. 
They met with one of the event organizers from the Blooming Prairie Foundation and went from there. They would like to thank all those people who became part of the committee: Ronda Staloch, Melissa Karl, Katie Knudsen, Doug Anderson, and those that helped the day of the event, including Jordan Mueller, Judy Carroll, Julie Anderson, Wendy Schultz, Alison Johnson, Carly Solland and Amy Kitzer.
Four members of the NRHEG Honor Society, Lexi Wayne, Dane Jensen, Maddy Schwierjohann and Emily Hobbs, served as waitresses. Wendy Schultz supervised the students and lent a helping hand.
There were an estimated 70 people in attendance for dinner. 
Area residents and business from the area donated a collection of items which were included in the live auction that began at 7 p.m. 
Greg Jensen from Albert Lea donated his auctioneering services, for which the PTO group was most appreciative.
The "Sponsor it Now" event included requests from teachers at NRHEG elementary regarding items they felt they needed in their classrooms to benefit students. A description of the items and the estimated cost were provided and people could make donations. Some of the items were: electric pencil sharpeners, play tent/teepee, table lamps, new world globes, tape recorders, two ball chairs, large book stapler, books for the classrooms, reading initiative prizes, treasure box items, small white boards, plant starting kits, a farm set, puzzle or game replacements, classroom games and Legos.
Monetary donations were received from Rhonda Haried, Albert Lea Seed House, Farmer's State Bank of Hartland, Gambles of New Richland, Phil Kohl, Christian and Peterson, PA Attorneys, Main Street Dental of New Richland, First National Bank of Ellendale, WFS of New Richland, Central Valley Coop of Ellendale, George's of Geneva, Morgan's Meats, Blondie's Grill, Ellendale Fire Department, Schmidt Trucking, Mr. Anderson and Mr. Reese.
Attendees had the chance to bid on tickets for the North Shore Scenic Railroad; autographed photo of Vikings player Percy Harvin; tickets to the Ordway Center; Pie Lovers Delight (one pie per month for a year from the Village Inn Café, Hartland); St. Paul Saints tickets; family pack of tickets to the MN Zoo; tickets for Rick Bronson's House of Comedy, Minnesota Renaissance Festival tickets and Bounce World in Rochester; a senior photo package from Day Dreams by Angela; a toy NAPA semi from the NAPA Distribution Center; wooden Christmas candle centerpiece, farm theme centerpiece from Rich and Penni Mueller; a Masterforce tool bag and men's watch from Menards; silver charm bracelet from Judy Carroll; ceramic straightening iron from Looks Unlimited, Rhonda Hareid; Harmon Killebrew Gift Pack; front row seats at the K-2nd grade and 3rd-6th grade Christmas Concerts; four passes to Mount Olympus Water and Theme Park  Wis. Dells.; Geneva Pool Family Pass; autographed photo of Wild hockey player Marco Scandella; two show tickets to Chanhassen Dinner Theater plus Ichiban's Japanese Restaurant; tickets to the Plymouth Playhouse performance and Green Mill certificate in Albert Lea; two tickets to Timberwolves; front row seats to NRHEG PTO sponsored Prairie Fire Theater production of "Cinderella;" wall hanging butterfly and wall clock from Judy Carroll; Family photo session by Day Dreams by Angela, given by George's of Geneva; autographed photo of Kurt Busch; two hours of yard cleanup by the 6th-Grade football team members; Backpack auction items, Morgan's Meats, Gopher Stop; three hours of rock picking by the  Rowdy Bunch (Todd, Zeke Erickson and friends); basketball theme party from NRHEG boys' basketball team; men's basket of hair products from Down Town Hair Design; flowering crabapple tree from Sequoia Landscape; 10 tokens to Lerberg's Car Wash; Twins' theme mailbox, and red mailbox with black flames from Mark Lee of Al's Body Shop; black glass TV stand, 43" Plasma TV, purchased with donated funds, and DVD player donated by Sorenson's Appliance in Geneva; two nights stay to Wilderness Hotel Golf Resort, Wisconsin Dells; two gift certificates to Hilltop Greenhouse; pizza night basket, chocolate basket from Melissa Karl; Brant Hemingway photo package; NRHEG cheerleader package, including signed spirit stick with a party for up to eight girls; one-month membership to Lerberg's Fitness Center, Mary and Andy Lerberg; three days boarding at Deputy Star Kennel, Geneva; handmade scarf made by Shelley Pederson; dog design planter from Albert Lea Seed House; MN Twins signed photograph picture, family photo session from Nicki Erickson; two tickets to Timberwolves game by Dave and Shelly Mangskau.