Ice jumpers raise $3,000 for breast cancer research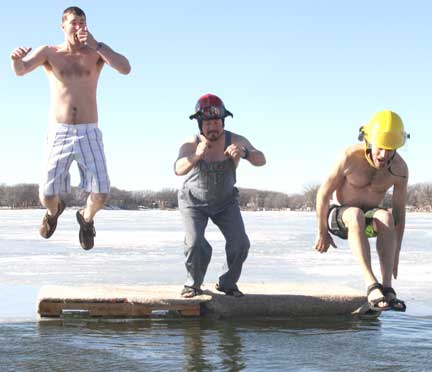 1, 2, 3! — Plungers featured above and below jump off wood pallets, only to discover firsthand just how frigid the waters of Beaver Lake are during the month of February. (Star Eagle photos by Rachel Rietsema)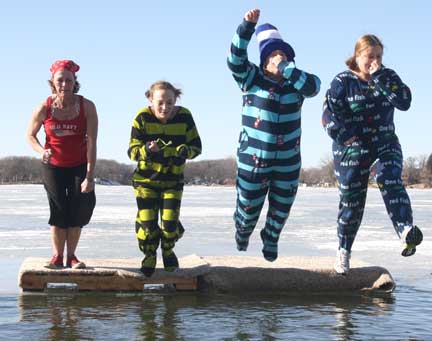 By RACHEL RIETSEMA
Staff Writer
With the wind howling hushed and a full dose of sunshine, 38 daredevils set foot on Beaver Lake last Sunday afternoon.
Staring at the large drilled-out hole, they knew the fate that lay before them. The dreaded countdown began, and before their shivering bodies knew it, they plunged into the deep down under with one goal in mind.
"We decided that all of our proceeds would go to the Susan G. Komen Breast Cancer Research Foundation," said 2nd annual Polar Plunge organizer Cindi Bartness. "So many of us either know of someone who has dealt with breast cancer or been affected by it in some way."
All jumpers were required to be 18 years of age or older, and make at least a $50 donation to the cause. Two of this year's participants, Brandon Bartness and Pat Kruger, gladly claim the founder title for this well-attended event.
"I jumped twice last year too," Brandon said. "The water temperature was better than I thought it might be. All the sponsorship money I received to jump went for a good cause."
Cindi added, "There are so many well-deserving charities out there, so it was difficult to decide."
Both Bartness family members are delighted with the Polar Plunge unfolding as originally planned.
"When talking to Sherriff Thiele, he agreed that the polar plunge could still be held safely without putting anyone in danger," Cindi said. "We utilized the shore more this year, and by doing this, spectators had a better view of the plungers compared to last year."
Cindi and spectators alike had a great time watching and cheering as their family or friends took the big leap. The plungers? Well, the looks on their faces spoke louder than words.
"Everybody had a great time and it is for such a great cause," Cindi said.
Those in attendance also had the opportunity to try their luck at Ice Golf. Albeit there wasn't much in the form of ice or snow, they still made do.
"We did our best to come up with some entertaining games that included golf mixed with a little winter fun and humor," Cindi said.
Immediately following the plunges, eager ears waited in anticipation for the raffle winner announcements usually featured at the annual ice fishing contest. Many special items were donated, and this year's Grand Prize cash winners were as follows: 1st place, Nicole Haughland, $200; 2nd place, Ken Petranek, $100; 3rd place, Lori Klemmensen, $50.
"We all know that the one thing here in Minnesota we can't control is Mother Nature," Cindi said. "So we just have to learn to roll with what she gives us, and try to make the best of it. All we could do is hope she gave us one more beautiful day on Sunday, February 12th."