Whitey, LaJune Hagen have quietly said much in their 55 years together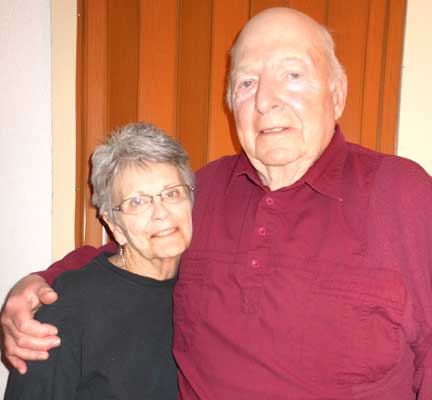 STILL SWEETHEARTS — Fifty-five years after tying the knot, LaJune and Dwayne "Whitey" Hagen remain enamored with each other. (Star Eagle photo by Kathy Paulsen)
By KATHY PAULSEN
Staff Writer
They call him Whitey. He was given that name in his early high school days when he played basketball for Freeborn High School because of his light colored hair. His given name is Dwayne. 
LaJune was the New Richland Homecoming Queen in 1953. Whitey graduated from Freeborn High School in 1950 and LaJune graduated from New Richland in 1954.
They were popular then and they're popular now. They just fit wherever and whatever they do.
How did these two great people meet? Their grandparents and parents knew each other. Whitey's parents were Arnold and Vivian Hagen of Ellendale; LaJune's parents were Art and Ella Strand of New Richland. Whitey had only one brother, Richard. LaJune had three brothers: Lyle, Dale and Vern, and one sister, Elaine.
Casually, they were both part of a crowd that hung out together. When Whitey came home after his tour of duty in Korea in 1954, they were all back together again. The closeness of family, mutual friends, some cousins, and their love of dancing were sort of a clincher. They became a pair and dated for about a year and a half before deciding to tie the knot.
Whitey and LaJune enjoyed their time on the dance floor, but aren't able to do that anymore. It's something they both miss. Whitey is still able to put on a little dance with a tray on his head during the Geneva Cancer Auctions to collect cash for cancer research.
Following their wedding at the Trinity Lutheran Church in New Richland December 29, 1955, they honeymooned at her sister's home in Kiester. Her sister was a good sport and spent the night at the home of her mother and father so Whitey and LaJune could be alone. LaJune laughingly said, "Whitey was just too cheap to get a hotel." She also went on to say, "He has been a pretty good guy to live with all these years."
They both said their family is the greatest gift they have given to each other.
Whitey and LaJune haven't traveled far. Their early years were spent in Albert Lea. They later moved to rural Ellendale where they raised their family. The Hagens have spent the last 30 years on the north edge of Geneva where Dwayne raises an outstanding garden every summer with a little help from his better half.
Visits, dancing, card club, bowling, picnics, athletic events, family celebrations and just plain family have occupied their spare time over the years. Whitey and LaJune did travel to different states and "up north" during the first years of their marriage. They enjoyed their cruise to the Caribbean in 1991 when their daughter got married, as well a trip to Las Vegas. But they really enjoy it best, home in Southern Minnesota.
Their claim to fame is the fact  that they have celebrated 55 years of happy married bliss and have raised six children, who have blessed them with 13 grandchildren and three and a half great grandchildren. Their oldest son, Rick and Ione, live in Hudson, Wisconsin; Greg and friend, Jackie, live in Albert Lea; Brad and Kristie live in Eagan; Jamie and Tina and Keith and Ruth all live in Geneva and their daughter, Angie, and husband, Jeff Rasmussen, live in Indiana.
Whitey and LaJune are very proud of their kids and grandkids and the things they accomplished.  The Hagens have attended many athletic events over the years as their children and grandchildren were involved in sports and cheerleading. Some of the grandchildren have finished college. Some are in college. Some are married. Some are still in school, and they are proud of all of them.
The two of them still continue to keep busy. Some days you will find LaJune busy working at the Geneva Deli for Naomi Wangsness as she previously did for Sheere Utpadel and Sharon Lageson. LaJune enjoys sharing news with the coffee bunch at Geneva Bar & Grill after she is done working.
Whitey has kept busy cutting meat at Geneva Meats for the past 20 years using the expertise he learned at Wilson Foods in Albert Lea. Whitey worked at Wilson before he served his country from 1950 to 1954, and went back to work there once he returned home until they closed.
Their personalities are such that they don't argue much and really share each other's interests.
The local cancer crusade has played an important part in their lives over the past 30 or more years. Whitey first got involved auctioneering for fundraisers when they belonged to North Freeborn Lutheran Church.
LaJune has helped give Whitey several surprise birthday parties over the years. Whitey, Eugene Hagen, and Virgil Worke, who are cousins and were born in 1932, have stayed close and celebrated several of their birthdays together. LaJune and Whitey said their cousins' parties, as well as their 50th anniversary party, were great events in their lives.
There doesn't seem to be a dull moment when Whitey is around. His talents are many. When one thinks of Whitey, you also think of LaJune. You think of them as quiet people, but the things they do and say, say a lot.