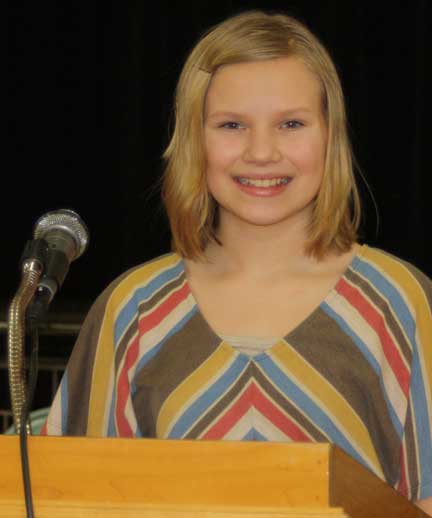 PROUD CHAMPION — Lillian Bell was all smiles after winning the annual NRHEG Spelling Bee last Wednesday. (Star Eagle photo by Jessica Lutgens)
By JESSICA LUTGENS
Contributing Writer
Every year, 24 fifth, sixth, seventh and eighth-graders compete for the title of NRHEG Spelling Bee champion.
The Ellendale gym was filled with elementary and middle school students, parents and teachers, judges Anne Feist and Geoff Stieglebauer, and announcer Mark Domeier for this year's event Wednesday, Jan. 25.
This year's spellers were impressive, with the majority spelling words correctly in the first few rounds. In the first round, only one contestant misspelled a word, leaving 23 students to go onto round two. In the second round, two more students dropped out.
It was obvious after the first two rounds that everyone would be there for a while. The words weren't too challenging, and the kids were hanging in quite well. After about 45 minutes, about half of the kids who were participating were now warming the bleachers on the side, becoming only spectators.
Finally, it came down to two spellers: sixth-grader Lillian Bell and seventh-grader Maci Surat.
It was at this time Domeier announced the rules would change slightly. In previous years, when it came down to two contestants, the first would attempt to spell their given word. If the word was misspelled, the contestant would sit down and the other would stand up. Said contestant would then have to correctly spell their opponent's misspelled word along with a new word before claiming the championship. 
Not this year.
Maci was the first to incorrectly spell "fajitas." She took her seat and Lillian took the podium, where she spelled "animation" correctly. The winning word was "remorseful," and as soon as Domeier looked to the other judges for their approval and said, "That is correct," the sixth-graders stood up and cheered for their beaming champion.
The 2012 spelling bee took about an hour and a half to complete, and it was a good, fun competition for everyone. Lillian will represent NRHEG at the regional spelling bee on Feburary 16th at South Central College in North Mankato. The winner of the regionals will go on to compete in the national spelling bee in Washington, D.C.
"I was very impressed by the composure of many of the spellers," said Domeier. "They took their time, asked questions about definitions and language of origin, and showed true disappointment when they missed a word. Lillian will represent NRHEG well at the next level."